Is This the Australian Government's Marshall Plan?
The Albanese government announced its new International Development Policy which aims to create the foundations for a peaceful, stable and prosperous Indo-Pacific.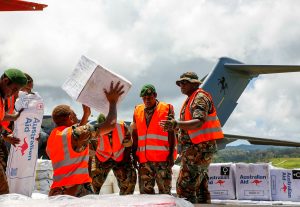 In 1950, as the United States confronted a destroyed Europe and the threat of a new Soviet empire, U.S. Secretary of Defense George Marshall announced a plan of assistance "directed not at any country or doctrine but against hunger, poverty, desperation, and chaos." The Marshall Plan, as it became known, remains the single greatest effort in harnessing publicly funded aid for strategic intent. It begs the question: Does overseas development assistance (ODA) work best when tied to foreign policy goals?
This week, Australia's Albanese government announced its new International Development Policy – the first in a decade – to respond to a geostrategic environment "under pressure" through development partnerships with its neighbors.
The purpose of the plan is to create the foundations for a peaceful, stable, and prosperous Indo-Pacific. Significantly, the policy was funneled through the Cabinet's National Security Committee, leaving little doubt that Australia's US$3.1 billion development assistance – which comprises two thirds of Department of Foreign Affairs and Trade's (DFAT) budget – is tied to Canberra's broader foreign policy and strategic intent.
Indeed, at times it seems national interest weighs more heavily than poverty alleviation in the policy's casting. Aid is held up as a "tool of statecraft" that is key to "building regional resilience." Lifting people out of poverty is a way of achieving a region that is "predicable."
The evidence for Australia assisting neighbors via well-constructed development assistance is persuasive. The policy notes that 22 of Australia's 26 near neighbors are developing countries and many of them are fragile. The lessons of the COVID-19 pandemic and the need for enhanced regional cooperation are clear, making the case that in an interdependent world, investing in poverty reduction is the right thing to do.
The new policy brings evidence that the Indo-Pacific is still recovering from a prolonged period of economic instability, and there are Janus-faced opportunities and challenges in long-term demographic and economic trends. The lack of access to education for children, absence of social protections, and rising inequality – if left unaddressed – are all potent precursors to political instability or the ingredients for illiberalism and populist strongman appeal. In the face of this, where should Australia's development assistance be focused?
Significantly, an element of Australia promoting state building appears to have come back into fashion. The policy notes "corruption, fragility, and poor governance continue to hold some countries back." Australia positions itself as being able to assist governments with building effective, accountable states that can sustain their own development. The policy vows to strengthen public institutions, share expertise on building diversified and open economies, and help partners "mediate and manage disruptive influences" through a new Civil Society Partnerships Fund.
The influence of the National Security Committee is evident in the document declaring that security and development are "indivisible," although this may jar some in the development sector who thought it was all about the U.N.'s Sustainable Development Goals. 
The policy clearly identifies climate change as the single largest threat to human development. Due to this, from 2024 at least half of all new development investments of greater than US$1.9 million will have an objective related to climate change, with this goal reaching 80 percent in by 2028. To coordinate these targets the policy promises a more coherent approach to development finance, bringing disparate lending programs under a new committee, although avoiding creating a Development Finance Institution for now.
Will this be the Albanese government's Marshall Plan? A strategy is only effective if it is used and resourced – and on the actual overseas development assistance dollars, the policy is mute. 
However, there are reasons to be hopeful. Labor came into office with promises of an addition US$307 million for Southeast Asia and US$344 million for the Pacific, each over four years. Since then, Minister for Foreign Affairs Penny Wong has pulled a rabbit out of the budget hat twice now, succeeding in incorporating temporary aid increases funding from the previous government's COVID-19 response permanently into the aid program. This is a positive signal of strategic intent. 
But Canberra's focus is clearly on the Indo-Pacific. Outside of Australia's immediate region the policy is not convincing, simply promising a vague humanitarian strategy. There's nothing to indicate a restoration of bilateral programs to Africa for instance, which would assist Australia's bid for a non-permanent U.N. Security Council seat in 2028-29.
There is clearly work to be done. Australia has a feeble ranking as 27th out of 31 OECD aid donors. Canberra's desire to co-host a Climate COP with the Pacific and a future Security Council bid – alongside ongoing infrastructure competition with China in the Pacific – will not come cheap. The true indication of strategic intent will be whether future budgets commit the resources to match this policy's ambition.