More Purpose, Fewer Platitudes: The Philippines' Defense Diplomacy Under Marcos
Last week's water cannon incident underscores the hard limits of engagement with China – and the need for the Philippines' to build up its military capability.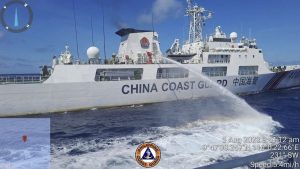 Philippine defense diplomacy has been under such immense turbulence lately that it's easy to lose sight of the strategic picture given the flurry of developments. In February, President Ferdinand Marcos Jr. expanded the United States' basing access under the Enhanced Defense Cooperation Agreement (EDCA). His sister, Senate Foreign Relations Committee Chair Imee Marcos, has since held multiple legislative inquiries questioning this policy. China has not been shy about its threats against EDCA, while Defense Secretary Gilberto Teodoro Jr. spoke from an EDCA site about how "it's nobody's business" to question the Philippines' defense cooperation policies.
A few days after Teodoro's comments, the Chinese Coast Guard (CCG) water cannoned a Philippine ship near Second Thomas Shoal in the Spratly Islands, sparking an ongoing diplomatic row that will most certainly not be the last.
For this reason, it's appropriate to take stock of broader, structural issues facing Philippine defense diplomacy.
One major problem in defense policy debates in the Philippines is that commentaries are usually opaque about the national security objectives they advance. The oft-heard advice of continued dialogue with China and balancing between the U.S. and China are methods, not goals.
For instance, security analyst Rommel Banlaoi has argued that "any form of militarization… will not lead to the peaceful resolution of conflict with China." Similar analyses, however, rarely confront ways, means, and strategic ends. Diplomatic discussion is so elementary to any foreign policy that one wonders: What else is being prescribed other than to "keep talking"?
Similarly, arguments merely cheerleading cooperation with the United States are dangerous. These views are unhelpful in working out the kinks of defense policy. First, any talk of defense diplomacy has to be anchored on the military's international defense and security engagement (IDSE) plans. Second, any China strategy has to advance the multi-year capability plans of the Department of National Defense.
Goodwill Is No Substitute for Capability Planning
For years, proponents of the "talk with China first" camp have left unanswered the question of what operational-level augmentation and concrete capabilities they recommend to influence, deter and, if need be, defend against sovereign incursions.
From a military planning perspective, the Philippines, regardless of the state of its relations with Beijing, will build up its surface fleet, improve its intelligence, surveillance, and reconnaissance (ISR) capacities, and inevitably construct more military facilities in strategic border areas and adjacent to vital sea lines of communication. This is a basic tenet of "capabilities-based planning." Calibrated "militarization" – or more simply, capability buildup – is part of the Philippines' defense strategy.
To illustrate this, look no further than former President Rodrigo Duterte. Despite his bizarrely pro-China rhetoric, Duterte engaged in a military construction spree, including the Pag-Asa Island Communication Tower, various installations in the Kalayaan Island Group, and desalination systems in Kota, Panata, and Batanes in the western and northern approaches, as well as various various littoral monitoring stations and air radars prioritizing the Luzon area of operations. His acquisitions under the Revised Armed Forces of the Philippines (AFP) Modernization Program were also substantial.
With EDCA, military modernization under Marcos continues but is being expedited with U.S. help. After all, defense budgeting is a cost-driver in the national budget. With the Philippine economy only slowly recovering after the COVID-19 pandemic, guns-versus-butter trade-offs are more palpable and the public coffers could benefit from U.S. assistance.
Critics of EDCA worry about new sites in Cagayan and Isabela – which are close to Taiwan – but conveniently forget that the country's northern approaches from the Bashi Channel require military fortifications. To be sure, Washington may be betting on the Philippines warming up to the idea of being a lily pad in the event of a Taiwan crisis ("eleventh hour" logic). But Marcos rightly killed the undue hype by saying that EDCA will not be used for military operations against China, underscoring its deterrent role for Philippine interests.
So the question, then, is not why there are EDCA sites in northern Luzon, but rather why military real estate in the area is only now being reinforced with rehabilitated runways, billeting facilities, and piers. The proximity of the bases to Taiwan, from a defense planning perspective, is a "geographic accident" that China has to live with, because it is inevitable that the Philippines will reinforce that area.
For its own part, the Philippines has had to live these past few years with China's militarization of Mischief, Subi, and Fiery Cross reefs in the South China Sea, which host missile arsenals and aircraft fleets that are capable of striking the Philippine capital of Manila and naval bases in Cavite. These assets have erased the Philippines' historical advantage, as a maritime state, of having the South China Sea as a wide strategic buffer, which used to separate Manila from the nearest Chinese military bases.
Buffer State-ification?
But herein lies the rub: Duterte recently disclosed that Chinese Ambassador Huang Xilian has openly threatened that the Philippines could become China's target if it harbors bases "where there can be an aggression to China." From a capability standpoint, this warning is significant because it betrays China's strategic imaginary, which sees the Philippines as a quasi buffer-state.
Presently, the Philippine Marine Corps is eyeing vital locations in Lubang Island in Occidental Mindoro facing Scarborough Shoal and in Calayan Island south of Taiwan for its new coastal defense regiments, which are acquiring BrahMos missiles. From a capability standpoint, it is only a matter of time until ranged fires will be prepositioned along Philippine border areas. No country will cede the sovereign right to fortify its territory.
As Defense Secretary Teodoro stated, it is for this reason that the Philippines does not question or whine about the capability build-up by China's People's Liberation Army (PLA), which includes a rapidly growing nuclear arsenal.
China is essentially demanding an effective veto over whom the Philippines can partner with and its native defense acquisitions and actions. Such undertones of Philippine "buffer state-ification" thus threaten the Philippines' independent foreign policy. Appropriate rules of engagement vis-a-vis China in contested waters are still up for debate, but basing projects on inland Philippine territory should be sacrosanct. Bearing in mind that the Philippines is the only ASEAN state that has historically hosted large U.S. bases, China essentially wants to revise the status quo.
Much as proponents would deny it, calls to refrain from "militarizing" the Philippines are premised on the idea of self-limiting defenses along strategic border areas out of fear of China's reaction. This, of course, entails accepting perimeter vulnerabilities, i.e. leaving borders weak by design or entirely defenseless. Calls for neutrality, de-escalation, and peaceful dialogue sound nice but have to be valued for their operational-level implications.
Defense Cooperation and Its Constraints
China has also repeatedly portrayed Philippine security partnerships as reflections of colonial vassalage. However, this mischaracterizes the IDSE plans of the the Department of National Defense and AFP. The medium-term IDSE framework until 2028 prioritizes partnerships based on whether a partner country contributes to Philippine capability development, augments operational forces, and improves the global and regional security posture. The United States, Japan, and Australia are the most robust security partners of the Philippines because these countries provide military equipment, rotational forces, schooling and training, and defense financing that tick all three IDSE boxes,whereas other security partners do not.
The U.S. in particular plays the role of an "offshore balancer": it is a stronger, faraway country that the Philippines invites to even out the balance-of-forces against China. Setting aside the question of whether China is deterred by the U.S. presence in the Philippines, Washington is still Manila's only security partner that significantly supports all five of the AFP Modernization Program components by developing Bases/Support Systems (BSS), Capability, Materiel, and Technology (CMT), Doctrines (D), Human Resources (HR), and Force Restructuring and Organizational Development (FROD).
So why aren't we pursuing such a defense partnership with China? The Philippines has repeatedly pledged to deepen cooperation with non-traditional partners, but these states are uninterested in expending significant resources. Discussions of improving non-traditional defense partnerships came in vogue under Duterte and continue under Marcos, but there has so far been little to show for it. Rationales for defense ties do not magically spring from the ground.
China, despite its economic weight, has only provided low-level gratis military aid for counterterrorism and disaster response. Will China help the Philippine Navy become an "off-shore territorial defense navy" to patrol the country's Exclusive Economic Zone or donate long-range patrol aircraft and ISR platforms for the Philippine Air Force? That China has never done so indicates the obvious: It is not interested in helping the AFP enact the latter's long-term goal of making the Philippine archipelago an effective anti-access, area denial platform as an asymmetric capability program against larger powers.
This does not mean that the PLA and the AFP should never engage in military-to-military diplomacy. But even if officials between the Philippines and China miraculously resolve diplomatic tensions, the Philippines' core national interest remains: to prevent China's outright domination of its adjacent waters and ensure free and open navigation for commercial shipping.
Conclusion
China-Philippines military tensions are here to stay and cannot be wished away. Frankly, the Philippines will never get back its territory claimed by China unless by some deus ex machina. It can, however, beef up its deterrent posture and minimize its strategic vulnerabilities. That means more bases and defense procurements reminiscent of Taiwan's "porcupine strategy." China's challenge is not that the U.S. is returning to the Philippines in force; it is that the Philippines' defense posture will only become more muscular in the coming years.
Ultimately, the Philippines needs to be less apologetic about its core national security interests. Defense diplomacy needs to advance this agenda – in complement with our ally and partners if possible, independently if necessary.