North Korea Launches Ballistic Missiles After US Flies Bomber During Drills
Hours after the U.S. flew a B-1B bomber to the Korean Peninsula as part of field exercises with South Korea, the North launched two short-range ballistic missiles.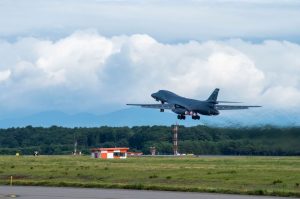 North Korea launched two short-range ballistic missiles toward its eastern waters on Wednesday, South Korea's military said, hours after the United States flew at least one long-range bomber to the Korean Peninsula in a show of force against the North.
South Korea's Joint Chiefs of Staff said in a statement that the missiles were launched late Wednesday evening from North Korea's capital region.
It said South Korea's military boosted its surveillance posture and maintained its readiness in close coordination with the United States.
Japan's Defense Ministry also announced that North Korea fired at least one suspected ballistic missile.
Earlier Wednesday, the United States flew a B-1B bomber to the Korean Peninsula as part of field exercises with South Korea. The field training is being held on the sidelines of an ongoing annual U.S.-South Korean computer-simulated command post exercise called "Ulchi Freedom Shield" that began August 21.
North Korea views South Korea-U.S. military drills as an invasion rehearsal.
North Korea is sensitive to the deployment of U.S. B-1B bombers, which are capable of carrying a large payload of conventional weapons.
Wednesday's B-1B deployment is the 10th flyover by U.S. bombers on the Korean Peninsula this year.
South Korea's Defense Ministry said the bomber took part in aerial drills with other U.S. and South Korean warplanes in waters off the Korean Peninsula's west coast. It said the drills demonstrated the countries' combined defense posture and the U.S. commitment to the defense of South Korea.
North Korea's state media said Tuesday that leader Kim Jong Un called for the military to be constantly ready for combat to thwart plans by its rivals to invade.
Kim said in a speech marking the country's Navy Day on Monday that the waters off the Korean Peninsula have been made unstable "with the danger of a nuclear war" because of U.S.-led hostilities, according to the official Korean Central News Agency.
Since the beginning of 2022, North Korea has carried out more than 100 weapons tests, many of them involving nuclear-capable missiles designed to strike the United States, South Korea, and Japan. Many experts say North Korea ultimately wants to use its increased military capabilities to wrest greater concessions from the U.S.
North Korea's testing spree has caused the U.S. and South Korea to expand their drills, resume trilateral training involving Japan, and enhance "regular visibility" of U.S. strategic assets at the Korean Peninsula. In July, the United States deployed a nuclear-armed submarine to South Korea for the first time in four decades.
On Tuesday, South Korea, the United States, and Japan mobilized naval destroyers for a trilateral missile defense exercise off South Korea's southern Jeju island. The drill followed a trilateral summit held at Camp David on August 18, where the leaders of Japan, South Korea, and the United States committed to scale up trilateral military exercises and missile defense cooperation.