Pakistan Condemns Mob Violence Against Christians
That the government is condemning the extremist violence in Jaranwala rather than condoning it marks an important step forward.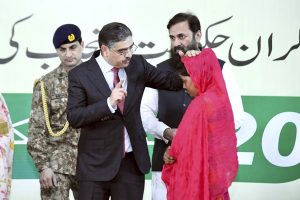 Pakistan's quick response to the recent attacks on churches and acts of vandalism against Christians in Jaranwala city in Punjab province indicates a major shift in the way its government is approaching the protection of religious minorities. Its civilian and military leadership joined hands to condemn and express determination to hold those responsible for the violence accountable.
According to reports, the violence started after damaged pages of the Holy Quran were allegedly discovered close to an area where a Christian population coexists with Muslims. The mob arrived to attack and burn the homes of Christians, the majority of whom were laborers and other low-income individuals. A nearby mosque's anti-Christian protest calls added fuel to the fire. As mobs stormed their homes, residents of the Christian community sought refuge in adjoining open fields and other surrounding settlements.
Prime Minister Anwaar-ul-Haq Kakar visited the affected area and vowed severe punishment for those involved in the violence. The new caretaker government has made its position clear; Pakistan will stand in support of its religious minorities. Army Chief Lt. Gen. Asim Munir described the mob violence as "extremely tragic and totally intolerable." The strong statement from Pakistan's highest military authority underscores the seriousness with which this matter is being taken.
Justice Qazi Faez Isa, who will become Pakistan's Chief Justice of the Supreme Court in a month, visited Jaranwala with his wife and expressed solidarity with the Christian community. His videos berating bureaucrats and police officials for not acting swiftly to contain the violence provide hope as he is set to take charge of Pakistan's top court soon.
The Foreign Office also issued a press release affirming that the "wheels of justice" have been set in motion. Other key stakeholders, including religious leaders, the bureaucracy and other civil society activists held press conferences with Christian leaders to express solidarity and support. This is an attempt to project a unified front against such acts of violence and intolerance.
Foreign diplomats based in Pakistan have been briefed on the government's commitment to protecting minorities and Pakistan's diplomats abroad have hosted informal meetings with host government officials to explain their country's position and respond to international community concerns. Jaranwala is not a one-off incident of mob violence in Pakistan; there have been several such incidents in the recent past.
The violence in Jaranwala would have no doubt created an unfavorable impression of Pakistan abroad and is likely to scare away potential investors and tourists. However, with its swift response to the mob violence, the government has taken a much-needed first step to tackle the damage done to Pakistan's image abroad.
But the strong words from the Pakistani government in response to the mob violence are not just an exercise in creating favorable optics. The swift action taken sends a strong message to Islamists that violence will not be encouraged or tolerated.
Ulema from a variety of religious sects have denounced the attacks, and the provincial government of Punjab last week sent out a notice to mosques around the state, asking them to emphasize minorities' rights in Friday sermons. Additionally, religious charitable organizations have arrived in the area to rebuild Christian homes that have been damaged by violence.
All of these measures demonstrate Pakistani unity on a crucial issue that could jeopardize its relations with the rest of the world at a time when the country is under siege from numerous difficulties, particularly economic hardships and political uncertainty. This unprecedented response emphasizes the state's impatience with religious extremists, whose actions have caused immense damage to Pakistan's image and interests overseas.
However, there are still reasons for concern.
Tehreek-i-Labaik Pakistan (TLP), whose members have been accused of inciting violence in Jaranwala, has threatened to continue with its violence amid pressure from the state. TLP leaders criticized Justice Isa for visiting Christian homes in Jaranwala and expressing solidarity with the community. In a warning to Isa, the TLP leader said that the party would not forget the top court rulings against its workers who, according to its leaders, had dedicated their lives to protecting Islam.
Some may argue that Pakistan's response to the Jaranwala incident was motivated by fear of international criticism rather than the desire to combat radicals. In any case, the strong condemnatory rhetoric articulated by the current leadership is an attempt at countering extremists who rule the streets rather than condoning their violence.
Pakistan seems to be unable to win against extremists solely by relying on media narratives. The country needs to review its strategy to combat extremist tendencies thriving in its society. Taking on Islamists may not be easy, but doing so could ultimately earn Pakistan the recognition it seeks from the world as a progressive and tolerant nation.