Religious Intolerance is Burning Pakistan
The recent mob violence against Christian minorities in Punjab province is just the latest reminder of how deep and wide the roots of religious intolerance have grown.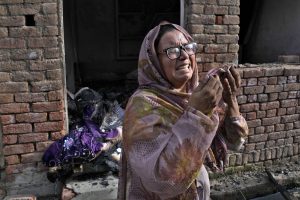 In 2017, a 23-year-old university student, Mashal Khan, was killed in mob violence over allegations of blasphemy in Pakistan's Khyber Pakhtunkhwa province. Since the lynching occurred within his university's premises, the case became a topic of heated discussion in universities and educational institutions across the country. It sparked a debate over increasing religious intolerance and the misuse of blasphemy laws in Pakistan.
But the debate and discussion back then appears to have borne no results.
On August 7, Abdul Rauf, a young teacher in Turbat, a town in Balochistan province, was killed by unknown armed men on blasphemy allegations. "He was on his way to attend a jirga (a traditional assembly) of ulema (religious leaders) to explain his position, but he was shot before he could do so," Sadia Baloch (named changed), a student activist in Balochistan told The Diplomat.
Killings and mob violence following blasphemy allegations are not new in Pakistan. Indeed, over the decades, hundreds of people have been falsely accused and many killed in targeted sectarian attacks.
Pakistan is a largely Sunni Muslim country, with significant religious and sectarian minority populations, including Shia Muslims, Christians and Hindus. Ahmedis, who are declared non-Muslim by the state, are perhaps the worst targets of persecution.
In Quetta, the capital of Balochistan, Shias are often targets of violence, while the Ahmedi community is treated as heretics. Hindus and Christians, especially from the lower-ranked castes, face extreme violence as well.
Young rural girls of the Hindu community from Pakistan's southwestern province of Sindh have reportedly been abducted and forced into religious conversion and marriage. In the rare instance of such cases making their way into the media spotlight and land before the courts, judges usually rule that the conversion was out of choice and voluntary. The women are forced to live with their abusers for the rest of their lives.
There is no comparison when it comes to deciding which form of violence based on religious intolerance is worse. While forced conversion and targeted sectarian killings have affected millions in the country, misuse of blasphemy laws, vigilantism, lynching, personal vendettas, burning down entire communities, and destroying places of worship are all human rights crises and symptomatic of collective social disorder.
According to a 2021 United States Commission on International Religious Freedom report, instances of mob violence and criminal charges over religious issues are more common in Pakistan than anywhere else.
One of the reasons is that the country's law and order system has a poor record of protecting citizens, especially those from minority communities.
But the system outdid itself in mid-August when police failed to prevent or halt armed and rampaging mobs, who attacked the Christian community in Jaranwala in Punjab province, attacking, looting and setting ablaze their houses, churches and businesses.
It all began when several pages of the Quran were discovered near the Christian community with alleged blasphemous content inscribed on them. According to reports, the pages were taken to a local religious leader, who urged protest and demanded the arrest of the culprits. But before the matter could be further investigated, armed men marched into the Christian neighborhood and unleashed violence.
"[The mob] managed to destroy an entire community and their places of worship, this must have taken several hours," Waiza Rafique a lawyer in Lahore says. "The question is, how come the police and the law enforcement agencies only arrived when most of the damage was already [done]?"
Pakistani society underwent a process of Islamization beginning in the 1980s, when General Zia used religion to legitimize his military coup. It resulted in the Islamization of Pakistani society and its institutions.
"Religion is deeply entrenched in all our institutions. It is embedded in politics, education and the media," Sadia Baloch said, pointing out that "there is no proper understanding of the religious scriptures, but a mere indoctrinating of masses towards extremism."
The origin of Pakistan's blasphemy law is often traced back to the British colonial era, but it was hardly used until the 1970s. The law was strengthened during the Islamization of the state during Zia's regime.
According to Pakistan's penal code, "derogatory remarks, etc., in respect of the Holy Prophet [Muhammad] either spoken or written, or by visible representation, or by any imputation, innuendo or insinuation, directly or indirectly shall be punished with death, or imprisonment for life, and shall also be liable to fine." People have often misused this to settle personal disputes. In such cases, even before any investigation begins, vigilantes take the law into their hands and go on a rampage.
Although laws in Pakistan also prohibit discrimination on account of religion, these are rarely implemented. What is more, police and other law enforcement agencies are not trained to handle vigilante mobs.
There are several initiatives at the community level to defuse tensions before they explode into violence.
According to Elaine Alam, a human rights practitioner based in Lahore, "Women from the Hindu and Christian minorities collectively mediate and solve local issues, preventing them from turning into disputes or preventing disputes from turning into inter-religious violent conflict."
However, political institutions and the criminal justice system have yet to take any practical steps to curb violence at the societal level. False allegations of blasphemy, mob lynching, marginalization and persecution based on religion are triggering alarming levels of religious violence. There is an urgent need for reforms in the education, social and criminal justice systems.