Pheu Thai, Bhumjaithai Agree to Form Thailand's Next Government
The pact between the two parties, which came in second and third in May's general election, could spell an end to Thailand's protracted post-election deadlock.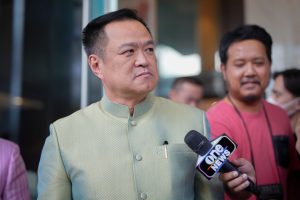 Nearly three months after Thai voters went to the polls to elect a new government, its possible shape and composition is only now starting to come into focus. Yesterday, the country's second- and third-placed parties announced their intention to form a government, after the first-placed party – the progressive Move Forward Party (MFP) – dropped out of the coalition due to entrenched conservative opposition.
The Pheu Thai Party, which won 141 seats on May 14, and the Bhumjaithai party, which won 71, said that they would join hands along with other, unnamed parties to form Thailand's next government.
"We would like to thank Bhumjaithai for accepting the invitation so that we can step over this political deadlock," Pheu Thai leader Chonlanan Srikaew told the press conference. "We want all parties to support the candidate from Pheu Thai."
He added that the two parties have agreed to push for the revision of the military-drafted Constitution through the establishment of an elected charter drafting committee.
The announcement came after the MFP, which holds 150 seats in the House of Representatives, dropped out of the coalition that it formed with Pheu Thai and six smaller parties in an attempt to end nearly a decade of military and military-backed rule.
The MFP has twice failed to have its leader Pita Limjaroenrat selected prime minister, due to the opposition of the military-appointed Senate, a contrivance of the current Constitution designed to block anti-establishment candidates from gaining control of government.
In particular, Thai conservatives staunchly opposes the party's plan to amend the lese-majeste law, which criminalizes criticisms of the Thai monarchy. While Move Forward agreed to let Pheu Thai nominate its own prime ministerial candidate, conservative parties, including Bhumjaithai, told the latter in no uncertain terms that they would not support any government that included the MFP.
Bhumjaithai leader Anutin Charnvirakul, who is best known for spearheading Thailand's legalization of marijuana last year, said at yesterday's press conference that his party decided to partner with Pheu Thai on three conditions: that it pledge not to pursue a lese-majeste amendment, that it does not form a minority government, and that the MFP "cannot be part of the government."
While the two leaders expressed confidence that their pact could spell an end to Thailand's protracted political deadlock, its path to power remains unclear. Together, Pheu Thai and Bhumjaithai hold 212 seats, and will need to attract at least 38 more MPs to reach a simple majority in the House of Representatives. The two parties have not yet revealed the identities of the other political parties that they are hoping to coax into the coalition, but they could well include the Democrat Party, which holds 25 seats, or smaller parties that hold just a handful. While some Pheu Thai officials have ruled out the participation of the "uncles" – Prime Minister Prayut Chan-o-cha of the United Thai National Party or Prawit Wongsuwan of the military-aligned Palang Pracharath Party, both of whom had a hand in the coup d'état of 2014 – they may also welcome parliamentarians who defect from these parties in order to support the new coalition.
The next challenge is whether this new coalition can surmount the 375-seat threshold necessary to have the PTP's prime ministerial candidate confirmed when a joint meeting of Parliament convenes at some point after August 16. This will require support either from MFP lawmakers, some of whom have indicated they will vote for the Pheu Thai candidate in order to prevent a more conservative government from taking office, and/or from the military-appointed Senate. Some members of the latter may remain leery about supporting a new Pheu Thai-led government, given the longtime hostility of Thailand's conservative establishment to the parties associated with fugitive former Prime Minister Thaksin Shinawatra.
While a residue of suspicion likely persists, there appears to be a realignment at work in Thai politics, as the establishment reorients itself toward combating what it views as the true threat to its power: the MFP. This realignment is the reason why Thaksin last month felt emboldened to announce his return to Thailand after 15 years in self-exile.
Thaksin has since delayed by two weeks his planned August 10 return, supposedly for health concerns, though over the weekend he surfaced in Cambodia, where he took part in the 71st birthday celebration of outgoing Prime Minister Hun Sen. It makes sense that Thaksin wants to return to Thailand only once the political situation has stabilized and preferably once a new Pheu Thai government is firmly ensconced in power – this time with the forbearance, if not the active support, of the military-backed establishment.