Social Media and the Fight For Political Influence in Southeast Asia
The use of digital communications platforms has transformed the region's politics – both for good and for ill.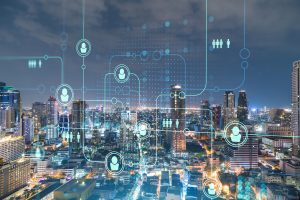 Social media has become an increasingly important tool in political campaigns in Southeast Asia. Politicians and national factions in the region are using platforms like Facebook, Twitter, and TikTok to reach out to voters, spread their message, and mobilize support. In the contemporary digital era, several steps can be done to ensure that the use of social media has positive impacts. In this article, we argue that learning from Southeast Asia's experiences may provide insights into social media usage trends ahead of future elections.
Recent elections in the region have reflected the importance of social media. On July 23, Cambodia held a national election during which the usage of social media has been a point of controversy. The incumbent Prime Minister Hun Sen, who has ruled the country since 1985, has used social media extensively to reach out to the Cambodian public. Besides Twitter and YouTube, he previously maintained a Facebook account with more than 14 million followers (many of them likely fake) that he deleted to preempt Meta's possible suspension of his account, after the company's Oversight Board flagged a video of a speech in which he incited violence against his political opponents. Hun Sen subsequently called people to tune in to his Telegram and TikTok accounts, and also backed a television production about his life that was aired on YouTube.
Meanwhile, Thailand's Move Forward Party (MFP) won a victory at the country's general election on May 14, claiming 151 out of 500 seats. The party's success was largely due to its telegenic leader Pita Limjaroenrat's use of social media. Positioning himself as the opponent of former army chief Prayut Chan-o-cha, who has ruled Thailand since leading a coup in 2014, Pita has become hugely popular due to his promises to remove the military's influence from politics. Pita has 2.6 million followers on Instagram, where he frequently posts personable photos of his family enjoying ice cream and trampolining together. Despite his party winning majority, Pita has been repeatedly blocked from forming Thailand's next government, as the country's post-election political deadlock drags on.
Indonesia's upcoming presidential election in February 2024 will likely follow a similar trajectory in its use of social media. The use of political bots and buzzers – account operators with thousands or even millions of followers that receive payment to amplify certain political messages – that sustained negative campaigns during the 2019 election campaign may be used to sway the voters, given the country's changing demographic landscape. With 106 million people, or about 52 percent of Indonesian voters, under the age of 40 and relatively tech-savvy, political parties have had to adapt by flooding positive campaigns through trending social media platforms. As of last month, only one of the 18 competing national political parties has not yet established an official presence on TikTok. A third of them have even set up accounts on Meta's new platform Threads, despite the fact that it is not yet well established.
Meanwhile, in neighboring Malaysia, parties from across the political spectrum have used social media to boost their campaign narratives. Last year's general election served as a real testament where the conservative Parti Islam se-Malaysia (PAS) unprecedentedly secured the lion's share of parliamentary seats with their racial-related hate speech campaign, which was conducted on TikTok. Although PAS President Abdul Hadi Awang is also active on Facebook, the party did not want to lose the momentum of campaigning on TikTok, which has expanded its Malaysian user base to more than 14.4 million people over the past two years. The party is attempting to replicate the same strategy for the upcoming state elections on August 12, hoping to harvest more support from Muslim Malays.
Not only politicians and political parties, one of Myanmar's opposition groups National Unity Government (NUG) has used social media extensively to communicate with the public and to raise awareness of the ongoing conflict in the country. The NUG has a number of official social media accounts on platforms such as Facebook and Twitter, and also shares interviews and other news on its YouTube channels. The NUG's use of social media has been praised by some for its ability to reach a wide audience and to provide a platform for the voices of the Myanmar people since the 2021 coup. However, the NUG's use of social media has also been criticized by some for being too focused on propaganda and the alleged spread of misinformation.
As each of the above cases shows, Southeast Asian parties and their political leaders have become savvier in utilizing a broad range of social media. This allows politicians to present a humanized version of themselves, which allows them not only to spread their messages, build their brand, and mobilize supporters but also to better connect with voters.
There are at least three benefits that social media has brought to politicians. First, it has made it easier for politicians to reach a wider audience than was possible via traditional media outlets like newspapers and television broadcasts. Second, social media has made it easier for politicians to gauge who is most likely to be persuaded by their message and through what kind of content. This allows politicians to tailor their messages to specific groups of voters, which can be more effective than trying to reach a broad audience with a single message. While this micro-targeting brings political benefits, this method creates online community silos echo chambers, and thus contributes to political polarization, as observed in Indonesia's 2019 and Malaysia's 2022 elections.
Third, social media has made it easier for politicians and political groups to spread misinformation, disinformation, and outright falsehoods against their opponents. In the digital realm, it has become all too easy to create and share fake news and propaganda. This can be used to manipulate public opinion and influence the outcome of elections. Lastly, foreign actors can use social media to spread propaganda and misinformation, which can have a negative impact on the democratic process.
In order to mitigate the risks of social media being used for negative purposes, three things can be done. The first is to educate the population about the potential spread of misinformation and disinformation on social media, and the risks of being misled by political content. They should learn to be critical of the information they see online and should only trust information from reliable sources. The second is to encourage social media companies to take steps to combat misinformation and disinformation by being more proactive in removing false and malicious content from their platforms. They should also make it easier for users to report false or misleading content. The third is to encourage social media companies to be transparent about their moderation policies. This will help to build trust with users and will make it more difficult for bad actors to use the platform for political purposes.