Talk of Gas Unions Riles Up Turkmenistan
What compelled a Turkmen foreign ministry official to push back on admittedly vague comments from a Russian foreign ministry official?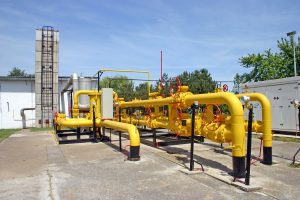 On August 12, Turkmenistan's state news agency (TDH) called upon Turkmengas Deputy Chairman Myrad Archaev to respond to "media reports regarding the idea of ​​creating gas unions and alliances," inspired by comments made by a Russian Foreign Ministry official, Dmitry Birichevsky, the day before.
This is a curious case of the Turkmen side responding negatively to a suggestion Birichevsky didn't really make — at least not in the interview published and circulated. The tea-leaf readers will have a field day.
Back in November 2022, Russian President Vladimir Putin, while meeting with Kazakh President Kassym-Jomart Tokayev in Moscow, suggested forming a "trilateral [gas] union." Tokayev, according to an Interfax report, responded positively, "Why not?" Tokayev said Putin was going to call the Uzbek president to discuss it. 
That initial report was subject to an immediate pushback and an effort at reframing, with the Kazakh side clarifying that the two presidents had discussed how "to coordinate joint actions for the transportation of Russian gas through the territories of Kazakhstan and Uzbekistan." Tashkent chimed in, with Energy Minister Jurabek Mirzamahmudov setting aside the "union" terminology and stressing that, "If we import gas from another country, we cooperate only based on a commercial sales contract. We will never agree to political conditions in exchange for gas."
Discussions have been ongoing since. In January, roadmaps were signed between the two Central Asian governments and Russia on gas cooperation and in February there was a meeting between the Kazakh and Uzbek energy ministers and Gazprom Chairman Alexey Miller in St. Petersburg. What seemed to come from that meeting was a tentative plan to route gas through the Central Asia-Center pipeline – a system controlled by Gazprom that transports gas from Turkmenistan, Uzbekistan, and Kazakhstan into Russia – if technical hurdles, namely improvements necessary to reverse the flow of the pipeline, could be surmounted.
By April, it was more clear that Russia's interest wasn't so much supplying Kazakhstan and Uzbekistan but reaching China. A TASS report at the time cited analysis by the Russian Energy Development Center, which contained the expectation that Gazprom "will be able to agree on the supply of up to 10 billion cubic meters of gas to Uzbekistan and Kazakhstan, of which 4-6 billion cubic meters will be transit gas for China."
As of early June 2023 there had been some progress but no big breakthroughs. Most importantly, amid the China-Central Asia summit in May, Uzbekistan had announced that gas supplies to China, suspended amid its winter crunch, had resumed.
I argued that Uzbekistan had some time on its hands to press for the best deal from Moscow, as the country's energy shortages are only acute in the wintertime. In the meantime, Kazakhstan appears to have been working on the technical question and most of the relevant infrastructure is in its territory. On August 14, Vlast.kz cited an energy ministry spokesman saying, "Today, work is underway on the technical preparation of the Kazakh section of the Central Asia-Center gas pipeline for transporting Russian gas through Kazakhstan to Uzbekistan, which is scheduled to be completed on October 1." He also said, however, that there had been no official proposals from either the Russian or Uzbek sides.
Backing up slightly chronologically, on August 11 Birichevsky – who is the director of the Department of Economic Cooperation in the Russian Foreign Ministry – did an interview with Ria Novosti (RIA), a Russian state-owned domestic news agency. In that interview, he was asked if the "gas union" idea would be expanded beyond Uzbekistan and Kazakhstan. He was also asked if it would be integrated into the Eurasian Economic Union framework.
Birichevsky replied that Russia does not rule out the possibility of expanding "trilateral cooperation in the gas sector" beyond Kazakhstan and Uzbekistan. He even claimed, "We know that other states are also showing interest in it. We are open to such cooperation on the understanding that it should be mutually beneficial and constructive, taking into account the positions of all participants."
Turkmenistan read an awful lot between those lines.
On August 12, TDH interviewed Turkmengas Deputy Chairman Myrad Archaev. Archaev asked some good questions about Birichevsky's comments:
Mr. Birichevsky's statement raises at least a few questions. What "expansion opportunities" are we talking about, what "other states" are showing interest in them, what, in principle, is behind the "trilateral cooperation" in the gas sector? The streamlined language used by the Russian diplomat does not provide answers to them. And complete clarity is required here, since the interests of other states, including Turkmenistan, are affected.
(We're going to set aside the irony of a Turkmen official calling for "complete clarity.")
Archaev then launched into an explanation of Chinese gas pipeline architecture in Central Asia. Turkmenistan, Uzbekistan, and Kazakhstan transport gas east to China via the Central Asia-China gas pipeline network, which presently has three functioning lines and a hypothetical Line D. Per Archaev, "out of the total agreed supply of 55 billion cubic meters per year [through the pipeline to China], 40 billion cubic meters are contracted by Turkmenistan, and the rest are provided by Uzbekistan and Kazakhstan."
Archaev then said, "There are no sources of gas from other countries to fill the pipeline, and the existing scheme for distributing gas volumes supplied to China does not include plans to expand the number of participants in the Turkmenistan-China gas pipeline project."
Archaev said that "no consultations have been held with Turkmenistan" on the issue of changing agreed volumes and schemes, or altering the use of existing infrastructure. "In this context, Turkmenistan is seriously concerned about the statements of official representatives that in one way or another affect the international obligations of our country, and may sow confusion and speculation about their implementation by other participants."
In concluding, Archaev stressed that international cooperation "should be based on open and clear criteria, mutual respect and consideration of interests, and strict observance of the agreements reached."
"Fluctuations in the external economic environment cannot serve as a reason to change these principles."
There's plenty to unpack in this, and so many tea leaves to read, but for now I want to just focus on Turkmenistan's shifting of the conversion. As all governments do, it puts itself at the center of the issue. Ashgabat may rightfully be concerned that reversing flows in the Central Asia-Center pipeline (as noted above, a Gazprom network) in order for Russia to more expeditiously supply gas to China (as suggested in April) could undercut its own business with Beijing. Of course, Archaev didn't directly say that, but that's what I read between his lines.
Also of note, just ahead of this exchange of statements, the presidents of Turkmenistan, Tajikistan, and Uzbekistan met together in Ashgabat on August 4. It was the first such trilateral meeting, with Central Asian governments most often engaging with each other bilaterally or within multilateral groupings – the aspirationally annual Central Asia Leaders Meeting is a more recent invention. 
After the trilateral meeting, Turkmen Foreign Minister Rashid Meredov said Ashgabat planned to increase its volume of natural gas production by at least an additional 60 billion cubic meters both to meet domestic demand and supply exports. "At the same time, the unconditional priority will be the supply of Turkmen gas to its closest neighbors – Uzbekistan and Tajikistan," he said.
And so, Turkmenistan may also be concerned that Russia will move to supply neighboring countries, like Uzbekistan, before it can settle such deals itself. As two of Eurasia's gas giants, Russia and Turkmenistan are in direct competition for customers in the region. And Uzbekistan likely stands to benefit by playing one off the other for the best price.