The Politics and Geopolitics of Women's Sport in the Pacific
The lack of Pacific women in Australian and New Zealand stadiums speaks to something amiss with Australia's sports diplomacy.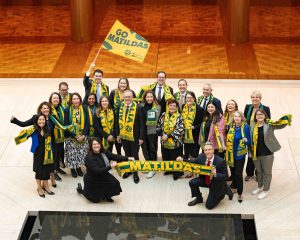 Now that the spectacularly successful FIFA Women's World Cup has concluded with Spain's La Roja victorious over Britain's Lionesses at Sydney's Olympic Stadium on August 20, there is much to unpack. For Australia, which co-hosted the tournament with New Zealand, the success of the nation's Matildas (they finished fourth) produced a coming of age for women's sport in the nation. As the Matildas continued to advance, stadiums that had only before been filled to capacity to watch men's sporting teams were brimming with fans. Those unable to obtain the hottest tickets gathered across the nation thoroughly behind their team.
No one was more prominent in his support of the Matildas than Prime Minister Anthony Albanese. Albanese's political brand is centered on his men's rugby league team, the South Sydney Rabbitohs. This team, with its deeply working-class roots, became layered with Hollywood stardust: Actor Russell Crowe and friends rescued the club from near oblivion in 2006 when the Murdoch media empire attempted to commandeer and pare-down the Sydney-based rugby league competition. 
During the FIFA Women's World Cup, Albanese traded the Rabbitohs' signature logos for Matildas' swag, which he wore in Parliament. He even prematurely declared he would push for a national holiday if the Australians prevailed and won the championship — only to see the Matildas lose their semifinal match against England.
This act of largesse was met by calls for the government to instead fund women's soccer and women's sport generally, a commitment not made in the government's most recent budget despite earmarking nearly $40 million for sport. Albanese saved what was looking like a political own-goal of not putting government money where his mouth was and came through with an additional $200 million for women's sport in the final days of the World Cup.
It's a good start to rectifying the immense gendered disparities in Australian sport, which are replicated globally. This disparity is nowhere more evident than in soccer.  
This support for Australian women's sport has other benefits, too. Capitalizing on the outpouring of national enthusiasm for women's soccer was a deft political move given how demonstrably important the good graces of Australia's women are to political longevity. This reality was recently exhibited during the 2022 federal election, which redrew the political maps of Melbourne and Sydney, replacing numerous conservative parliamentarians from the now-opposition Liberal Party with a slew of women known as the "teal independents."
Albanese, like others before him, has been skillful in using sport to mitigate domestic political tensions, though few, if any, of his predecessors have made such memorable displays supporting women's sporting endeavors. Also, like his predecessors, Albanese has continued to use sport as a diplomatic tool. Albanese and his ministers have plied the Pacific to repair relationships with Australia's neighbors, which, like Australia's women, were not enamored with the previous national government largely due to their climate policies.
The previous government did launch a "sports diplomacy strategy" in 2019 focused on building Australia's ties with its Indo-Pacific neighbors and enhancing "brand Australia" as a sporting powerhouse. The strategy also noted the need to reach Pacific women and boost their participation in sport. The 2023 World Cup is a measure of the effectiveness of this strategy, as we will see.
Albanese's use of sports diplomacy was prominent when he addressed the Papua New Guinea parliament in January 2023. He was the first Australian prime minister to do so despite the 150-year history that entangles the two nations. In particular, he noted Papua New Guinea's men's and women's cricket and rugby league teams and the two populations' shared love (some might say madness) for sport. Sport was an illustration of the ties between Australia and the "Pacific family," a term recently adopted by Australian politicians (in particular Albanese's unpopular predecessor, Scott Morrison) to describe the deeply entwined and unbreakable bonds Australia shares with its island neighbors. It's a catchphrase intended to challenge and contrast the China's relatively recent inroads in the Pacific with a benevolent image of Australia's Pacific relations as close, congenial, and longstanding.
The Australian government's adoption of the "Pacific family" trope coincided with the huge upsurge of international interest in the Pacific Islands, not least in the United States. This interest reached new heights when China signed a security deal with Solomon Islands in March 2022, an event that "changed everything" in the Pacific.
Solomon Islands' stark shift toward China has prominent sporting dimensions, too. Prime Minister Manasseh Sogavare used his nation's hosting of the November 2023 Pacific Games as the pretext to suspend national elections he was not favored to win until 2024. On August 19, 2023 China's ambassador, Li Ming, handed Sogavare the key to the 10,000-seat stadium purpose-built for the games, which was built by China and described as "a gift." The confluence of geopolitical and sporting contests will only increase as the Pacific Games approach in the coming weeks.
Sporting teams are perhaps the most prominent demonstration of Australia's "Pacific family." For many years, Australia's sporting teams, especially in men's rugby league and rugby union, have been filled with players of Pacific Islands heritage (as is also the case with New Zealand). For instance, in the 1990s Mal Meninga became a household name in Australia for his prowess playing rugby league. Meninga's success shone a light on his heritage and also a grim chapter in Australia's Pacific encounters. Meninga is a descendant of people kidnapped from the Vanuatu island of Tanna, among the thousands brought to Australia to work Queensland sugar cane fields. These people were, in effect, "sugar slaves." 
At the time Meninga was in his sporting heyday, Australia's Pacific Island communities grew exponentially due to migration into Australia from New Zealand thanks to the virtual free-flow of people permitted between the nations. Now Australian-born children of those mainly Samoan, Tongan, and Fijian migrants are found throughout the nation's rugby teams. Playing for a rugby league team was the career launchpad for Sydney-born Jordan Mailata, who played in the 2023 Super Bowl for the Philadelphia Eagles of the U.S. National Football League. Mailata's Samoan parents migrated to Sydney in the 1990s.
Beneath this story of integration through sport and huge success stories like that of Meninga and Mailata, there is another story that is less about the sentimental bonds of family and more about the ongoing dynamics of colonialism. This was the focus of a documentary featuring Samoan rugby player Dan Leo, which shone a light on the costs of the high presence of Pacific Islanders in overseas teams in the 2020 documentary, "Oceans Apart." The film focused on the huge disparities in pay and conditions between Australia, New Zealand, and other first-world nations and impoverished and under-resourced Fiji, Samoa, and Tonga whose sporting talent is reaped for prodigious commercial gains not passed onto Pacific players.  
The FIFA Women's World Cup had interesting Pacific angles that also feed into Australia's Pacific family narrative on one level. Pacific geopolitics in the FIFA Women's World Cup was subtle, but nonetheless present and instructive, as Australia, the United States, and other nations fashion ways to engage more deeply in the Pacific.
For Australia's Matildas, 20-year-old Mary Boio Fowler put a prominent human face on the political narrative of Australia's Pacific family. Dubbed "Princess Mary" following her stunning play during the Matildas' quarter-final game against Denmark (as opposed to the Australian-born Crown Princess Mary of Denmark), Fowler's mother hails from the village of Kira Kira in Papua New Guinea. Fowler is exceptional in numerous ways. Despite the extensive and lengthy connections between Australia and Papua New Guinea, very few Papua New Guineans live in Australia (the result of multiple hurdles put in place by successive Australian governments to prevent migration from its former colony), let alone appear in elite sporting contests.
Along with Fowler, New Zealand's team had two players with Pacific heritage: Grace Jale, who has Fijian ancestry, and Malia Steinmetz, who hails from Auckland's extensive Samoan community. Apart from these three women, however, Australia and New Zealand's wider region was not represented at all.
No Pacific teams qualified for the World Cup other than the host nations of Australia and New Zealand. Papua New Guinea's team came the closest to making the cut but were eliminated by Panama in February 2023. The first-world predominance in FIFA World Cups is replicated manifold in the women's competition that culminated in Sydney on August 20. That Jamaica's team had to crowdfund to attend is a clear sign of the immense gulf in financial support for the women's game — something that the Matildas also felt, albeit on a different scale. The lack of presence of Pacific women at the Australian and New Zealand stadiums speak to something amiss with Australia's sports diplomacy.
Ahead of this World Cup, FIFA began modestly investing in women's soccer in the Pacific. For instance, in March 2021, FIFA funded a six-team competition in Fiji. Unable to break into the top ranks of women's soccer playing in Australia and New Zealand in 2023, the Pacific's leading women's teams played in Port Moresby in June 2023 in the inaugural FIFA-affiliated Oceania Football Confederation (OFC). Held in the stadium named after the colossus of Australian colonialism in Papua, Sir Hubert Murray, teams from Fiji, New Caledonia, Papua New Guinea, Samoa, and Solomon Islands battled for victory, with the AS Academy Féminine from New Caledonia claiming victory. A sixth team, Eastern Suburbs from New Zealand, was meant to compete too but withdrew due to lack of funding. FIFA nonetheless hailed the competition as a "milestone" for soccer in Oceania.
The challenges to Pacific women's sporting participation and success at all levels are complex, though not unfamiliar in many cultural contexts throughout the globe. At the 2021 launch of the FIFA-funded women's competition in Fiji, Shazia Usman from the U.N. Women Fiji Multi-Country Office noted that "while women and girls in Fiji and the Pacific do play sports, they are largely dissuaded from pursuing it as a career and face a lot of barriers, even violence, when they choose to do so. Even young girls are discouraged from playing outside due to immense societal pressure where they are expected to confirm to gender norms, which is 'girls stay in the house to help, and boys work and play outside.'"
The challenges for elite players, like Papua New Guinea's women's soccer team, are also complex. According to their head coach, Spencer Prior, the emphasis on rugby league in PNG adds pressure on the team and correlates with a lack of funding. There are also the issues of balancing women's personal lives with the demands of travel and training. Prior said that "many of the players are making huge personal sacrifices to be part of the squad, especially the six players who are mothers." 
"It's hard for a foreign audience to get a full understanding of the breadth of challenges these girls face," he told the Australian Broadcasting Corporation in February 2023.
It is fair to say that every team that competed in the FIFA Women's World Cup had to contend in some form or another with the lack of support and complex set of discriminations that have hobbled their progress. For Pacific women, these challenges proved insurmountable in 2023 when the World Cup came to the region; all but three women of Pacific heritage watched from the sidelines. Albanese and his government now have the challenge to not only bolster women's sport in Australia but in the Pacific Islands too. The measure of success will be seeing Pacific teams qualify when women soccer players compete in the next World Cup in 2027.