Australian Voters Demand Change, Oust Morrison's Coalition Government
Out of the wreckage of Morrison's Liberal rule comes a new political era for Australia.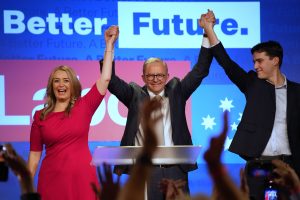 The Australian people resoundingly rejected the Coalition government that had been in power nine years. In registering their electoral voices in the May 21 election, Australia's voters have also redrawn the electoral map. The dramatic results were fueled by deep-seated rage at the government's inaction on climate change, a culture of contempt for women, endemic corruption and a refusal to establish a body to keep it in check, incompetence in securing COVID-19 vaccines and the poor treatment of ordinary Australians during lengthy border closures, to name but a few of a long list of grievances. 
Galvanizing all these grievances was the deeply unpopular Prime Minister Scott Morrison, who repeatedly dodged responsibility, obdurately refused to reform, and assumed a clownish persona he hoped would retain his electoral appeal. On Saturday night, after the electoral bloodbath was clear, Morrison conceded defeat to Anthony Albanese, leader of the Australian Labor Party (ALP), who became Australia's 31st prime minister on Monday. 
When Morrison won the May 2019 "miracle election" his political fortunes, which had been on shaky ground, seemed secure at last. (He was the third prime minister installed after a series of party-room coups since his party won government in 2013.)  This sense of security was short-lived. In late 2019, massive fires started burning in Australia. By the Christmas-New Year holiday period the fires were catastrophic. In the middle of the crisis, Morrison disappeared only to be discovered holidaying at a hotel on Waikiki Beach with his family. Voters never forgave him for this abdication of duty. 
Since the summer that "broke" Morrison's leadership, he continued to alienate growing numbers of voters. He made policy announcements but neglected to follow through with the work required to enact them. He acted with competence in the first phase of the pandemic, only to undermine his own record with inexplicably sluggish acquisition of vaccines. He kept assuring Australians this vital quest was "not a race," words he came to regret. When ordinary Australians had to endure separation from family due to long-lasting travel restrictions, Morrison flouted his government's rules. 
Morrison also took the practice of bestowing political favors on friends to a new level. He gave jobs and government resources to mates, building what one commentator described as "the mate-ocracy." He presided over a government where women were disrespected, bullied, or in one case, allegedly raped in the parliament house office next to his. Morrison's response sparked an uprising among women that has been unleashed in the ballot box. Australia's women, who have felt invisible in Morrison's masculine Australia, reminded the now former prime minister who was the boss on Saturday. It felt like poetic justice. As one journalist put it after the election, "Scott Morrison didn't always 'get' women but in the end they got him. They got him good."
Morrison had many other liabilities going into Saturday's polls. After the pandemic began, Morrison's government kicked off a high stakes confrontation with China. Initially sparked by Australia's push for an investigation into the pandemic's origins, rhetoric and reprisals continued to escalate. After Solomon Islands' security deal with China was revealed in February 2022, delivering a severe blow to Morrison's much-touted security credentials, the tense Australia-China rhetoric soared. During the election campaign, Morrison's defense minister even went so far as to tell Australians to "prepare for war" with China. The Morrison government's intense anti-China rhetoric looks to have backfired in electoral seats, like Bennelong in Sydney, with high concentrations of Chinese Australians who felt vilified by the anti-China rhetoric.
Morrison's government alienated China and Solomon Islands, with game-changing consequences for Australia and the region. It also failed other Pacific nations due to steadfast support of the coal industry and minimal steps toward realigning Australia to meet climate targets. Morrison also angered France with the surprise September 2021 announcement of the AUKUS submarine deal, which canceled a deal Australia had earlier settled with France. An enraged Paris abruptly withdrew its ambassadors to the U.S. and Australia in protest, though both later returned to their posts.
Morrison, it now appears, also got the Biden administration off-side. One week before the election, details about the AUKUS deal came to light directly from the White House. It was revealed that Morrison did not secure bipartisan support from his political opponent, Anthony Albanese, for AUKUS. We now know that Biden had "demanded" bipartisan support early on in negotiations as a condition for the U.S. to sign onto the deal. Morrison informed Albanese of the AUKUS deal the day before it was publicly announced.
Albanese, for his part, has always offered the deal his full support. He will now meet Biden in Tokyo for the Quad meeting on May 24. 2022.
Like his domestic performance, Morrison's foreign policy record left voters deeply unimpressed, further propelling them to vote for change. What Morrison did have in his corner was Murdoch-owned and other media outlets that followed a similar editorial line that supported the Coalition government's re-election. In the end, all this valuable media support could not save Morrison. Australians were no longer listening to it. 
Morrison's failings regarding women and climate coalesced into the great success story of Australia's 2022 election, the so-called "teal independents." These are high-profile, successful women who fled Morrison's Liberal party and ran smart, grassroots campaigns that were at once local and also prioritized the global issue of climate action. As independents, they opposed high profile Liberal Party men in what were once the party's safest seats, and they were stunningly successful. Current results show seven will almost certainly hold seats in the new parliament, with three more in strong contention to join them. One of these successful candidates is Allegra Spender who won Sydney's seat of Wentworth. She is the descendant of leading Liberal Party figures, but has now dealt the party served by her father and grandfather a very painful blow. 
Out of the wreckage of Morrison's Liberal rule comes a new political era for Australia. With all the challenges, domestic and foreign, that Australia faces, there is optimism that the new government will deliver the sweeping change Australia's voters demanded on May 21, 2022.