Why Did India Merely Observe Exercise Talisman Sabre 2023?
Despite earlier reports that India would actually participate in the Australia-U.S. led military exercise, New Delhi remained an observer of the latest iteration.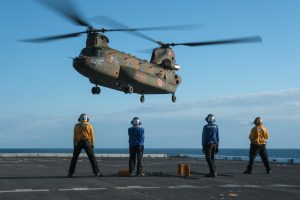 Exercise Talisman Sabre 2023 (TS23), a two-week long Australia-U.S. led military exercise, ended recently. The U.S. and Australian militaries were joined by their partner countries: Canada, Fiji, France, Germany, Indonesia, Japan, New Zealand, Papua New Guinea, South Korea, Tonga, and the United Kingdom. Military personnel from India, the Philippines, Singapore, and Thailand joined as observers at the exercise.
India appears to have taken a political decision to limit its participation because of concerns about China's reaction. 
This year marked the 10th edition of the biennial multinational military exercise. The exercise, which was held across five states and territories in Australia, included forces from the army, air force, navy, cyber, and space forces of the participating militaries. This was considered not only a demonstration of the strong Australia-U.S. military partnership but also of the strength of their partnerships with "trusted allies and like-minded nations." 
Australia's Chief of Joint Operations, Lieutenant General Greg Bilton, remarked that TS23 involved "a complex series of training activities that allowed us to test our combined capabilities across sea, land, air, cyber and space operations." Specifically, these involve "a variety of large-scale logistics and amphibious assault training operations and multinational firepower demonstrations and field training exercises."
U.S. Commanding General I Corps Lieutenant General Xavier T. Brunson echoed similar sentiments to suggest that exercises like Talisman Sabre have "strengthened our collective commitment to promoting peace, security and stability in the Indo-Pacific." He added that this is also demonstrative of "the bond" between all the partnering countries and that "the vast scope and scale of this year's exercise speaks to the shared understanding of maintaining a strong network of friends, partners and allies."
U.S. Army Maj. Gen. Joseph A. Ryan highlighted the first-time participation by many Pacific Island countries – Papua New Guinea, Fiji, and Tonga. He said that these countries are "acting in their own self-interest, but also as part of a broadly more collective stance against some of the insidious activity that other nations in this region have shown." While Ryan did not name these "other nations," China was likely top of mind.
India's decision to be an observer rather than a participant is surprising. Earlier reports had suggested that India might take part more fully in the Talisman Sabre exercise this year. In fact, according to some Australian news sources, the Australian prime minister had announced that the Indian military would join the exercise during his March visit to India.
Nayanima Basu, one of India's senior foreign affairs journalists, also reported that Barry O'Farrell, former Australian high commissioner to India, had said that India will be participating in Talisman Sabre. Indeed, O'Farrell said this even earlier, in an interview to an Indian news outlet in December 2021. This came after the 2021 India-Australia 2+2 Ministerial Dialogue when "Australia invited India to participate in future Talisman Sabre exercises." Other Indian news reports also suggested that India would participate in the exercises this year. 
New Delhi's decision is also surprising considering the dramatically improved relations between India and Australia. The two countries have gone through a transformative change in their bilateral relations, with security interests driving the relationship to greater heights. The strategic consequences of a belligerent China for both countries as well as the Indo-Pacific have brought New Delhi and Canberra ever closer.
Yet, India chose not to be a full-fledged participant at this biennial multinational military exercise because Indian participation could possibly "upset" China. "New Delhi did not want this before the September 9-10 G-20 Summit," according to Basu's report, which was cited officials who spoke on conditions of anonymity. With India gearing up to host the G-20 Summit, it appears that India wanted to play it safe and not cause any disruption to the all-out success that the Modi government is seeking.
The story went on to say that this is the first time India is hosting the G-20 Summit, and "in order for it to be 'successful,' New Delhi is pulling out all stops to ensure full participation by the leaders of the member countries, especially the key ones such as U.S. President Joe Biden, Chinese President Xi Jinping and others." 
But Indian media reports citing official sources added that India has reportedly assured Australia that it will "join the Talisman Sabre as an active participant in the next edition" which will be held in 2025. This was apparently discussed at the 8th India-Australia Defense Policy Talks (DPT) held in Canberra last week, although it was not mentioned in the Indian Ministry of Defense statement on the talks. 
The Indian decision follows a familiar pattern. For many years, India excluded Australia from the Malabar Exercises out of concern that it might irritate Beijing. Similarly, India slow-walked its participation in the Quad Security Dialogue for several years to mollify China. New Delhi appears to want to continue the same policies, despite the fact that the record of such policies in actually improving China's policy toward India is more than a little suspect.