With Visits to Sri Lanka, Maldives, Japan Seeks to Shore up Indian Ocean Presence
Japanese Foreign Minister Hayashi Yoshimasa visited the Indian Ocean island states in his latest foreign tour.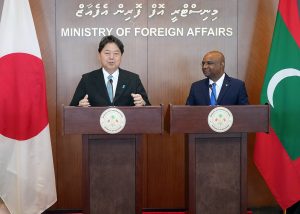 Japanese Foreign Minister Hayashi Yoshimasa is wrapping up a six-nation tour of India, Sri Lanka, Maldives, South Africa, Uganda, and Ethiopia. Hayashi's visits to Sri Lanka and Maldives in particular are intended to convey Japan's commitment to greater engagement in the Indian Ocean.
He visited Colombo on July 28-29 and met with his Sri Lankan counterpart, Ali Sabry, as well as Sri Lankan President Ranil Wickremesinghe, and visited Malé on July 30 and met with his Maldivian counterpart, Abdulla Shahid.
As Indian Ocean states, Sri Lanka and Maldives are key to realizing a "free and open Indo-Pacific," the stated goal of Japan and its allies. This also means preventing Sri Lanka and Maldives from being drawn into China's orbit as part of the Belt and Road Initiative, which critics fear has hidden military aims for maritime infrastructure.
In Colombo, there were many issues to discuss, above and beyond Hayashi stressing the importance of Sri Lanka to Japan's regional vision. Japan and Sri Lanka historically had good ties because Tokyo funded many infrastructure projects in Sri Lanka on concessionary terms. However, the relationship took a turn for the worse a couple of years ago when then-President Gotabaya Rajapaksa unilaterally canceled a Japan-funded light rail project. The situation in Sri Lanka became even more chaotic last year when Sri Lanka became the first Asia-Pacific country to default on its foreign debt since the late 1990s. Public protests over the economic crisis led to Rajapaksa's resignation.
In April, Japan, France, and India created a common platform to coordinate debt restructuring. During this visit, Hayashi said, "I conveyed my expectations to further progress in the debt restructuring process and stressed the importance of a transparent and comparable debt restructuring that involves all creditor countries." The emphasis on "all creditor countries" is a dig at China, which not been party to the creditor committee. Although in March, China offered Sri Lanka a two-year moratorium on loan repayments, the other creditor nations fear China will set repayment conditions that are most favorable to itself.
Sri Lanka is working to restructure its debt to continue a $2.9 billion International Monetary Fund (IMF) bailout. Hayashi welcomed Sri Lanka's agreement with the IMF, which includes anti-corruption and transparency measures.
Sabry also invited Japan to resume investment in the country. The Sri Lankan cabinet has already approved restarting the canceled railway project. In addition, Sabry asked Japan to consider fresh investments in sectors such as power generation, ports and highways, dedicated investment zones, as well as in the green and digital economy. Hayashi did not respond publicly to Sabry's comments about investments.
In Malé, Hayashi and Shahid agreed to waive visa requirements for diplomatic and official passport holders from each other's country, and Japan agreed to provide grant aid to train young Maldivian administrative officials in Japan. Hayashi also observed an exercise involving a fireboat that Japan donated to the Maldives as part of official development assistance (ODA), and during the joint press conference, it was announced that the two countries would move forward with studying a new project to symbolize the countries' friendship.
Hayashi and Shahid also agreed to vitalize bilateral dialogue and exchanges in foreign affairs and security fields to achieve a free and open Indo-Pacific. The Japanese foreign minister expressed the desire to promote security cooperation with Maldives, and the Maldivian foreign minister responded by expressing a desire to continue cooperation with Japan to maintain peace and stability in the Indian Ocean.
According to NHK's analysis, Maldives is interested in reciprocating Japan's overtures because "Amid ballooning debts to China, the Maldives' current administration is trying to reduce its excessive reliance on Beijing." The Japan News also argued that Maldives is trying to reduce its dependence on China.
Maldives has traditionally relied on India as its main partner, but the role of New Delhi is a lightning rod for controversy ahead of Maldives' presidential election. Against that backdrop, Japan may provide a more palatable alternative to China and India alike.
Whether Japan still has the financial clout to shape regional dynamics is an open question. As The Japan News pointed out, Japan's budget for ODA has been declining since it peaked at 1.2 trillion yen in fiscal year 1997. Japan's ODA budget is 570.9 billion yen for fiscal year 2023. Even if recent experiences with Chinese financing may stimulate Sri Lanka and Maldives to prefer Japanese financing, it is unclear whether Japan has the will and capability to fulfill this need.