China, Mongolia, Russia Hold First High-Level Security Trilateral 
The new trilateral security consultation could be linked to the Power of Siberia 2 natural gas pipeline that will pass through Mongolia, as well as prepping for a trilateral summit in Beijing in October.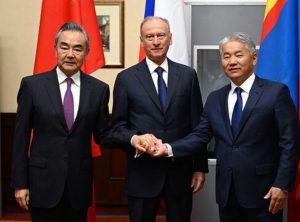 During Wang Yi's visit to Moscow, China's top diplomat held trilateral consultations with Russian Security Council Secretary Nikolai Patrushev and Mongolian National Security Council Secretary Enkhbayar Jadamba. (Wang is currently serving both as China's foreign minister and as the head of the Chinese Communist Party's Central Foreign Affairs Office. The latter position is generally seen as equivalent to national security advisers in bilateral talks.)
Prior to the trilateral meeting on September 20, the various sides of the triangle – Russia and China, Mongolia and China, and Mongolia and Russia – held bilateral talks on security issues. This meticulous arrangement of consecutive talks underscores the high importance that China and Russia attach to security issues.
Prior to this, the last high-level security meeting between Mongolia and China was held in 2015. Meng Jianzhu, then a member of the CCP's Politburo and secretary of the Central Political and Legal Commission, met with Ts. Enkhtuvshin, then secretary of the Mongolian National Security Council, and his delegation. At that time, Enkhtuvshin also visited Buddhist heritage sites in Lhasa, Tibet, and met with Wu Yingjie, then the executive deputy secretary of the Tibet Autonomous Region CCP Committee.
At the recent conference, Wang may have invited Enkhbayar, the secretary of the Mongolian National Security Council, to visit China at a later date to strengthen cooperation. Given the precedent noted above, a visit by Enkhbayar might also include stops in relevant regions such as Tibet or Xinjiang.
It should be emphasized that Mongolia is preparing to update its existing National Security Concept. According to the official website of the Mongolian President, over 60 percent of national security concepts need to be modified or revised. Enkhbayar has submitted the updated version to Mongolian President Khurelsukh Ukhnaa, and a revised draft of the National Security Law has been formulated. However, the draft concept was not submitted to the National Great Khural in a timely manner, due to the uncertainty of the international environment in the surrounding areas of Mongolia.
Many of Mongolia's neighbors and close partners – including Russia, China, North Korea, the United States, South Korea, Japan, and Kazakhstan – have all revised their corresponding security policy documents to reflect the new geopolitical environment. Mongolia will update relevant documents in the near future as well. That makes close consultations with Ulaanbaatar especially important for Russia and China at this formative time in Mongolia's national security policymaking.
With the intensification of China-U.S. competition and extreme tension between Russia and Europe and the United States due to the entrenched Russia-Ukraine conflict, Mongolia, sandwiched between Russia and China, has to pay close attention to its security positioning. Senior officials from the Russian and Chinese governments have stated that Moscow and Beijing do not oppose Mongolia's diplomatic relations with other countries and its "third neighbor" diplomacy, as long as these actions do not harm the common strategic interests of Mongolia, Russia, and China. But the situation has changed recently, though the shift is very subtle. Today, Russia and China intend to strengthen cooperation with Mongolia through mechanisms such as tripartite security consultations, which may be institutionalized in the future.
There are several reasons why Mongolia, Russia, and China are holding this security consultation at the current moment. First, there is talk that a deal for the Power of Siberia 2 natural gas pipeline will be finalized in October, when both Russian President Vladimir Putin and Mongolia's Khurelsukh are expected to travel to Beijing for the third Belt and Road Forum. The pipeline would bring gas from Russia's Far East to China, transiting Mongolia in the process. The joint project would necessitate close cooperation between the three neighboring countries, including in the security realm.
Second, China and Russia may hope to to head off the prospect of instability in Mongolia. Various protest activities in Mongolia have raised the specter of "color revolution," a frequent bugbear for both China and Russia. Russia's Patrushev in particular made a point of saying that his country would work with China and Mongolia to "jointly resist external interference" and "prevent color revolutions."
Last winter, in the Mongolian capital Ulaanbaatar, thousands of people took to the streets despite severe cold to protest against corruption and high inflation in the country's coal industry. Mongolia's anti-corruption agency announced in mid November that more than 30 coal industry officials were under investigation for corruption. So far, no clear explanation has been provided to the public regarding these corruption cases.
These developments caused dissatisfaction among the masses and raised speculation of interference from internal and external forces. This may affect the stability of Mongolian society, which would have a negative impact on ethnic minority areas near the borders of Russia and China.
Third, and closely related, China and Russia may be growing concerned about losing influence in Mongolia. In recent years, Mongolia has engaged in trilateral meetings with the United States and its allies. Japan, the U.S. and Mongolia, as well as South Korea, the U.S. and Mongolia, have had several meetings under these mechanisms.
In August, Mongolian Prime Minister Oyun-Erdene Luvsannamsrai visited the United States and met with multiple high-level officials of the U.S. government, resulting in warm interaction between the two sides. Now the United Nations General Assembly is being held in New York, with the participation of the Mongolian president. It can be seen that the United States is the most active in wooing Mongolia, given its sensitive and crucial location between Russia and China.
Ulaanbaatar is also working hard to respond. After all, in Mongolia's "third neighbor" strategy, the United States has always had the highest priority. In Ulaanbaatar's view, only superpowers like the United States have the ability to overcome geopolitical constraints and help Mongolia hedge against the influence of China and Russia. Ulaanbaatar can also negotiate better with China and Russia using the Mongolia-U.S. relationship.
This has sparked a sensitive mindset between China and Russia, leading them to strengthen cooperation with Mongolia, including through this trilateral security consultation.
Mongolia has long been eager to maintain close economic cooperation, friendly exchanges, and political ties with China and Russia. Currently, there are many cooperation projects between China, Russia, and Mongolia. However, Mongolia has always maintained a distance from international organizations led by China and Russia. Mongolia has not joined the Collective Security Treaty Organization (CSTO) or become a full member of the Shanghai Cooperation Organization (SCO). This is part of Mongolia's policy of balanced diplomacy or neutrality among major powers, without participating in any security organizations.
However, it may be difficult for Mongolia to continue to be ambiguous in its approach to mutual trust and relations among the three countries in the field of security. Both China and Russia are subtly pushing for Mongolia to move closer.
Last April, Zhang Ming, the secretary general of the SCO, visited Mongolia and clearly stated that the organization hopes that Mongolia will further participate in the grouping. This was a disguised invitation for Mongolia to join, something Ulaanbaatar has resisted thus far. At the 8th Eastern Economic Forum (EEF), Russian Deputy Foreign Minister Andrey Rudenko also stated that Russia is willing to promote Mongolia's formal accession to the SCO. It seems that Russia and China hope to accelerate Mongolia's accession to the security organization.
Russia in particular has recently shown a relatively strong and frequent interest – some might say interference – in Mongolia's foreign diplomatic efforts. Alexey Sambuevich Tsydenov, the current head of the Buryat Republic within the Russian Federation, and Sholban Kara-ool, the former head of the Tuva Republic of Russia and currently the deputy speaker of the Russian State Duma, are influential senior decision-makers from the Mongolian ethnic minority in Russia. Both have explicitly stated that Washington is planning a "Ukrainian-style" strategy for Mongolia that would fully align it against China and Russia. Given that Moscow used allegations of U.S. interference in Ukraine as pretext to stage an invasion, these claims are particularly alarming.
Even more interestingly, the Mongolian government and senior diplomats did not raise any objections against these comments, which undermined Mongolia's sovereignty and diplomatic independence, nor did they issue any summons to Russian diplomats in Ulaanbaatar. Mongolia may have been trying to avoid any adverse effects on the recent trip of Vyacheslav Volodin, the speaker of the Russian State Duma, to Ulaanbaatar, as well as the upcoming visit of the Mongolian prime minister to Russia and the tripartite meeting between Mongolia, China, and Russia, that is scheduled to take place in Beijing during the the Belt and Road Forum.
However, if Ulaanbaatar fails to take timely action to resist Russia's actions or clarify the situation with the public, it may encourage Russia or others to resort to inappropriate language and behavior to attack Mongolia's foreign policy and actions in the future.
Russia and China, within their respective spheres of influence, are strengthening cooperation, including with Mongolia, in the context of changes in the international environment. This has brought new diplomatic and security pressure to countries like Mongolia.