China Seeks Reassurance From Visiting Nepali PM Dahal on Taiwan and Tibet Issues
The two sides will strengthen cooperation between their domestic security agencies.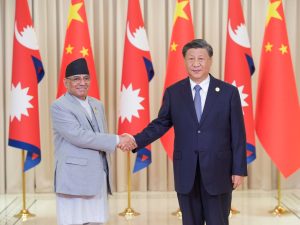 Dahal's visit to China was a long time coming. He made Beijing wait for his visit, declining its invitation to attend the Boao Forum in March. Yet, he received a warm welcome in China. Not only did he receive a guard of honor at the Great Hall of the People and laid a wreath at the monument to the People's Heroes at Tiananmen Square but he also met with the top three leaders of the Communist Party of China (CPC), including President Xi Jinping, Premier Li Qiang, and the Chairman of the Standing Committee of the National People's Congress, Zhao Leji.
The Global Times was effusive in its praise of Dahal, calling him a "legendary figure" and a "staunch socialist," who embarked on a revolutionary path to transform Nepal's destiny.
Experts did not expect a headline-grabbing breakthrough during the visit. However, the visit came at a critical juncture. Chinese trust in Nepali leaders has been on the wane in recent years and Beijing's frustration with Nepal over its lack of progress in the Belt and Road Initiative (BRI) is mounting.
Ahead of the Nepali premier's visit, the Chinese government said that BRI and strategic cooperation were important items on the bilateral agenda. "China stands ready to work with Nepal to deepen strategic mutual trust… advance high-quality Belt and Road (BRI) Cooperation and elevate the strategic cooperative partnership to a new height," the Chinese foreign ministry spokesperson Mao Ning said.
In an apparent reference to changing geopolitics, Xi urged the Nepali prime minister to understand and support the legitimate interests of neighboring countries. He also raised concerns about the potential use of Nepali territory against Chinese interests.
Dahal sought to placate the concerns by stating that Nepal is conscious that regional and global political winds do not impact Sino-Nepal relations.
Dahal's meeting with his counterpart, Li, was the most consequential. The 13-point joint statement released after the meeting between the two is revelatory.
The statement reflects that Dahal's visit aimed to enhance mutual understanding and trust. The two countries reiterated their commitment to respect and accommodate each other's concerns and core interests.
Beijing is insecure about foreign 'intervention' in Tibet or Taiwan. This insecurity, and Nepal's signing of the Millennium Challenge Corporation (MCC), a $500 million American grant, deepened distrust. Beijing had expressed strong reservations regarding Nepal's ratification of the MCC. Therefore, Beijing sought Nepal's reiteration of the one China policy in starker terms and commitment that it would not allow any "separatist activities against China" on Nepal's soil.
To address such concerns, the two sides agreed to strengthen cooperation between the domestic security agencies of the countries. China is also keen to sign an extradition treaty with Nepal.
Moreover, the visit allowed the two countries to evaluate the implementation status of agreements signed previously.
In 2016, then-Nepali Prime Minister Khadga Prasad Sharma Oli signed a landmark agreement allowing Nepal to use Chinese ports for transit facilities. It was followed by Nepal's signing of the BRI agreement in 2017. During Xi's historic visit to Nepal in 2019, Nepal and China elevated the bilateral relationship to a strategic partnership.
However, not a single project under BRI has started in Nepal. This is despite Nepal's eagerness to be a part of the BRI. Beijing added the Trans-Himalayan Multi-Dimensional Connectivity Network to its BRI plans at Nepal's insistence. Kathmandu tends to seek 'grand' agreements but has a poor implementation record, which has deepened Beijing's insecurity and distrust of Nepali leaders.
China is dismayed at the lack of progress on the BRI projects.
The recent joint statement reveals the level of Beijing's frustration over Nepal's poor implementation of agreements and provides a push to implement without further ado. The statement is full of words such as "accelerate" (4 times), "expedite" (3 times), "as soon/early as possible" (5 times), "early date" (6 times), and "early/earliest" (3 times).
Such urgency was reserved primarily for the BRI projects.
Additionally, the joint statement is quiet on the funding modality of the BRI projects. The silence indicates Beijing will not commit to developing projects on a grant. Therefore, despite the two countries agreeing to expedite the implantation of BRI, it will not have any easy take-off.
Nepali nationalists had pressured Dahal to raise concerns over the new maps Beijing issued. It does not reflect the addition of new territories of Lipulekh, Limpiyadhura, and Kalapani that Nepal incorporated in its official map in 2020. India also claims the territories and administers them currently. During his visit to China, Dahal avoided raising the border issue with Chinese leaders because the onus is not on China to solve the border dispute.
During Dahal's visit, Kathmandu clarified its positions on Xi's global initiatives — BRI, Global Development Initiative (GDI), Global Civilization Initiative (GCI), and Global Security Initiative (GSI). Nepal is a part of the GDI and supports the initiative. While the GCI was not mentioned in the statement, Beijing's support for Chinese language education and testing, Confucius Institutes, and cultural exchanges indicate that Nepal will be a part of GCI sooner than later.
As for the GSI, Dahal was vocal about Nepal's commitment to the non-aligned principle.
In essence, the joint statement reflects the asymmetric relations between Nepal and China. Nepal seeks China's support for development and other issues. However, it has limited leverage of its own. Ensuring that Chinese security is not jeopardized through Nepal seems to be the main benefit Kathmandu can offer to Beijing.
Trade imbalance stacked in favor of China by 100 to 1 provides a case in point. Nepal seeks Chinese support to build connectivity and ports. Recently, Lizi-Nechung port was opened, and Zhangmu-Khasa point opened for passenger service.
However, increased trade is hardly likely to narrow the trade imbalance. This is despite China granting zero-tariff treatment to 98 percent of taxable products from Nepal.
Connectivity is essential, but a two-way movement of goods or services is equally crucial for Nepal to benefit from the connectivity. Even to achieve some semblance of balance in trade, Nepal needs to seek Chinese help. That summarizes the Nepal-China relations.