China's Shipping Giant Gets Foothold in South America With New Multipurpose Port in Peru
COSCO's $3 billion port project in Chancay, Peru, looks to remake logistics in Latin America.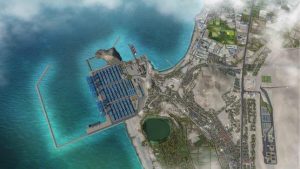 In the district of Chancay, Huaral province, approximately 80 kilometers from the Peruvian capital, Lima, a major private investment project is being developed that promises to change the logistics landscape in Latin America. It is the New Multipurpose Port Terminal of Chancay, a joint project by the Chinese company COSCO Shipping Ports Limited (CSPL), which owns a 60 percent share, and the Peruvian company Volcan Compañía Minera, with the remaining 40 percent.
With an investment budget of over $3 billion, this ambitious project is in the development stage, over 40 percent complete. Construction began in 2011, and the terminal is expected to start operations in the last quarter of 2024.
During the construction phase alone, the facilities include a camp with a capacity to house 1,500 people. It is estimated that during this period the port project will generate a total of 7,500 jobs directly and indirectly.
One of the most outstanding features of the Chancay New Multipurpose Port Terminal is its capacity to receive vessels of up to 18,000 TEUs (Twenty Foot Equivalent Units), the largest shipping vessels in the world. To date, no vessel of this size has not arrived in Latin America. This capacity will position Chancay as a strategic port on a global scale.
This mega-port, with its ability to receive the largest ships in the world, will is expected to be a logistic hub that could monopolize a significant part of the continent's cargo traffic.
The ambitious project also stands out for its complex infrastructure, made up of three components.
The first of these components is the port's operational area, which includes jetties, sea entrance channels, maintenance areas, and specialized workshops, as well as extensive storage areas for containers, bulk, and roll-on/roll-off cargo. This operational area is the heart of port activity and will ensure efficient handling and storage of goods.
The second component is the entrance complex, which plays an essential role in the terminal's logistics. It includes the vehicular port, entrance gates, customs inspection area, administrative offices, and a logistics and support services area. This sector will handle the smooth and safe transition of goods and vehicles entering and leaving the port.
Finally, the third component, and undoubtedly one of the highlights of the port project, is the tunnel. Extending for 1.8 kilometers, the tunnel is part of a road corridor dedicated to cargo transit related to port operations. This subway viaduct will have three vehicular lanes, two conveyor belts for handling bulk solids, and pipes for transporting bulk liquids.
This mega-project of unprecedented magnitude is a milestone in China's growing influence in Latin America. Over the last decade, China has accelerated its strategy to increase its presence and influence in the region.
The Asian giant, already Latin America's main trading partner, has consolidated its presence through significant infrastructure projects, such as the Port of Chancay, but also through investments in the mining sector and crucial areas such as telecommunications, lithium, energy development, and even space studies, becoming a major player in the region.
Some of these are sensitive sectors, raising concerns about how China is using investments and loans to secure its influence in countries such as Peru. In effect, all Latin American countries have outstanding Chinese credits. This phenomenon has raised concerns in the United States, which seeks to preserve its strategic position in relations with Latin American countries.
Latin America is a region rich in natural resources, fundamental in today's global geopolitics. One of the most prominent elements at the center of international attention is lithium, essential for technological development. The largest concentration of this mineral is found in the so-called "lithium triangle," which encompasses Argentina, Bolivia, and Chile. It is therefore natural that superpowers such as China and the United States seek to strengthen their presence in the region, given the strategic importance of these resources in the global economy.
In this context, the Port of Chancay plays a fundamental role for China. This port represents a direct connection between Asia and South America, which will significantly reduce crossing time across the Pacific. Once the port is operational, it will save 10 days in transit time, compared to conventional routes that require stopovers in multiple ports to the south.
With a 60 percent majority investment from state-owned COSCO, Chancay will become China's first logistics hub in South America. It adds a new star to a massive constellation of Chinese-owned ports in Europe, the Middle East, Africa, South Asia, and more.
The strategic geographical location of the port – on the central coast of Peru and South America – makes it a key entry point for maritime traffic in the region. The bay, with its exceptional natural characteristics, and the availability of sufficient land has allowed the development of a large-scale integrated port and logistics complex.
With the progress of the work and the significant investment involved, the New Chancay Multipurpose Port Terminal is presented as a project of great relevance for both Peru and the region. It also stands as a symbol of China's growing influence in Latin America.
This piece was originally published in Spanish by ReporteAsia.