China's Unjust Life Sentence for Uyghur Scholar Rahile Dawut Is a Tragic Loss for Humanity
Rahile's imprisonment represents not only a personal tragedy but also a broader assault on Uyghur culture and identity.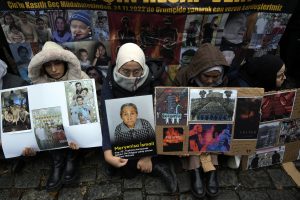 On September 21, the world learned the grim news that Uyghur anthropologist Dr. Rahile Dawut had been handed a life sentence by Chinese authorities, on charges of endangering state security, in 2018. Since Rahile's disappearance in 2017, the Dui Hua Foundation has asked the Chinese government 28 times for information on her case, but received confirmation of her fate only now.
Basic information was withheld from Rahile's family for five long years. The secret trial and secret sentence  speaks volumes about the Chinese government's human rights crimes. The secrecy itself shows this is no ordinary judicial proceeding: this is a crime against conscience and against humanity.
(Author's note on Uyghur names: I have followed Uyghur-language naming conventions by referring to Dr. Rahile Dawut as "Rahile.")
Rahile, an internationally renowned scholar specializing in Uyghur folklore and traditions, had dedicated her life to the preservation and dissemination of Uyghur learning. Her unjust imprisonment is not just a tragedy for her and her family but also a grave loss for academic freedom, cultural preservation, and human rights. In response, the institutions of academia must act. 
Rahile's contributions to Uyghur knowledge and her academic excellence were widely recognized. She served as the founder and director of the Minorities Folklore Research Center at Xinjiang University, where she continued her teaching until 2017. Her research and initiatives even received sponsorship and support from the Chinese government, making her sentence all the more shocking.
The story of Rahile's disappearance is shrouded in mystery, as she went missing in December 2017 and it wasn't until July 2021 that her former colleagues confirmed her detention and legal proceedings. But her family and supporters, including the many American universities where she had been a visiting scholar, were still in the dark about the outcome of her trial and her well-being.
Confirmation of Rahile's draconian sentencing came just two days before the ninth anniversary of the life sentence handed to another prominent Uyghur academic, Dr. Ilham Tohti. Ilham, an associate professor of economics at the Central University of Nationalities in Beijing, was imprisoned for advocating basic economic, cultural, religious, and political rights for Uyghurs. These harsh sentences for Uyghur intellectuals are part of a broader pattern of persecution and cultural erasure that constitutes a significant component of China's genocidal campaign in the Uyghur homeland.
The Uyghur Human Rights Project (UHRP) has found that this pattern of persecution is "a form of twenty-first century eliticide," which suffocates the store of collective knowledge while preserving the physical bodies of the intellectual and cultural elite. 
The destruction of Uyghur intellectual and cultural elites is a calculated strategy to reduce Uyghur identity into manageable and exploitable forms. It is a deliberate attempt to erase native knowledge systems. UHRP's director of research, Dr. Henryk Szadziewski, notes that it  presents a stark contrast to the current academic movement to empower diverse epistemologies. 
The Chinese government's intent is clear: The state rhetoric of an open and "harmonious" Xinjiang is an obvious propaganda ploy to whitewash policies of cultural erasure and systematic oppression. Innocent academics like Rahile are crushed in service of state policy to erase the distinct heritage and identity of an entire people.
Academic institutions need to be seen to be acting if their support for diverse knowledge systems is to have any substance. First, academic organizations must speak out on behalf of their persecuted colleague. The American Anthropological Association, along with organizations like the Association of Asian Studies, should use their influence and platforms to advocate for Rahile's release and condemn the unjust treatment of Uyghur intellectuals.
Moreover, the institutions where Rahile delivered lectures, such as Harvard University, Cornell University, and the University of British Columbia, have a moral obligation to reciprocate her contributions by formally protesting the oppression of Uyghur intellectuals. The same applies to Cambridge University, Indiana University, the University of Pennsylvania, and Washington University, where Rahile served as a visiting scholar. All of these institutions should also reconsider their relationships with the Ministry of Education in the People's Republic of China, which is complicit in these human rights abuses.
Rahile's imprisonment represents not only a personal tragedy but also a broader assault on Uyghur culture and identity. It is a loss for all of humanity, as it demonstrates that scholarship and knowledge-sharing are targets of authoritarian regimes and genocidal actions. We must stand in solidarity with Rahile, her family, and the Uyghur people, and demand justice, freedom, and respect for human rights in the face of oppression and cultural destruction.