Civil Society Groups to Hold Climate Rally in Singapore
Several of the city-state's NGOs are joining forces to highlight the overlap between climate and social justice, and the urgent need to address both.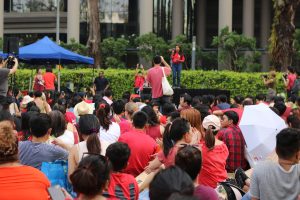 On September 23, more than a dozen civil society groups will be converging on the Speakers' Corner of Hong Lim Park, the only place where political rallies can be held in Singapore, for the latest iteration of the SG Climate Rally (SGCR).
This year's edition titled "Seas Are Rising, So Are We" is set to take place almost four years after the organization's inaugural event, which drew over 2,000 attendees. Inspired by the momentum sparked by climate activist Greta Thunberg and the youth-led Global Climate Strike, a group of local students and climate-concerned professionals set out to bring the fight for justice to Singapore and self-funded a rally at Hong Lim Park, planting the seeds for SGCR.
As the COVID-19 pandemic shifted public advocacy to digital spaces, the organization took to social media to organize various awareness campaigns, as well as an online rally in 2021, paving the way for SGCR's second in-person rally this week.
The need for immediate climate action is at an all-time high. The 2015 United Nations' Paris Agreement set 2050 as the milestone year to achieve net-zero emissions, in order to prevent an irreparable rise of 1.5°C in the planet's temperature.
Last October, the Singapore government announced its intention to achieve net zero by 2050, and the low-lying city-state remains highly vulnerable to rising sea levels and extended droughts. While the decision to meet zero net emissions was welcomed by the climate advocacy group, they also expressed concerns that Singapore's climate efforts aren't ambitious and inclusive enough for the city-state.
"Prime Minister Lee Hsien Loong […] claimed that 'everything else must bend at the knee to safeguard the existence of our island nation'," an SGCR spokesperson told The Diplomat. At the same time, the spokesperson said that Singapore's carbon tax "still falls short of scientific recommendations," while the government has carved out exceptions from the tax for the fossil fuel industry and continues to clear the nation's few remaining forests.
Back in 2021, the government's decision to earmark some of Singapore's green spaces, including Dover Forest and Clementi Forest, for housing developments faced backlash from civil society groups and climate-conscious individuals fearing the loss of nature in the densely-populated city-state. These groups highlighted the need for a social policy that doesn't come at the detriment of environmental preservation.
Support for such policies is particularly strong among Singapore's student population, which makes up the bulk of SGCR's inaugural organizational team and has remained a staple of its volunteer corps, with SGCR stating that students from local universities are looking to charter buses for this weekend's rally.
Campus mobilization continues to play an important role in the fight for climate justice in Singapore, with grassroots organizations such as Students for a Fossil Free Future, an inter-university coalition calling for institutional divestment of fossil fuels, running a booth at the upcoming rally.
"While the 2019 rally succeeded in bringing climate change to the forefront, its implications on issues of social justice are less discussed," the SGCR spokesperson said. "We want to demonstrate that people who care about cost of living, human dignity, food, and health already have a stake in climate action."
In choosing to emphasize the extended impact of the climate crisis on current social and economic issues, SGCR has joined forces with several other civil society groups in Singapore for the upcoming rally, in order to "expand local conceptions of climate justice to include different socio-political issues."
"It is not news that the climate crisis affects every single life on earth, so all of us here have a stake in it," said Elijah Tay, member of the Transformative Justice Collective (TJC), a local advocacy group campaigning for the abolition of the death penalty in Singapore, which is one of many civil society groups involved in this year's climate rally.
Tay drew from TJC's experience with the Singapore legal system to draw a parallel with the government's approach to climate justice: "in order to survive, ordinary people turn to what is defined as criminal in the Singapore law," they said, adding "they are prosecuted for these, even to the extent of the death penalty, while climate criminals who have stolen indigenous lands and driven up global temperatures are left unaccounted for."
Migrant Mutual Aid (MMA), a grassroots advocacy group delivering aid to migrant workers in Singapore, said that it had similar motivations for joining this year's climate rally, emphasizing the role played by the climate crisis in exacerbating the divide between Singaporeans and the city-state's large migrant workforce.
"We noticed that similar to various other socio-political issues, the experiences of migrant workers tend to be disregarded, and this is particularly apparent in the context of climate change," said Dimitra Meghawaty, a volunteer with MMA.
She pointed to an inadequate policy with regards to construction workers "enduring long hours of work in sweltering heat, residing in cramped dormitories with inadequate ventilation and cooling, […] and encountering numerous other challenges stemming from the effects of climate change," at a time when the safety of working conditions for migrant workers is already the source of public debate.
"This rally holds limited significance unless the government and corporations actively participate in the dialogue," Meghawaty added, "particularly concerning climate-related policies and the goal of making Singapore a livable city for individuals from diverse backgrounds and citizenship statuses."
She expressed hope that the rally will serve as an opportunity to spotlight behind-the-scenes efforts of advocacy groups and invited attendees to ask themselves "how can we reimagine a city built for migrant workers, not just by them," hopefully encouraging more to engage with and take part in community organizing.
"We want to demonstrate that people who care about the cost of living, human dignity, food, and health already have a stake in climate action," said SGCR in relation to the growing civil society mobilization behind the cause. "This act of collective action will hopefully invigorate rally goers to become more active citizens and join the climate movement."