Despite China-US Dialogues, Semiconductor Supply Chain Remains Uncertain
The Biden administration is picking up the pace of engagements with China, while simultaneously continuing to tighten restrictions on China's access to chip technology.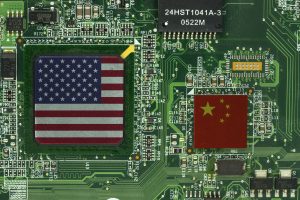 The late August 2023 visit to China by U.S. Secretary of Commerce Gina Raimondo marked a noteworthy development in the ongoing dialogue between the United States and China. Nonetheless, the U.S. stance remains ambivalent. On one hand, it seeks to solidify its global technological dominance and is tightening sanctions against China in key sectors. On the other hand, the United States desires access to China's lucrative market opportunities. In this context, Washington is placing particular emphasis on the concept of "de-risking" rather than a complete "decoupling."
Examining past discussions between officials from both nations, it becomes evident that the underlying structural conflicts between these two major powers are unlikely to change in the near future. There looks to be little short-term prospect of the United States relinquishing control over China's semiconductor industry, with uncertainties still looming over the global supply chain.
The United States has implemented significant control measures over the past year, including a series of export restrictions on advanced semiconductor chips in October 2022. Several U.S. companies such as Applied Materials, KLA, and Lam Research have felt the impact. In December of the same year, and subsequently in August, the United States added dozens of Chinese companies, including Yangtze Memory Technologies Corp, a prominent Chinese memory manufacturer, to a trade blacklist. In 2023, U.S. allies, namely the Netherlands and Japan, also issued relevant regulations pertaining to the export of semiconductor equipment.
Furthermore, in August, not long before Raimondo's visit, the United States issued an executive order mandating that investments in China's semiconductor industry, quantum computing, artificial intelligence (AI), and related fields must be reported to Washington, and certain transactions may face prohibitions. There is also keen market interest in the United States' potential implementation of comprehensive blocking measures against China's AI initiatives.
What's particularly noteworthy is the United States' intention to limit the range of Chinese chip-making to mature processes in response to China's active pursuit of expanded capability in the semiconductor industry. Additionally, the United States is contemplating constraints on Samsung and SK Hynix to prevent them from expanding local production of related products, thus preventing China from gaining share in the global market.
With the United States displaying no indications of relaxing its control over Chinese semiconductors, concerns about global supply chain restructuring and alignment persist. Pushback is occurring on two fronts: at home and abroad.
First, within the United States, the Semiconductor Industry Association (SIA) and certain major manufacturers hold differing views regarding the ongoing efforts by administration officials to curb the growth of China's semiconductor industry. Specifically, the SIA has cautioned that such actions may inadvertently jeopardize the benefits derived from chip-related subsidies, thereby impacting the industry's expansion initiatives within the United States.
Furthermore, numerous influential semiconductor companies in the United States argue that the government should conduct a thorough assessment of the consequences of export restrictions. They contend that exporting chips to China not only supports U.S. companies' domestic investments but also sustains research and development endeavors, maintaining the United States' edge in advanced technology. Conversely, the array of control measures undertaken by the U.S. government could potentially incentivize the Chinese government to further propel local enterprises in the development of cutting-edge technologies, such as the chip industry and AI. This, in turn, may lead American companies to miss out on growth opportunities in the world's largest export market, consequently eroding the United States' leadership in pioneering technologies.
Therefore, industry players, including Intel, NVIDIA, and Qualcomm, have appealed to the U.S. government to suspend the implementation of a new round of export bans on China. However, they have yet to receive a favorable response.
Second, the U.S. strategy to limit the growth of Chinese chip production to mature manufacturing processes necessitates collaboration with allies, particularly South Korea, which has significant investments in China. Samsung and SK Hynix, both South Korean companies, currently operate memory factories in China, so the United States is contemplating exerting pressure on these South Korean facilities to discourage the expansion of mature process product manufacturing in China.
Regarding the impact on Taiwan's semiconductor industry, it is anticipated that the United States will require American companies to report their investments in China's semiconductor, quantum computing, and AI sectors to Washington, with some transactions being prohibited. While this control is not expected to heavily affect Taiwanese factories, future attention should be paid to whether the United States will implement comprehensive measures against China's AI endeavors. In such a scenario, if the chips supplied by companies like NVIDIA and Advanced Micro Devices (AMD) cannot be shipped to China, it could indirectly impact the order intake of Taiwan's AI-related supply chain.
As the United States expands controls over Chinese manufacturing processes from advanced to mature stages, the impact on Taiwanese factories operating in China will be relatively limited. Historically, cross-strait relations have been tense, with strict controls in place. Taiwan's semiconductor companies have only a minimal share of production capacity in China. Conversely, effective containment of China's chip manufacturing expansion by the United States in the future could potentially lessen the severity of the medium- to long-term disruptions in the global supply chain and price wars affecting Taiwan's second-tier wafer foundries.
Nevertheless, if the United States' semiconductor control policies targeting China are excessively broad and unclear, they may increase market uncertainty and prompt Beijing to escalate countermeasures. Therefore, Taiwan's semiconductor industry should exercise caution in responding to future market dynamics.