Fortified Himalayas: Why Nepal Can't Shake Its Dependence on India
Nepali Prime Minister Dahal's upcoming visit to China is important if the country is going to truly forge meaningful links to the north.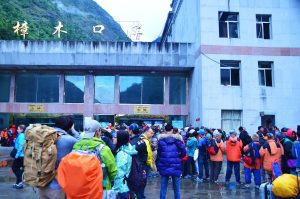 As South Asia has grown ever-more globalized and connected, Nepal as a nation-state has become increasingly reliant on India – regardless of the deepening political relationship and modern connectivity with its other neighbor, China. Despite Nepal's desire to be more connected with its northern neighbor, with the explicit hope of lessening its dependence on India, the opposite has occurred. 
Most Nepalis, including many politicians, are quick to blame India for this over-dependence, and there are some elements of truth in that. But it may be useful to put aside this traditional thinking (at least temporarily) and look into China's role as well.
For a full understanding, it's necessary to go back to the 1950s. Back then, the politics in the Himalayas were rapidly changing with decolonization in the larger part of South Asia coupled with the beginning of the communist regime in China. While India gained its independence from the British in 1947, the Chinese Communist Party, following its triumph over the Nationalist government in 1949, completed its political project by annexing Tibet by the end of the 1950s. At the time, then, independent India was cementing its stature in Himalayan politics – and China was doing the same. 
As these external events transpired, Nepal's newly acquired democracy began to falter as soon as it started, largely because of the monarchy's increasing assertiveness to regain its pre-Rana regime status and power. These changing external events coupled with the autocratic nature of Nepal's domestic politics politicized the Nepali section of the Himalayas.
Before China annexed Tibet, Nepal as a state held many privileges in Tibet, and Nepalis enjoyed a high level of connectivity with the civilization beyond the Himalayas, through enhanced levels of trade and people-to-people movement. Borders were open and free. However, this situation gradually ended with the politicization of the Himalayas. That principally began with the establishment of communist China's direct rule in Tibet, which meant that Nepal no longer could enjoy the same connections that had been in place for years, if not centuries. The harmonious relationship between Nepal and Tibet under the Nepal-Tibet Treaty of 1856 largely ended with Nepal recognizing China's sovereignty over Tibet in 1955, meaning that all previously existing treaties with once-independent Tibet were nullified. 
However, that's not to say that Nepal's connectivity with China has been frozen ever since. It's quite the opposite. The advancement of technologies has made trans-Himalayan access more possible. Both countries have increased connectivity in trade, transport, investment, cultural exchange, party-to-party relations, and people-to-people movements. The opening of the China-Nepal highway in 1967 marked the beginning of this modern phenomenon. 
Nonetheless, despite modern connectivity, the physical space of the Himalayas has become more militarized than ever – including the Nepali Himalayas. There are more security personnel and military installations along the various borders in the Himalayas than at any point in history. This has taken a toll on the China-Nepal border as well. As the years passed, cross-border movements have become more complex, restricted, foreign, and hostile, even for those living along the border.
For China, Tibet is an incredibly sensitive area, and preventing "splittism" is the top priority. The frontiers of the Nepali Himalayas are now strictly regulated with armed security personnel under the "One China" policy. The recently reopened Gyirong-Rasuwa crossing point is generally thronged with queues of lorries waiting to cross as more and more bureaucratic regimes are imposed. Notably, this red tape mostly serves to make cross-border movement extremely difficult mostly for Nepalis, but this is hardly the case for the Chinese. 
Under these circumstances, the symbolic agreement granting Nepal the use of Chinese ports – and other significant deals that were supposed to increase Nepal's access to the world beyond the Himalayas, as well as decrease Nepal's dependence on India – are yet to translate into reality. It is unlikely that this will change anytime soon. The roars about a possible trans-Himalayan railway connection between the two countries under the Belt and Road Initiative have slowly begun to fade – and the slowing down of the Chinese economy is not a promising sign in that regard, either. Modern connectivity was supposed to make the Himalayas more accessible; however, politicization has turned the northern border into an increasingly impenetrable iron wall for most Nepalis. 
When one access point to the world is severely restricted, it is natural to use another, more liberal access point. This is the case in Nepal: because trade with and travel to China is so difficult, India is the only remaining option. 
Many common Nepalis appear to have become even more reliant on India, both for their day-to-day livelihoods and to access the world beyond Nepal. However, this might not be the case for the few Nepali elites and politicians who have had better access to China. This is why, as Tsering Shakya put it, "The Nepal-China relationship remains almost entirely confined to the government and the elite. There is hardly any people-to-people contact between Nepalese and Chinese."
Indeed, for the majority of Nepalis, cross-border movement from Nepal into China is becoming extremely difficult, if not impossible. As a result, even those living close to the border with China must venture south into Indian lands to sustain their livelihood. In turn, this means that any deterioration in India-Nepal relations significantly affects average Nepalis. 
It's not only flows of people and goods that are affected by these dynamics. The need to look toward the south for Nepal extends to the business of selling electricity. Power generated in Nepal needs to find a market in India. Even when it comes to electricity that Nepal wants to sell to a third country, such as Bangladesh, Nepal must rely on the goodwill of India – not China.
While to a certain extent, India does buy electricity from India-invested hydropower projects in Nepal, China has yet to follow suit. Prime Minster Pushpa Kamal Dahal can be expected to press for electricity purchases during his upcoming visit to China. It is one of the issues on Nepal's agenda for the trip, which starts this weekend.
Nepal has more problems with India than with China, and these problems are historical and complex. One of the reasons Nepal desired to increase its connectivity with China was to lessen these problems. But successive Nepali government so far have neither succeeded in making the Himalayan frontiers less hostile for Nepalis nor managed to lessen the country's dependence on India. 
Adding to the difficulties in China-Nepal relations, the recent publication of China's updated "standard map" places disputed territory claimed by Nepal within India's borders, which sparked discontent in Nepal. It would seem to reflect a China-India consensus on Nepal's territorial dispute with India in the far west of the country, as China's map refutes Nepal's own recently revised map. 
The map issue indicates that China likely places less priority on ties with Nepal than its relationship with India. After all, China, ever since the Communist Party came to power, has repeatedly told Nepali regimes to maintain a friendly relationship with India at any cost. There is a reason for that. 
Against this historical background, the Nepali prime minister's upcoming visit to China – the first during his current stint in office – is crucial. The big question for Dahal is whether he will be able to narrow down any outstanding issues with China so that Nepal's long-held desire to decrease its over-dependence on India can be achieved in the future.