G-20's Delhi Declaration Fell Short on Climate Change
It acknowledged "national circumstances" in the gradual reduction of "unabated coal power," but omitted any reference to decreasing crude oil consumption.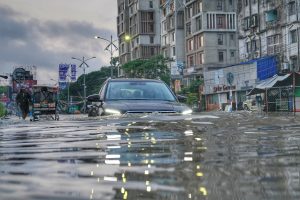 While leaders of the Group of 20 (G-20) rich and developing nations often express a commitment to promoting initiatives aimed at tripling global renewable energy capacity by 2030, taking into account each nation's specific circumstances, the declaration that emerged from the recent G-20 summit in New Delhi was disappointing as it failed to mention the cutting of greenhouse gas emissions and phasing out of fossil fuels.
The consensus document acknowledged the consideration of "national circumstances" in the gradual reduction of "unabated coal power." But it notably omitted any reference to decreasing crude oil consumption.
This omission suggests that countries with significant oil resources, such as Saudi Arabia, exerted influence during the negotiation process. It reflects negligence on the part of a bloc that accounts for 80 percent of total global GDP, and 80 percent of per capita coal power emissions.
Energy think tank Ember said in its latest report that within the G-20, Australia and South Korea continue to be the top two per capita coal polluters, a position unchanged since 2020. Their per capita emissions exceed three times the global average and are more than twice the G-20 average, surpassing even China, the United States, and Japan in this regard.
As advanced economies, they should undertake a robust and ambitious expansion of renewable electricity infrastructure, and facilitate a phased transition away from coal-fired energy sources by the year 2030. But they have not done so.
Second, banks are still facilitating fossil fuel plants. As revealed in the 14th annual Banking on Climate Chaos report, the world's 60 largest banks have financed fossil fuel projects to the tune of $5.5 trillion in the seven years since the adoption of the Paris Agreement. In 2022 alone, they extended $669 billion in funding for fossil fuel projects, which is six times more than the $100 billion pledge made for Climate Finance adaptation. This was further intensified in 2022 after fossil fuel companies made record earnings of $4 trillion as a consequence of the Russian invasion of Ukraine.
Among the banks that are the top fossil fuel financiers are the Royal Bank of Canada, JP Morgan Chase, Citigroup, and Mitsubishi UFJ Financial Group. It is interesting that the biggest financiers of dirty fuels have their headquarters in Canada, the United States and Japan — all major powers in the G-20 bloc.
Among the 60 banks examined in the above-mentioned report, 49 have over the past two years established various forms of net zero decarbonization objectives. These commitments have been made by either aligning with the United Nations-convened Net Zero Banking Alliance (NZBA) or through self-initiated efforts. However, their net zero policies are a leak in the system, which gives them room to greenwash efficiently.
The repercussions of choices formulated within these remote financial governance chambers manifest as hardships, predominantly borne by marginalized communities residing in Africa, Asia, and Latin America. The recent Africa Climate Summit is an exhibit A in underscoring that Africa's energy necessitates decolonization through delimiting the neocolonial models of extracting Africa's natural resources, a path that will move the continent toward increased energy security.
Much evidence is available on the climate imperialistic policies of governments and institutions of the Global North, through which they continue to enforce and encourage fossil fuel initiatives in countries of the Global South.
From 2000 to 2018, the United States, China, and Japan emerged as the primary bilateral financiers of fossil fuel endeavors in Global South nations, with their financial allocations significantly surpassing those directed toward renewable energy initiatives. Calculations suggest that the financial support allocated to fossil fuel projects by these three nations alone will result in the preservation of 24 giga tons of CO2 emissions until the year 2060.
Such policies of the established economies — all members of the G-20— ignore pledges and commitments made to the UNFCCC, ultimately resulting in climate catastrophes faced by those living in vulnerable and least developed states. As an international grouping that aims to bring about international financial stability and cooperation, the G-20 ought to perform more than just lip service to the climate crises facing humanity.
The three-day G-20 climate ministers' meeting in Chennai in India failed to reach a consensus on a just energy transition. While leaders at the G-20 summit in New Delhi did succeed in issuing a joint statement, they failed to do enough for climate change.
As per the statistics of the Asian Development Bank, South Asia will suffer huge losses pertaining to economic, social, and environmental damage if no concerted effort is made on cutting down greenhouse gas emissions. In the absence of comprehensive worldwide efforts to address climate change, it is projected that global temperatures could experience an increase of 4.6 degrees Celsius.
This climatic scenario could lead to a reduction in the combined economic output of six South Asian nations, namely Bangladesh, Bhutan, India, Maldives, Nepal, and Sri Lanka, by an estimated annual average of 1.8 percent by the year 2050 and up to 8.8 percent by the year 2100.
The G-20's gigantic carbon footprint is affecting agriculture, energy, water, forests, and the coastal and marine ecosystem. Similarly, climate migration in South Asia is also becoming a significant humanitarian crisis, posing a threat to regional stability.
According to a 2020 World Bank report, South Asia could witness the migration of approximately 40 million people by 2050. The escalating rural-to-urban migration trend will increase pressure on the region's densely populated cities, exacerbating the existing challenges related to the provision of fundamental necessities such as food, housing, and employment. This situation is particularly concerning given the prevailing socioeconomic disparities in South Asia.
Comprising many high-carbon and resource-hungry nations, the G-20 needs to lead by example and leave behind unsustainable patterns of production and consumption. Their strength can drive a force for change; however, their commitment is murky.
The G-20 bloc should channel its finances into the Global South as a means of developing capacity, technology, and capital in a grant-based model instead of the conventional debt-based vicious cycle. It is incumbent upon wealthier nations within this grouping to set a precedent, translate their pledges into concrete actions, and actively participate in the establishment of a more ecologically sustainable and just future for all.