Hong Kong's Top Court Rules in Favor of Recognizing Same-Sex Partnerships
The ruling stopped short of granting full marriage rights to same-sex couples, but nonetheless represents a breakthrough for the LGBTQ+ community.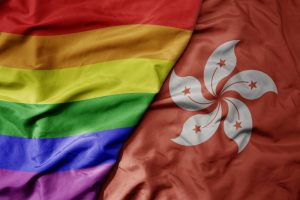 Hong Kong's top court ruled on Tuesday that the government should provide a framework for recognizing same-sex partnerships in a landmark decision for the city's LGBTQ+ community.
The ruling did not grant full marriage rights to same-sex couples but was a partial victory for prominent pro-democracy activist Jimmy Sham, who had fought a five-year legal battle over the recognition of same-sex marriage registered overseas.
Sham married his husband in New York in 2013, and argued that Hong Kong's laws, which don't recognize foreign same-sex marriage, violate the constitutional right to equality.
Equality advocates said the judgment was a step forward and will have strong implications for the lives of the LGBTQ+ community and the financial hub's reputation as an inclusive place to stay and work.
Judges at the top court, by a majority, declared in a written ruling that the government is in violation of its positive obligation to establish an alternative framework for legal recognition of same-sex partnerships, such as registered civil partnerships or civil unions.
"The absence of legal recognition of their relationship is apt to disrupt and demean their private lives together in ways that constitute arbitrary interference," Justice Patrick Keane wrote.
The court suspended its declaration for two years to give the government time to comply with its obligation.
But the judges unanimously dismissed Sham's final appeal on other grounds related to same-sex marriage and recognition of overseas same-sex unions.
Currently, Hong Kong only recognizes same-sex marriage for certain purposes such as taxation, civil service benefits, and dependent visas. Many of the government's concessions were won through legal challenges in recent years and the city has seen a growing social acceptance toward same-sex marriage.
Surveys this year showed that 60 percent of respondents support same-sex marriage, up from 38 percent in 2013, according to a report issued by researchers at The University of Hong Kong, The Chinese University of Hong Kong, and the University of North Carolina School of Law in May.
In a previous hearing, Sham's lawyer Karon Monaghan argued that the absence of same-sex marriage in Hong Kong sent a message that it's less worthy of recognition than heterosexual marriages.
Jerome Yau, a co-founder of non-governmental organization Hong Kong Marriage Equality, said the ruling sent a clear signal that same-sex relationships deserve some form of recognition and that it would help enhance Hong Kong's reputation.
"This judgment, we believe, will go a long way in attracting young talent coming to Hong Kong to work and live," he said.
Hong Kong resident Travis Chow, who has a same-sex partner, said he had wondered about their future, but the judgement prompted him to think seriously about the option of staying in Hong Kong in the long run.
"This is absolutely happy and encouraging," he said.
The court decision was an important step for equality for the LGBTQ+ community in Asia, said gender studies scholar Suen Yiu-tong at the Chinese University. But Suen admitted he was disappointed that the court did not recognize same-sex marriage.
Sham has been in custody after being charged under a Beijing-imposed national security law following massive pro-democracy protests in 2019. The law has been used to arrest and silence many other pro-democracy activists as part of a crackdown on dissent in the former British colony.
Sham is the former convenor of Civil Human Rights Front, which was best known for organizing the annual protest march on the anniversary of Hong Kong's handover to Chinese rule on July 1, 1997, for years.
The group also organized some of the biggest political protests that roiled the city in 2019 but was disbanded in 2021 under the shadow of the security law.