Indonesia's Anies Baswedan Picks Head of Islamic Party as Presidential Running Mate
The former Jakarta governor has announced that he will team up with Muhaimin Iskandar of PKB, the country's largest Islamic party.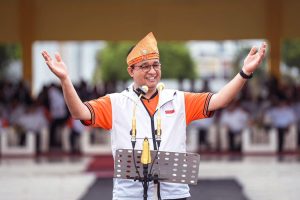 On Saturday, Anies Baswedan, the former governor of Indonesia's capital Jakarta, named his running mate for next year's presidential election: the chairman of Indonesia's largest Islamic party.
Muhaimin Iskandar leads the National Awakening Party (Partai Kebangkitan Bangsa, PKB), which, as Reuters notes, has strong ties with Indonesia's largest Islamic organization, Nahdlatul Ulama (NU), which boasts some 40 million members.
Anies is one of three candidates vying to succeed President Joko "Jokowi" Widodo, whose second and final term will come to an end with the February 14 election. However, opinion polls have shown Anies sitting consistently in third place behind his rivals, Ganjar Pranowo, the governor of Central Java, and Jokowi's Defense Minister Prabowo Subianto.
During his speech at a ceremony to launch his partnership with Anies in the city of Surabaya on Saturday, Muhaimin described his move to join the Anies camp as a "blessing from God."
Anies' announcement has prompted some surprise, given that Muhaimin's PKB was not part of the three-party Coalition of Change for Unity that endorsed Anies as a candidate for the election. Indeed, officials from the Democratic Party, one of the members of the coalition, have since expressed indignation that Anies made the decision unilaterally, without their input.
Anies' candidacy has previously struggled to gain purchase, and current opinion polls give him little chance of surviving to a run-off for the presidency. A recent survey of 1,220 voters by Lembaga Survei Indonesia found that only around a fifth planned to vote for Anies, well behind Ganjar (37 percent) and Prabowo (36 percent), both of whom have received forms of endorsement from Jokowi. A July survey from the polling agency Indikator had similar results, except with Prabowo slightly ahead of Ganjar.
The two leading candidates have not yet named their choices for vice president, which often carry a significant degree of weight in Indonesian presidential elections. According to Reuters, candidates are expected to formally register between October and November.
Given his current political fortunes, Anies' selection of Muhaimin seems like a reasonable attempt to build up his support among the moderate mass of Indonesian Muslims, and to downplay his past dalliances with more hardline elements.
When Anies ran for the position of Jakarta governor in 2016-17, he successfully capitalized on the blasphemy controversy that ensued after his opponent, Basuki Tjahaja Purnama was accused of blasphemy for quoting the Quran during a campaign speech. Huge crowds assembled in Jakarta, demanding his resignation and imprisonment. Anies rode the wave of momentum to a significant victory in the April 2017 election. Ahok, as he is commonly known, was charged, arrested, and sentenced in May of that year to two years in prison.
As Helen Pausacker of the University of Melbourne noted in an August 8 article, Anies was previously known as a progressive Muslim intellectual, "but the controversy isolated him from his moderate supporters, who believed he had exploited ethno-religious 'black campaigning' to claim office." In recent months, she noted, Anies has made efforts to promote his achievements in promoting religious and ethnic tolerance, which offers important context for his choice of running mate.
"For now, Anies is learning and rebranding," Pausacker wrote, arguing that given his relative youth – he will be 54 years of age on election day – Anies' political focus is perhaps less on 2024 than on 2029, and beyond.