Japan's Hydrogen Rush in Australia
Hydrogen resources in Australia are indispensable for Japan's decarbonization strategy, and Japanese businesses are racing to enter the market.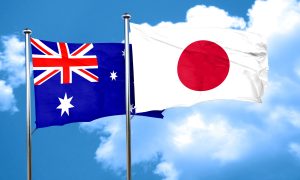 On October 26 and 27, the Asia Pacific Hydrogen 2023 Summit & Exhibition will be held by the Australian Hydrogen Council at the International Convention Centre in Sydney, Australia. Notably, Sumitomo Mitsui Banking Corporation (SMBC), a Japanese mega-bank, became one of the gold sponsors of this international event, and representatives of Japanese firms and related organizations – such as the SMBC, Japan Organization for Metals and Energy Security, Iwatani, Marubeni, Kansai Electric Power Co. (KEPCO), and Japan Bank for International Cooperation – are supposed to make presentations about their commitments to the hydrogen businesses. The event will include participants from around the Asia-Pacific region, but it is evident that Japanese companies, in particular, are seeking to procure hydrogen and ammonia in Australia – a "hydrogen rush" to mirror the "gold rushes" of yore.
The most famous milestone for the hydrogen energy supply chain between Japan and Australia is Suiso Frontier, the world's first liquid hydrogen transportation tanker, which succeeded in transporting liquefied hydrogen from Hastings port in Australia's Victoria state to Kobe port in Japan's Hyogo prefecture last year. The Suiso Frontier project is not the only example of the bilateral hydrogen supply chain, however. 
In October 2018, Mitsubishi Heavy Industries (MHI) signed a memorandum of understanding with the state government of New South Wales for energy management and other technologies in conjunction with a comprehensive development plan for hydrogen production in the Western Sydney region. MHI also announced in November 2020, that it would invest in green hydrogen and green ammonia in South Australia. 
That same month, Iwatani and Kawasaki Heavy Industries signed a memorandum of understanding with Fortescue Metals Group on developing a business model for the transportation of liquefied green hydrogen. In an interview published by Nikkei Asia in April 2021, Fortescue CEO Elizabeth Gaines stated that the Australian company was "looking at the opportunity to develop and expand our overall business to the supply of green energy and particularly green hydrogen." 
Also in April 2021, Kawasaki Heavy Industries decided to cooperate with Australia's Origin Energy for green hydrogen projects in Queensland. The following month, IHI, Marubeni, and Woodside Energy, headquartered in Perth, announced that they had signed an agreement to investigate the production and export of green ammonia produced from renewable hydropower in Tasmania.
That September, Iwatani, Kawasaki Heavy Industries, KEPCO, and Marubeni announced that they had signed a memorandum of understanding with two Australian energy infrastructure companies, Stanwell and APA, for a feasibility study on the creation of a large-scale green liquefied hydrogen supply chain in Queensland.
In November, Idemitsu announced that Idemitsu Renewable Development Australia Pty Ltd. would start a joint study on importing green hydrogen and ammonia from Australia's Newcastle port to Japan. Then, in January 2022, Sojitz corporation announced that it would work together with Australia's CS Energy on a demonstration project to transport green hydrogen produced from solar power in Queensland to Palau for the purpose of backup power sources in small fuel cells. The Pacific Island country is attempting to achieve 45 percent renewable energy generation, and the project is financially backed by the Japanese Ministry of Environment. On the same day, Marubeni announced it would start production of green hydrogen in South Australia and transport the hydrogen to Indonesia, using metal hydride tanks. 
In March 2022, CS Energy announced that it had appointed IHI to construct a renewable hydrogen demonstration plant near Kogan Creek in Queensland. Osaka Gas announced the following month that it would provide project management as well as technical and engineering support for a "green hydrogen project" of AU$10.75 billion on Australian soil.
In September 2022, Mitsui & Co. signed a share purchase agreement to acquire a 28 percent interest in industrial-scale renewable hydrogen projects in the Pilbara region of Western Australia. 
Most recently, INPEX announced in June of this year that it had been awarded a subsidy of AU$1 million by the Australian government in order to conduct a feasibility study regarding a clean hydrogen market in Darwin. On July 12, Sumitomo Corporation announced that it would collaborate with Rio Tinto, headquartered in London, to build a hydrogen pilot plant for world's first trial lower-carbon alumina refining in Gladstone, Queensland.
The reason for this wave of deals is clear: hydrogen resources in Australia are indispensable for Japan's decarbonization strategy. As one key Japanese business leader told New South Wales' Premier Dominic Perrottet, Japan cannot reach its emission reduction targets without hydrogen from the Australian state. 
The outbreak of the Russia-Ukraine War has forced many nations to consider the geopolitical risks of energy supply chains – including the emerging global hydrogen supply chain. There are six regions from which Japan can procure hydrogen and ammonia: North America, South America, Africa, the Middle East, Southeast Asia, and Australia. As some experts in Japan have been discussing, Australia and the North American continent are the safest choices from which Japan can procure hydrogen and ammonia.

Africa, the Middle East, and Southeast Asia all carry higher geopolitical risks for Japan, in light of the lengthy sea lines of communication involved. Indeed, several factors – from the risk of pirate attacks to the potential for armed conflict and maritime gray-zone activities to disrupt shipping – could be regarded as latent geopolitical risks to the procurement of hydrogen and ammonia. In this sense, the United States as an ally and Australia as a "quasi-ally" are regarded as reliable partners of hydrogen and ammonia suppliers for Japan. 
With that in mind, these moves by Japanese companies indicate that the Australia-Japan hydrogen energy supply chain is rapidly developing. Needless to say, the establishment of the bilateral hydrogen and ammonia supply chain will strengthen the Japan-Australia "special strategic partnership" in the Indo-Pacific region.