Realizing a South Korea-US Defense Partnership in Space
The allies' wide-ranging level of military cooperation has not typically extended to space. That may be about to change.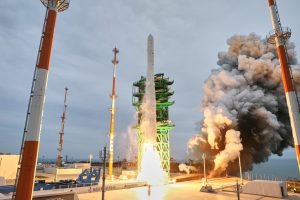 The last year has been significant in South Korea's progress as a major space nation. In June 2022 and May 2023, the country successfully launched Nuri, its own domestically produced rocket. The launches put South Korea in an elite group of countries that have independently launched their own satellites into orbit.
In February 2023, South Korea (officially the Republic of Korea, or ROK) released its space plans for the next five years, which call for doubling the government's budget for space by 2027 and establishing a new national space agency. The country has also announced plans for launching its next-generation synthetic aperture radar and imagery satellites, which could be deployed as early as 2024. 
These developments come at a historic moment for South Korea-United States relations, with this year marking the 70th anniversary of the signing of the U.S.-ROK mutual defense treaty. The alliance has been marked not just by its longevity but also by the tens of thousands of U.S. troops deployed on the Korean Peninsula and the two nations' routine joint military exercises. 
This wide-ranging level of military cooperation has not, however, typically extended to space. Restrictive export controls and U.S. limits on missile technology set in the late 1970s impeded joint ventures in the domain, leading South Korea to turn to other countries for partnership and assistance with its space program. These partners include Russia, which has launched many of South Korea's satellites and with which Seoul jointly developed a space launch vehicle in the 2000s and 2010s. 
As discussed in a recent paper, the South Korea-U.S. defense space relationship has reached a turning point. In 2020 and 2021, the United States and South Korea agreed to remove limits on South Korean missile and launch vehicle capabilities, and a reported impending change to the Missile Technology Control Regime could allow for the export of U.S. satellite technology or entire U.S. satellites to South Korea.
In November 2022, South Korea President Yoon Suk-yeol said that the existing alliance will be "extended into the Korea-U.S. space alliance." The joint statement from Yoon and U.S. President Joe Biden's April 2023 meeting in Washington, D.C., noted that "Our Alliance also applies to space" and that both presidents welcomed "deepening space security cooperation."
As of late, the two countries have begun collaborating more on defense space activity. In April 2022, they announced an agreement that included cooperation on space situational awareness for military purposes to "share intelligence about outer space, nurture space experts through training and exercises, and enhance interoperability for combined space operations." In December 2022, the U.S. Space Force stood up a component field command in South Korea, its first ever command located in a foreign country. 
Although significant in their own right, these examples could also be a starting point for more extensive defense space collaboration. The Space Force has emphasized developing integrated and interoperable architectures with partners and allies, which can result in several benefits, including financial savings and improved capabilities. 
South Korea is developing its own positioning, navigation, and timing (PNT) satellites, called the Korea Positioning System, which will make it one of six countries that has its own space-based PNT system. Integrating the Korea Positioning System with the Global Positioning System would lead to a more accurate and resilient capability in a strategically important region. This is just one example, and South Korea's maturation as a space nation will create more opportunity for joint architectures and capabilities.
Trilateral collaboration with Japan could be another approach for South Korea and the United States to bolster their defense space partnership. The United States and Japan already partner on defense space activity, such as integrating U.S. Space Force payloads with Japan's navigation satellites. Additionally, South Korea and Japan are developing capabilities in similar areas, including a regional independent PNT satellite network, imagery and radar satellites, and space situational awareness systems. 
On August 18, Biden hosted Yoon and Japanese Prime Minister Kishida Fumio at Camp David for a historic trilateral meeting. The joint statement from the three countries following the meeting notes that they will seek to "further enhance trilateral dialogue on space security cooperation, particularly regarding threats in the space domain, national space strategies, and the responsible use of space."
As a rising space power and longtime ally, South Korea is as compelling a partner for defense activity above Earth as on it. With historical impediments being removed, South Korea and the United States finally seem positioned to translate their terrestrial military cooperation to outer space.