South Korean Lawmakers Vote to Lift Opposition Leader's Immunity to Arrest
Despite the Democratic Party's majority, lawmakers voted to allow the party's chair, Lee Jae-myung, to be arrested amid several corruption investigations.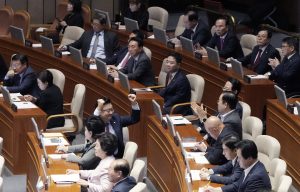 In a surprise outcome, South Korea's opposition-controlled parliament on Thursday voted to pass a motion submitted by the government that allows the potential arrest of the country's leading opposition figure, Lee Jae-myung, who faces a widening investigation over corruption allegations.
Lawmakers voted 149-136 in favor of lifting Lee's immunity to arrest, reflecting growing divisions within the opposition Democratic Party over his legal problems as the country approaches a general election.
The vote allows the Seoul Central District Court to hold a hearing on a request from prosecutors for an arrest warrant for Lee, who has been the liberal Democratic Party's chairperson since August last year.
It was not immediately clear when the hearing would take place or whether the court is likely to grant an arrest warrant. Lee was hospitalized Monday during a weekslong hunger strike in protest of conservative President Yoon Suk-yeol's domestic and foreign policies.
Lee, who previously said he was willing to give up his immunity against arrest because he was confident about proving his innocence, pleaded with lawmakers to vote against the motion on Wednesday, saying on Facebook that his potential arrest would "attach wings to prosecutors' manipulated investigation."
Lee did not immediately comment on the outcome of the vote.
Many Democratic Party lawmakers looked stunned after National Assembly Speaker Kim Jin-pyo announced that the motion had passed. One, Kim Byungkee, called the party members who voted in favor of the motion "dogs."
"I salute those Democratic Party members who colluded with prosecutors to unseat Chairperson Lee and grant impunity to prosecutorial dictatorship," Kim derisively wrote on Facebook.
Hundreds of Lee Jae-myung's supporters rallied outside the assembly and the main office of the Democratic Party, shouting angry slogans and waving signs reading "R.I.P. Democratic Party" and "Arrest the lawmakers who supported the motion."
The Democratic Party controls 168 seats in the 298-seat assembly.
Lee, who narrowly lost to Yoon in the presidential election in March last year, is being investigated by prosecutors over various criminal allegations. They include accusations that he provided unlawful favors to a private investor that reaped huge profits from a dubious real estate project in the city of Seongnam, where he was mayor for a decade until 2018. Prosecutors also believe that Lee pressured a local businessman into sending millions of dollars in illegal payments to North Korea as he tried to set up a visit to that country that never materialized.
Ahead of Thursday's vote, some reformist members of Lee's party, including Cho Eungcheon, called for him to stay true to his words and publicly endorse the motion seeking his own arrest. They said that would help rally public support for the Democrats that has been sliding since his presidential election loss and silence suspicions that he was conducting a hunger strike to avoid arrest.
Lee has tied his hunger strike to a worsening economy and a broad range of Yoon's foreign policy decisions, including the government's refusal to oppose Japan's release of treated wastewater from the damaged Fukushima nuclear power plant into the sea. Lee has also accused Yoon of aggravating tensions with North Korea by expanding military training and security cooperation with the United States and Japan.
Under law, courts cannot hold hearings on requests for arrest warrants for lawmakers during National Assembly sessions unless the assembly allows them to do so by vote. The Democratic Party blocked a previous attempt by prosecutors to arrest Lee in February.
Lawmakers also passed a motion on Thursday urging Yoon to sack his prime minister, Han Duck-soo, for alleged incompetence and policy failures.
The dueling motions underscored deepening political bickering ahead of the parliamentary elections next April. The vote is seen as a midterm referendum on Yoon's presidency as he struggles to navigate post-pandemic economic woes and escalating tensions with nuclear-armed North Korea. Yoon will have a hard time getting any of his agenda passed unless his People Power Party (PPP) can win a majority in the National Assembly.
Yoon, who is currently in New York attending the U.N. General Assembly, is widely expected to reject the call to dismiss Han, who has been an easy target for the opposition.
The Democratic Party submitted the motion seeking Han's ouster on Monday, hours after Yoon's government submitted its motion requesting lawmakers to lift Lee's immunity.
Lawmakers voted 175-116 in favor of pushing for Han's dismissal. The motion, signed by 168 opposition lawmakers, alleged that Han and other Cabinet members caused "crisis for people's lives, democracy and peace on the Korean Peninsula" and "consistently demonstrated incompetence, inaction and irresponsibility."