Taliban Send All-Male Team to Asian Games But Afghan Women Come From Outside
Two different teams are representing Afghanistan: the Taliban-approved team, and a team of diaspora athletes – including women – competing under the old flag.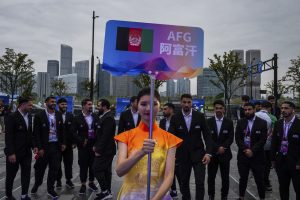 In the first Asian Games since the Taliban regained control of Afghanistan, two teams of athletes are arriving in the Chinese city of Hangzhou, looking very different.
One, sent from Afghanistan where women are now banned by the Taliban from participating in sports, consists of about 130 all-male athletes, who will participate in 17 different sports, including volleyball, judo, and wrestling, Atel Mashwani, a Taliban-appointed spokesman for Afghanistan's Olympic Committee, told The Associated Press.
Another, competing under the black, red, and green flag of the elected government the Taliban toppled in 2021, is drawn from the diaspora of Afghan athletes around the world, and includes 17 women, according to Hafizullah Wali Rahimi, the president of Afghanistan's National Olympic Committee from before the Taliban took over.
Rahimi, who now works from outside Afghanistan but is still recognized by many countries as its official representative on Olympic matters, told reporters at the team's official arrival ceremony late Thursday that the athletes are there for the love of sports.
"We want to be keeping the sports completely out of the politics so the athletes can freely, inside and outside their country, do their sports activity and development," he said.
Rahimi's contingent at the welcome ceremony was entirely male, but he said the women were on their way, consisting of a volleyball team that have been training in Iran, cyclists from Italy, and a representative for athletics from Australia.
He did not respond to an emailed request on Friday seeking more details.
The Asian Games' official opening ceremony is on Saturday.
Although the Taliban promised a more moderate rule than during their previous period in power in the 1990s, they have imposed harsh measures since seizing Afghanistan in August 2021 as U.S. and NATO forces were pulling out after two decades of war.
They have barred women from most areas of public life such as parks, gyms, and work and cracked down on media freedoms. They have banned girls from going to school beyond the sixth grade, and prohibited Afghan women from working at local and non-governmental organizations. The ban was extended to employees of the United Nations in April.
The measures have triggered a fierce international uproar, increasing the country's isolation at a time when its economy has collapsed and worsening a humanitarian crisis.
Rahimi said that the previous government had been working hard to increase women's participation in sport since the previous Taliban regime, and that it had increased to 20 percent.
"We hope it comes back, of course," he said. "Not only the sport, we hope that they'll be back allowed to schools and education, because that's the basic rights of a human."