Tibet, BRI Top Agenda During Nepali PM's Visit to China
Aside from the usual priorities, the visit was shadowed by Nepal's objections to China's new "standard map."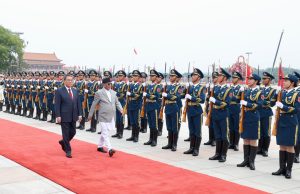 Amidst Nepal's objections to China's new "standard map," Beijing welcomed the Nepali Prime Minister Pushpa Kamal Dahal (also known as Prachanda) on a week-long trip starting on September 23. Dahal reportedly raised the map issue with Chinese President Xi Jinping – China's new map included sections of territory claimed by Nepal within India's borders – but the issue was not mentioned in the joint statement released on September 26. 
Nepal's willingness to put the issue aside reflects the deepening thaw between the two countries, especially when China desperately wants to contest the rising influence of India and the United States in Nepal. At the same time, Nepal's inability to persuade China to include the map issue in the joint communique exhibits a classic case of bigger countries ignoring the concerns of their smaller neighbors. These fears prevented Nepal from formalizing diplomatic ties with China in the 1950s in light of the Chinese control of Tibet. 
Today, China has clearly pressured Nepal to meet its strategic and security priorities, and Tibet remains at the heart of both. 
Nepal shares a long border with Tibet and hosts some 20,000 Tibetan refugees. Beijing worries that third-country support for Tibetans in Nepal will have cross-border implications. As a result, China has sought unequivocal help from Nepal on Tibet. The joint statement saw Nepal reiterate "that Tibet affairs are China's internal affairs, [and] that it will never allow any separatist activities against China on Nepal's soil."
China also expected Nepal to sign an extradition treaty in line with its security needs, but Kathmandu did not commit. Had China succeeded in pursuing Nepal, Beijing would have won legal leverage over the Tibetan refugees in Nepal. In 2019, China had expressed hope for an "early conclusion of the Treaty on Extradition," but four years later it has yet to happen – with many speculating that Western opposition to the treaty has prevailed. 
During Dahal's visit, Nepal rejected participating in China's Global Security Initiative (GSI) but expressed support for the Global Development Initiative. The two are significant initiatives put forth by Xi, expected to play a crucial role in shaping China's foreign policy during his third term in office. Nepal's rejection of the GSI reflects Kathmandu's careful balancing of its relationship with India while attempting to pursue its national interests and preserve its sovereignty.
The Belt and Road Initiative (BRI) was the other highlight of the trip. Nepal joined the BRI in May 2017, which was seen as a major diplomatic success for China, given that India had lobbied hard against it. However, the BRI is stuck since no project in Nepal has materialized in the last six years. The joint statement expressed a "commitment to accelerate the consultations to finalize the text on the BRI Implementation Plan at an early date," but the fact that even this framework document is still not finalized is a reflection of the project's stalled nature.
Connectivity is a key element of the BRI in Nepal, including the ambitious multi-billion-dollar Trans-Himalayan Multi-Dimensional Connectivity Network. However, financing has become a sticking point. With Sri Lanka already facing the adverse impact of Chinese loans, Nepal is being careful about falling into a debt trap. In contrast, Nepal is seeking more grants than the controversial loans under the BRI. 
Adding fuel to the fire, Nepal's landmark ratification of a $500 million grant from the United States under the Millennium Challenge Corporation (MCC) has kept China worried. Beijing sees the MCC as a direct threat to the BRI. 
There remains little doubt that ties between Nepal and China have entered a complex phase, especially after the new map controversy erupted. As a geographically smaller neighbor of China, Nepal expected Beijing to address its contentions with the latest map, and the latter's failure to do so eventually marred Dahal's visit from the Nepali perspective. At the same time, BRI is an area of great potential promise, but only generous grants to Nepal could help China move it forward.