A Cambodian-Born Australian Politician on Repression and Diaspora Politics
A conversation with Heang Tak.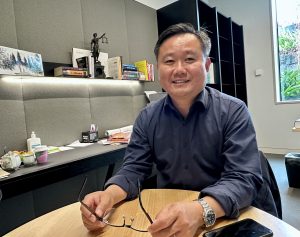 As a member of Parliament in the southeast Australian state of Victoria, Heang Tak ranks among the most prominent of the country's Cambodian diaspora, which has flourished since the first refugee boats began arriving from Indochina in the late mid-1970s.
He is also a prominent human rights advocate within the Australian Labor Party and has spoken out in regards to the tactics deployed by Cambodia's former Prime Minister Hun Sen during the lead-up to national elections in July.
That election was won easily by Hun Sen's Cambodian Peoples Party (CPP) after the main opposition party, the Candlelight Party, was disqualified. The crackdown also saw the arrest of more than 100 dissidents accused of plotting against his government.
Among them was Heang Tak's predecessor, Hong Lim, who was charged in absentia in a Phnom Penh court but acquitted, perhaps the only person charged during the crackdown and not convicted.
Phnom Penh has also been accused of foreign meddling by establishing "support networks" in Australia, which are overseen by generals in Cambodia to monitor any ill-feeling towards the CPP.
Heang Tak says Cambodians in Australia cannot forget where they came from and as the Member for Clarinda, he is obligated to speak out when required despite the bullying tactics of the "support networks" including death threats that were reported to the police.
He said there was never a plot from abroad to oust Hun Sen but added the transfer of power from Hun Sen to his eldest son Hun Manet in August meant the time was ripe to repair any damage in a testy relationship between the CPP and the diaspora.
Heang Tak spoke with The Diplomat's Luke Hunt about a range of issues including the opposition leader in exile Sam Rainsy and relations with the Vietnamese and Kampuchea Krom, the former Cambodian territories in southern Vietnam, a perennial issue with the Khmer diaspora in Australia, the United States, and Europe.