Bill to Label 'Foreign Representatives' in Kyrgyzstan Moves Forward
Discussions have resumed in Kyrgyzstan's parliament over a proposed "foreign representatives" bill reminiscent of Russia's "foreign agents" law.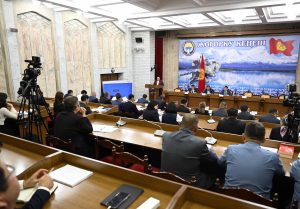 Discussions have resumed in Kyrgyzstan's parliament over a proposed bill that would introduce additional reporting requirements for non-governmental organizations in the country, as well as add criminal liability for a failure to register as a "foreign representative." The bill passed its first reading on October 3, amid dwindling support and sharp domestic and international criticism. 
In late May, a group of 39 deputies in the Kyrgyz parliament, the Jogorku Kenesh, sought to introduce amendments to the country's laws on NGOs, seeking greater control over organizations that, the initiators argued, interfere in the "political life of the state" with their activities. Although the draft law sought to apply the phrase "foreign representatives" to non-governmental organizations funded by foreign entities, the bill was distinctly reminiscent of a failed 2016 attempt to pass a "foreign agents" law, which itself was inspired by Russian legislation.
The concept's resurrection, by Nadira Narmatova and other MPs, including Iskender Matraimov (of those Matraimovs), was met with loud opposition from both within Kyrgyz civil society and internationally. 
The draft law, if passed, would require organizations that receive funding from abroad and engage in political activity to register with the Justice Ministry as "foreign representatives." It would also introduce criminal liability for a failure to register as such.
The draft defined political activity as "actions aimed at changing state policy and shaping public opinion for these purposes" — a definition Human Rights Watch and other human rights organizations have called vague and overbroad. The International Partnership for Human Rights (IPHR) warned that "civil society initiatives to promote awareness on issues of public interest, advocate for improved protection of the rights of vulnerable groups of the population or demand action to address social or environmental problems could be deemed to fall within the scope of the law."
When Kyrgyzstan's parliament broke for a recess in July, the bill had not yet been considered and co-sponsors had already begun pulling away amid the critiques. When the bill was placed on the parliament's agenda, on September 19, 25 were listed as "initiators." On October 3, when the Committee on Law and Order, Combating Crime and Anti-Corruption considered — and approved — the first reading of the bill, only 20 names were listed as initiators.
In the hearing, MPs were reportedly shown what Kloop — an independent Kyrgyz media outlet that has found itself in the administration's crosshairs over its critical coverage — referred to as a "propaganda video" alleging NGOs in Kyrgyzstan have caused great harm. Narmatova, in her remarks, alleged the involvement of NGOs in Kyrgyzstan's past political upheavals. Matraimov argued that the bill only introduces reporting requirements for NGOs, a point that received push back from Tattuububu Ergeshbaeva, the head of an association of lawyers called Tandem that monitors parliament and the rule of law in Kyrgyzstan. Ergeshbaeva and other NGO leaders spoke at the hearing, too. She stressed that under existing Kyrgyz law, as amended in 2021, NGOs submit financial reports to the the Tax Service, the Social Fund, and the National Statistical Committee. 
"In this regard, financial intelligence conducts a thorough check. If terrorist and extremist events are carried out, non-profit organizations will be held accountable. In addition, the Criminal Code has about 15 articles that apply to NPOs. Please pay attention to this," she urged.
One deputy on the committee, Ruslanbek Zhakyshov, said that Kyrgyzstan's Supreme Court and the Prosecutor General's Office had delivered negative opinions on the draft bill, with the latter noting that there was no need to introduce new articles into the Criminal Code. Narmatova, however, said that "both the Supreme Court and the Prosecutor General's Office supported and gave a positive opinion" after meeting with the bill's initiators. From current reporting in Kyrgyz media, it's unclear where the two bodies actually stand. 
And it's also unclear where many of the initiators stand, too. Alisher Erbaev, 24.kg reported, is apparently against the introduction of criminal liability against representatives of NGOs (which Narmatova has pushed for) and stressed that he does not agree with many articles of the bill.
Further discussions will be held in parliament to consider the bill and possible changes to it, but the dwindling roster of supporters hints that this effort at a "foreign agent" law may ultimately follow its predecessors into the bin. That said, in recent years other legislation signed into law by President Sadyr Japarov has arguably worsened the conditions in Kyrgyzstan for independent media and activists. 
As opponents of the current bill have noted repeatedly, there are already significant reporting requirements for Kyrgyzstan's more than 18,500 registered NGOs. The country's current legislation coving NGOs was most recently amended in 2021, with the introduction of new reporting requirements already noted above. In that case the legislation made a mad dash through parliament; after being initiated in March it was passed in its third reading by parliament on June 17 and signed into law by the president on June 26.
Whether the "foreign representatives" bill makes it into law or not, there already exists a pervasive discomfort with foreign funding in Central Asia, with Kyrgyzstan no exception, despite the fact that many local and international NGOs that operate in the region with foreign funding provide vital public services either indirectly or directly. A petition against the law stresses just that: "The adoption of these amendments will lead to the destruction of independent media, civil society, and freedom of speech… All this will affect the healthcare and education systems, access to drinking water and quality government services, and much more."