Challenges to Underwater Sovereignty and Indonesia's Naval Modernization
The country's military modernization drive needs to include measures to improve its underwater defense capabilities.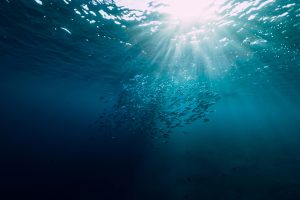 On August 28, China's Ministry of Natural Resources released a new, government-sanctioned, "standard map," which drew immediate attention for a particular detail: a 10-dash line in the South China Sea. Previously known as the "nine-dash line," the Chinese maritime claim encroaches upon the exclusive economic zones (EEZs) of Vietnam, Malaysia, Indonesia, the Philippines, and Brunei. In response to the new map, on August 31, Indonesia's Foreign Minister Retno Marsudi stated that all depictions of maritime boundaries and claims must adhere to the United Nations Convention on the Law of the Sea (UNCLOS). The publication of the new map signaled China's determination to maintain its unilateral claim in the South China Sea, underscoring the need for Indonesia to assert and reaffirm its maritime security and sovereignty.
UNCLOS clearly outlines the principles of maritime sovereignty on and below the water surface. The convention divides a state's territorial waters into two areas: territorial seas, which extend 12 nautical miles (22.2 kilometers) from a country's coast, and EEZs, which extend up to 200 nautical miles (370.4 kilometers) from the coast. While the two are often confused or thought to be the same, territorial seas and EEZs are fundamentally different. First, the territorial sea constitutes the sovereign territory of the state. In contrast, unlike the territorial sea, the EEZ is actually considered international waters. However, the coastal state has "sovereign rights" overall economic activities and resources within the zone, including fisheries and underwater deposits of oil and gas.
While UNCLOS asserts sovereignty over territorial seas, the treaty also establishes a unique movement regime. Unlike with land borders, where strict restrictions can be enforced against foreigners, the concept of "innocent passage" applies within a state's territorial sea. Essentially, it grants foreign vessels the right to traverse a state's territorial sea as long as "it is not prejudicial to the peace, good order, or security" of the coastal state. Moreover, when conducting "transit passage," i.e., moving from one high sea to another via a strait, submarines are not required to surface.
The passage of submarines presents its own set of challenges, which may be detrimental to a state's underwater sovereignty. Owing to their stealth, submarines can illegally enter a country's territorial waters while avoiding detection. Additionally, this challenge is exacerbated by the advancement of military technologies that can even be integrated with civilian vessels, potentially leading to illegal underwater unmanned vehicle (UUV) exploration. This has occurred in Indonesia before. In December 2020, an Indonesian fisherman caught a UUV near the Selayar Islands in South Sulawesi that resembled China's Sea Wing UUV, which is capable of measuring water currents, temperature, salinity, and oxygen levels. The following month, local fishermen found another Chinese UUV in the waters off the Anambas Islands close to the Riau Islands.
Given the geographical conditions and evolving maritime threats, countries in the Indo-Pacific are racing to improve their underwater defense capabilities. A major development was the establishment in 2021 of AUKUS, a trilateral security pact between the United Kingdom, the United States, and Australia, through which the Royal Australian Navy will get access to a fleet of conventionally armed nuclear-powered submarines. The Australian government has also poured millions of dollars into developing an autonomous underwater ISR (Intelligence, Surveillance, Reconnaissance) system called Blue Sentry. Similarly, this year, the Singapore Navy commissioned Type-218SG submarines from Germany while China and Japan revealed their Extra Large UUV designs. In the meantime, similar to Indonesia, the Philippines has received proposals from at least three countries (France, South Korea, and Spain) for its submarine acquisition program.
Given the increasing underwater traffic and threats, in recent years the Indonesian Navy (TNI-AL) and the Ministry of Defense have been increasingly vocal in emphasizing the need for Indonesia to improve its underwater detection capabilities. For instance, there has been an idea to install underwater detection networks similar to the U.S. Sound Surveillance System at the country's strategic chokepoints (the Sunda, Lombok, and Makassar straits). In parallel, TNI-AL wants to operate a full-mission maritime patrol aircraft equivalent to the P-8 Poseidon that is able to carry out anti-submarine warfare missions. Nonetheless, despite the ambitious goals, progress has been slow due to political indecisiveness and lack of budget support.
Moreover, TNI-AL is becoming more specific about the capabilities it wants in its future submarine fleet, even though the minimum target number of submarines remains 12. For example, the navy wants the submarines to be able to operate optimally in the EEZ up to the high seas and able to launch missiles and UUVs. To do so, Indonesia needs assets that are capable of deployment on long range missions in order to be able to exert a deterrent posture. In 2021, the government also added underwater sensing technology to the domestic defense industry's 10 priority programs.
Having these assets and technology is crucial for the Indonesian government to gain a complete picture of its maritime domain and achieve what experts has described as "deterrence by detection." The idea is that potential adversaries will be less likely to carry out illegal actions if they know that they are constantly being watched. If needed, Jakarta could release detection data to the public in order to "name and shame" actors responsible for illegal activities and justify the cost of establishing and maintaining a nationwide maritime surveillance system.
All things considered, it is crucial for Indonesia to accelerate its efforts in enhancing underwater detection capabilities to safeguard its maritime sovereignty and deter opportunistic activities by certain parties.
The views expressed in this article are personal.