China's Growing Offshore Wind Energy Drive
China's unrelenting commitment to offshore wind energy has sent ripples across the global energy landscape and the European Union's efforts to build up their own offshore wind sector.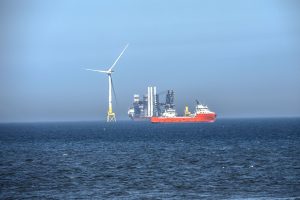 Although more expensive to develop than its onshore equivalent, the offshore wind industry is expected to grow rapidly in the coming years, with developers increasingly honing in on floating offshore wind turbines. At sea, wind turbines can take advantage of stronger winds, thus generating a higher output. Two additional advantages contribute to a higher output than onshore wind or solar energy: Offshore construction allows for a bigger group of wind turbines, as these projects are less likely to be halted by citizens' concerns, and the turbines can generate output at any time of the day. 
The current offshore wind boom is reflected in a record-high ($1 billion) value of brokered offshore wind order deals and an associated $26 billion vessel buying spree. A number of major economies are driving this demand. This year, the G-7 vowed to install an offshore capacity of 150 gigawatts (GW) in total by 2030. The United States has been initiating a range of projects designed to advance the U.S. position in the floating offshore wind technology and construction of floating wind farms. Australia and South Korea are other examples of states that are or want to become strong players in the offshore wind global market. 
However, despite this growing variety of interested states, the offshore wind energy supply chain is still strongly concentrated, with more than 99 percent being located in Europe and the Asia-Pacific. And China in particular is rapidly expanding its capacity. 
China's Offshore Wind Trajectory 
In 2020, the European Union accounted for 80 percent of global offshore wind capacity, around five times more than China's capacity (4.6 GW) at the time. This has since changed due to China's rapidly increasing build-up across the offshore wind supply chain. 
By the end of 2021, China had already reached 11.2 GW of installed offshore wind capacity, with several more projects underway, such as China Three Gorges Corporation's $6.47 billion investment in three offshore wind farms in Guangdong. In 2022, a pilot project integrating offshore wind with other energy industries was launched in the Bohai Sea. These projects are not limited to wealthier coastal provinces like Guangdong and Qingdao, but are also being developed in Guangxi, Liaoning, and Hebei. 
Despite central level subsidies for such projects being halted at the end of 2021, China has now installed nearly half of the world's offshore wind energy capacity. This increase brings advantages to Chinese offshore wind industry firms, allowing them to strengthen their experience and establish economies of scale faster than their non-Chinese competitors. 
However, limited space on China's coastline is a disadvantage, with competing actors vying for maritime space to conduct their business (for example, fisheries, ports, or naval activities). This is not a problem unique to China, as states like the United States face similar concerns. Likewise, developers of offshore wind projects could clash on these space limits, because of the concept of "wind theft," caused by the interaction between the movements of turbines from different projects. 
Local Chinese governments are keen to install offshore wind capacity in their available areas, as a way to boost their local economies. This can only be a temporary solution though. More durable is the development of floating offshore wind turbines, located in the deep sea far off the coast, but this solution is not economically viable yet. Still, 2022 saw China completing its first typhoon-resistant floating offshore wind turbine pilot project and starting the construction of the world's largest offshore floating wind power project near Hainan province. 
This shift to floating offshore wind projects, combined with the subsidy stop at the end of 2021, caused a side-effect in the development of the Chinese offshore wind industry. In the Chinese offshore wind turbine manufacturing market, which is still fragmented, firms have been engaged in a price war for years by designing and producing increasingly larger turbines. In 2021, MingYang produced what was then the largest offshore wind turbine of 16 megawatts. This record was broken by CSSC Haizhuang Windpower, a subsidiary of the China State Shipbuilding Corporation, when it successfully manufactured an 18 MW turbine. China's offshore wind turbine manufacturers are evidently leading the global development. 
However, developers of offshore wind projects have been slow to include these mega-turbines in their projects, though this is starting to change with China Three Gorges Corporation connecting the first 16 MW offshore wind turbine to the power grid. Developers may be hesitant due to uncertainty about the availability of materials required for installation. 
These materials are a third element of China's offshore wind industry build-up. Mega-turbines require vessels capable of transporting and installing them, and a shortage could pause China's current rapid developments. In 2022, the first Chinese-made integrated "transportation and lifting" vessel for wind turbines of more than 10 MW was constructed. That same year, a second Chinese vessel with an even greater capacity, the Voltaire, was successfully test-run. Since then, the amount of purchased installation ships by Chinese companies has risen greatly, giving Chinese shipbuilders an advantage over competitors. 
China and South Korea already obtained a dominant position in several sections of the global shipbuilding market. China's current offshore wind energy drive could result in offshore wind turbine installation vessels becoming another product for which the rest of the world depends on China. 
The EU's Dilemma 
It is clear that the offshore wind sector is increasingly being securitized in the EU, with Dutch and Belgian authorities pointing out suspicious vessels trying to gain intel on their offshore wind farms and German police investigating a merchant ship after it allegedly struck a wind farm in the North Sea. But will this securitization also materialize in the economic domain? 
Last month, European Commission President Ursula von der Leyen in her State of the Union Speech stated: "The future of our clean tech industry has to be made in Europe." In this context, she stressed that Europe's wind industry, though a success story, is facing a distinctive set of challenges. Accordingly, the European Commission proposed a European Wind Power package, aimed at, among others, the acceleration of permit acquisitions and the overall stability of supply chains in the wind sector. In 2022, about 107 GW of offshore wind projects were being developed across Europe. Since then, offshore wind tenders have been launched in France, Germany, Lithuania, and Norway and projects are being developed in the Netherlands and Poland. 
The EU's wind industry is currently facing several challenges, due to high inflation rates and commodity prices, which heightened the prices of European turbines, resulting in a  fall in turbine orders and new investments in wind projects. This month, an EU audit report noted that the EU member states' 2030 capacity targets might be difficult to reach due to these challenges and delays. It also notes the impact of foreign competition. As of 2023, China has overtaken the EU as the leading developer of offshore wind power, as it is less impacted by supply chain bottlenecks. 
These developments present the EU with a dilemma. On the one hand, cooperation with China might speed up the development of the EU's offshore wind capacity, thus enabling it to reach the goals of its Green Deal faster. On the other hand, protecting its own wind industry by limiting the role of non-EU companies in the EU's build-up could ensure the survival of its industry against soaring competition. The EU already seemed to take this approach when it launched a WTO case against the United Kingdom over subsidies for the latter's offshore wind industry. 
So far, the European approach vis-à-vis Chinese offshore wind companies seems mixed. Just this month, a leaked European Commission proposal revealed the commission's intentions to examine foreign subsidies that damage the EU's leadership position in the global wind industry. Yet, an EU official noted that Brussels still lacks enough clear evidence to formally launch a probe into China's wind power industry. In the meantime, cooperation with Chinese offshore wind farms continues. In 2022, the first offshore wind farm in the Mediterranean was completed by Italy, using wind turbines from the Chinese manufacturer MingYang. Meanwhile, the China General Nuclear Group owns or has stakes in offshore wind farms in France and Sweden.
The EU and (most of) its member states seem to be on the same page about the importance of building up a strong offshore wind industry for the future of the EU and the success of its Green Deal strategy. Now Europe has to deal with a conundrum: Will it prioritize the need for offshore wind development or the protection of its own offshore wind industry? With the ascent of China as a serious competitor, in capacity-building, turbine manufacturing, and the construction of installation vessels, the EU must carefully navigate its strategy if it is to both maintain strategic autonomy and implement its Green Deal. Can Europe stand united in its vision of China's role in this strategy?