China's Middle East Agenda
Insights from Julian Spencer-Churchill and Behrouz Ayaz.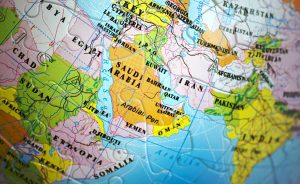 The Diplomat author Mercy Kuo regularly engages subject-matter experts, policy practitioners, and strategic thinkers across the globe for their diverse insights into U.S. Asia policy. This conversation with Julian Spencer-Churchill, an associate professor of political science at Concordia University, and Behrouz Ayaz, an Iranian political analyst collaborating with the Strategic Council on Foreign Relations, is the 387th in "The Trans-Pacific View Insight Series."  
Identify China's core objectives in the Middle East.
China's contemporary presence in the Middle East is predominantly about the importation of energy to sustain its manufacturing, transportation, and agriculture. As the largest buyer of crude oil in the world, China sources more than 50 percent of its imported oil from the GCC (Gulf Cooperation Council), of which Saudi Arabia's share is 18 percent. In 2021, China's trade with the GCC was $330 billion, and with $126 billion in construction projects in these countries, it became the largest investor in the region. 
Forecasts indicate that by 2030, China will import 77 percent of its crude oil needs from the Middle East. The Middle East is also a target of China's soft power diplomacy, given that the region's regimes are mostly authoritarian and are seeking development assistance that fits into China's Belt and Road Initiative. Unlike the USSR during the Cold War, China is pursuing stability and is therefore not seeking to replace or overturn the regions' relations with the U.S. and Europe. In contrast, China's relationship with Israel is focused on the importation of sophisticated technologies, including over $1 billion in semiconductors.
Evaluate substantive outcomes of China's brokering the Iran-Saudi Arabia rapprochement beyond the symbolism of Chinese diplomacy.
The Saudi-Iranian rivalry posed a threat of disruption to Chinese energy shipments, in particular because of Iran's overwatch of the Strait of Hormuz bottleneck. The Chinese brokered agreement between Tehran and Riyadh also provided Beijing an opportunity to extend its economic influence. 
Riyadh also assessed that China's diplomacy could provide better security for Aramco facilities than U.S. air defense assets. Most of the Arab countries also prefer to supplement their customer relations with the West with diplomatic counter-balancers from Russia and East and South Asia. 
Wang Wenbin, a spokesperson of the Ministry of Foreign Affairs of China, said: "This agreement is a great model for solving problems and disputes between countries through dialogue and consultation. No matter how complex the issues or how serious the challenges, an equal dialogue based on mutual respect will lead to an acceptable solution." Nevertheless, the differences between the two countries include general security, alliances, terrorism, and even commercial rivalry. 
Analyze the geostrategic relevance of the Middle East in China's Global Security Initiative (GSI) and Belt and Road Initiative (BRI).
In terms of geopolitics, Beijing considers the Middle East as a critical region in realizing the Belt and Road Initiative. From 2005 to 2022, China has invested.$273 billion in the Middle East, and in 2021 it signed a 25-year strategic accord with Iran. The Middle East is an important continental hub for extending China's railway network into a projected 60 countries.
A secondary benefit of its partnership-oriented diplomacy is enhancing its geopolitical power and prestige, which was largely responsible for its brokering of the Tehran-Riyadh strategic truce. 
Examine the strategic calculus behind China's engagement with Israel, Iran, and Saudi Arabia vis-à-vis the United States.
The West's 2001 intervention in Afghanistan and 2003 invasion of Iraq, during the so-called War on Terror, and the subsequent attempt to sabotage Islamist political victories during the 2010-2012 Arab Spring, led the UAE and Saudi Arabia, in particular, to seek a counter-balance to U.S. influence. This was especially true after the U.S refused to sell the advanced F-35 fighter jet to the UAE, and Washington's pressure applied to Saudi Arabia over the Jamal Khashoggi's murder case, 
China was sought out for investment in nuclear energy facilities and technology. Iranian officials consider Beijing's approach in the Middle East to be mutually economically and strategically beneficial, in contrast to Washington, which is seen as interventionist and deferential to Israel. Ali Khamenei, the leader of the Islamic Republic of Iran, said in a meeting with Chinese President Xi Jinping 7 years ago: "The Islamic Republic of Iran will never forget China's cooperation during the sanctions era… Westerners have never been able to win the trust of the Iranian nation."
Israel is actually seeking to normalize its relations with Riyadh through the mediation of China, rather than solely relying on Washington. Beijing's interest is in leveraging Israel as a gateway to Western high technology components, which may be reverse engineered. 
Although Hamas' attack on Israel is a challenge to China's stability goals in the Middle East, Beijing is concerned with the risk of a 1973-type oil embargo if it condemns Hamas or Palestinian resistance, and has therefore refrained from openly supporting Israel. This means that not only will the normalization of Saudi-Israeli relations be postponed, but China's offer to mediate the Palestinian crisis will face serious challenges.
Assess the stakes and implications of China's Middle East agenda for the U.S. and EU.  
China is not satisfied with its subordination to Western international institutions in the current order of the international system. First, Beijing is unsatisfied with being blocked from reclaiming traditional Chinese territory; second, it believes China is being disadvantaged by participating in commercial procedures governed by the World Trade Organization. Beijing is therefore appealing to like-minded development-seeking authoritarian states in the Middle East. One method of displacing the West is through the offer of dispute mediation offered by China, with the benefit that it enhances regional stability. 
Nevertheless, U.S., European and democratic East Asian involvement in the Middle East is significant: in the years 2017 to 2021, the U.S., France, and Germany were the largest arms exporters, and in these years, about 47 percent of U.S. arms sales were directed to the Middle East. U.S. armament sales to Saudi Arabia in 2017 alone amounted to $110 billion. From a strategic point of view, China's increasing influence in the Middle East will lead to disruption of the strategic interests of the West, but China will also be facing competition with a much closer India.