China's Response to the Israel-Hamas Conflict Reflects Its Longstanding Support for Palestine
Israeli diplomats may have assumed that years of providing China with advanced technology would change Beijing's stance on Israel. This was a serious miscalculation.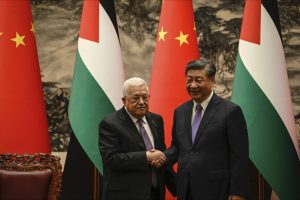 On October 7, Palestinian terrorist organization Hamas launched large-scale attacks into Israel. In addition to a barrage of thousands of missiles, Hamas sent military personnel into Israeli territory to slaughter or abduct innocent Israelis. In response, Israeli Prime Minister Benjamin Netanyahu declared that Israel is now in a "state of war."
The United States and the European Union issued statements condemning Hamas' terrorist actions and expressing support for Israel. Several Asian countries also condemned the violence and voiced concern about the escalating conflict. China's Foreign Ministry, meanwhile, reiterated its support for Palestinian statehood, while expressing "deep concern" and calling on all parties to cease fire and exercise restraint.
The Chinese Communist Party (CCP) has a long history of friendly relations with Palestine. Since the founding of the Palestine Liberation Organization (PLO) in 1964, China has recognized and actively supported the organization. During the Mao Zedong and Deng Xiaoping eras, PLO leader Yasser Arafat was hailed as an "old friend" of the CCP, and China openly provided financial and arms assistance.
Following its admission to the United Nations in 1971, the People's Republic of China has repeatedly called for Israel's unconditional withdrawal from Palestinian territories. China was one of the first countries to recognize Palestinian sovereignty in 1988 and established full diplomatic relations with Palestine in 1989.
But beginning in the 1990s, due to China's need to cultivate good relations with economically developed countries as it pursued "reform and opening-up," China established official diplomatic relations with Israel in 1992. China is now Israel's third largest trading partner, with bilateral trade reaching $23 billion last year. In contrast, China's bilateral trade with Palestine was only $158 million last year, and Chinese investment in Palestine is minimal.
China has been eager to become more involved in Middle East conflicts, especially the dispute between Israel and Palestine. However, China's diplomatic support for Palestine far outweighs its support for Israel. In 2021, China proposed a five-point plan to resolve the Israeli-Palestinian conflict, and later appointed special envoys to mediate in Saudi Arabia and Iran.
When the Israeli-Palestinian conflict flared up in May 2021, Chinese Foreign Minister Wang Yi called for "direct dialogue in China" between the two sides. China also submitted a proposal to the United Nations Security Council on "the Middle East situation, including the Palestinian issue," including provisions for a ceasefire, cessation of violence, and a serious stance by the Security Council to promote peace and expedite negotiations based on a two-state solution.
Over the years, China has consistently supported the establishment of an independent Palestinian state, based on the 1967 borders, with East Jerusalem as its capital. In 2020, Chinese diplomat Zhang Jun called Israeli settlements in the West Bank and East Jerusalem "violations of international law."
In March 2022, while attending a conference of the Organization of Islamic Cooperation in Islamabad, Wang met with Palestinian Foreign Minister Riyad al-Maliki and explicitly stated that the Palestinian issue should not be marginalized. Wang stressed that the international community should not ignore the Palestinian issue and said that China will continue to stand by and support the Palestinian people.
In June 2023, Palestinian President Mahmoud Abbas visited China and met with President Xi Jinping at the Great Hall of the People. This was Abbas' fifth visit to China, and he heard China's commitment to supporting Palestine and learned about China's plans to provide assistance to Palestine. Xi told Abbas that "China and Palestine are close friends and partners who trust and support each other," and that China is willing to strengthen cooperation with Palestine to achieve a comprehensive and lasting solution to the Palestinian issue
China's long history of support for Palestine is strongly reflected in its refusal to condemn the vicious attack by Hamas on Israeli civilians. In fact, Beijing's immediate response to the attack was to issue a statement declaring that the "fundamental way out of the conflict lies in implementing the two-state solution and establishing an independent State of Palestine."
China's support for Palestine carries more weight than that of countries like Iran and Qatar. Israeli diplomats in China have called for stronger condemnation of Hamas by the CCP, since China is considered a friend of Israel.
Such remarks indicate a degree of naivety on the part of Israeli diplomats and a lack of understanding of the CCP. They may have assumed that years of providing China with advanced defense technology would change China's stance on Israel. This was a serious miscalculation. An open, free, strong, and prosperous Israel does not align with China's geopolitical interests. If the larger intent behind Hamas' attack was to forcibly derail progress on Israeli-Saudi normalization, China would be one of the biggest beneficiaries.
Prolonged chaos in the Middle East benefits China's strategic interests in its competition with the West, just as China can exploit the Russia-Ukraine conflict to disrupt Western nations and drain the resources of the democratic world.