China's Xi Jinping Could Visit Vietnam Soon, Report Claims
The visit, which could take place later this month or early next, would come after U.S. President Joe Biden's visit to Hanoi last month.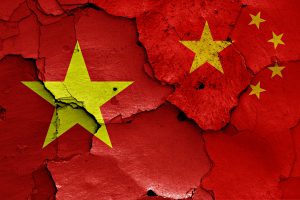 Late last week, Reuters published a report claiming that officials in Vietnam and China are preparing for a possible visit from President Xi Jinping to Hanoi at the end of October or early November.
The report cited four people familiar with the plans, one of which claimed that the Chinese government had sent a team to Hanoi to organize accommodations for Xi's delegation. The visit would be Xi's first state visit to Vietnam since 2017.
The four sources also suggested that Hanoi and Beijing are working on a joint statement that would be issued during the visit. Chinese Foreign Minister Wang Yi was expected to visit Hanoi in mid-October to help finalize the joint statement "if sufficient progress on the text has been made," one source told the news agency."
Two of the sources told Reuters that the two sides were discussing the possible inclusion of the phrase "community of common destiny" to characterize their relationship. The phrase, which came into vogue after Xi's ascendance in 2012, represents "the highest level of bilateral relations for the Xi Jinping administration."
China formed a bilateral "community of common destiny" with Laos in 2017 and Cambodia in 2018, and then with Myanmar during Xi's state visit to the country in January 2020.
As much as Beijing would clearly like Vietnam to join these nations, two sources told Reuters that Vietnamese officials were cautious about adding that reference. Indeed, China reportedly stated its desire to declare such a community of common destiny with Vietnam during Xi's state visit in 2017, a suggestion that Hanoi rejected.
The obvious context for the possible Xi visit, and the Chinese desire to promote Vietnam into the rarefied diplomatic ranks occupied by its Mekong neighbors, is last month's visit to Hanoi of  U.S. President Joe Biden. During the visit, Biden and senior Vietnamese officials elevated their relationship to a Comprehensive Strategic Partnership (CSP), placing the U.S. alongside China and Russia at the top of the nation's diplomatic hierarchy.
That move took many observers of Vietnamese politics by surprise, and not only because the U.S. "leapfrogged" the "strategic partnership" tier and went straight to a CSP. Six months prior to Biden's visit, many observers of Vietnamese politics said that any upgrade was unlikely. Enjoying most of the substance of a close partnership with Washington, the thinking was that Hanoi was less eager to change the formal designation, which officials feared could prompt a response from Beijing and facilitate possible U.S. meddling in Vietnamese domestic politics.
While Vietnam eventually changed its mind on this, it is hard to imagine that Vietnam did not forewarn Beijing about the U.S. upgrade, and reassure it that the move was not directed against China. (Biden said similarly that his visit to Vietnam was aimed at building U.S. relationships throughout Asia and was "not about containing China.")
That said, China's government might feel the need to extract an "upgrade" of its own from Vietnam, in a bid to substantiate the claim, commonly expressed by Chinese state media in the aftermath of the Biden visit, that the U.S. will never enjoy as c
From the Vietnamese standpoint, a possible Xi visit, whether or not it results in the creation of a "community of common destiny," would consistent with the country's independent and "omnidirectional" foreign policy – and its determination to navigate Asia's growing strategic turbulence.