India's Modi Voices Solidarity With Israel After Hamas Attack
This is a huge shift from the past, when India was a vociferous champion of the Palestinian cause.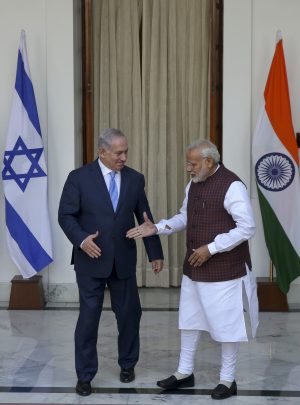 On October 7, Hamas launched a multipronged assault on southern Israel. Its fighters infiltrated Israeli cities on an unprecedented scale and took hundreds of Israeli soldiers and civilians prisoner, killing hundreds of others. Hamas also fired rockets targeting military installations and civilian areas. Overall, over 1,000 Israelis were killed in the assault.
Israel retaliated swiftly, launching airstrikes across Gaza. Prime Minister Benjamin Netanyahu announced in a televised address that Israel was "at war" and vowed that Hamas, which rules Gaza, would "pay an unprecedented price," for their aggression. Israel appears to be preparing for a ground invasion of the Gaza Strip.
Barely hours after the Hamas attack, India's Prime Minister Narendra Modi took to social media to express unambiguously his support for Israel.
"We stand in solidarity with Israel at this difficult hour," Modi posted on X, formerly Twitter, on Saturday. "Deeply shocked by the news of terrorist attacks in Israel. Our thoughts and prayers are with the innocent victims and their families," he tweeted.
Four days later, on Tuesday, after a conversation with his Israeli counterpart, Modi reiterated strong support for Israel.
"People of India stand firmly with Israel in this difficult hour," he tweeted, adding that "India strongly and unequivocally condemns terrorism in all its forms and manifestations."
With India's foreign ministry not issuing a formal statement on the escalating situation in West Asia so far and Minister for External Affairs Subrahmanyam Jaishankar reposting both of Modi's tweets, the latter are being seen as indicative of India's position on the issue. The tweets indicate that India has taken another big step away from its historical position of support for the Palestinians in the Israel-Palestine conflict.
Unlike its statements in response to escalating crises in West Asia in the past, this time around, India neither called for a cessation of the conflict nor stressed the need for restraint. There was no word on Israeli occupation or mention of a two-state solution.
India's policy on the Palestinian question and Israel has undergone huge changes over the decades.
Although New Delhi extended recognition to the state of Israel in 1950, India and Israel did not establish formal relations till the early 1990s.
During this period, India was strongly pro-Palestine in the Israel-Palestine conflict. New Delhi was at the forefront of efforts to mobilize support for the Palestinian national cause. It was the first non-Arab country to recognize the Palestine Liberation Organization as the sole and legitimate representative of the Palestinian people in 1974, and was among the first countries to recognize the state of Palestine in 1988.
India often cited its commitment to the struggles of oppressed people as the reason for its solidarity with the Palestinians. But hard calculations underlay this policy. New Delhi did not want to antagonize the Arab world given its dependence on Gulf oil. Besides, it needed the support of Muslim countries on the Kashmir question.
Changing geopolitics amid the end of the Cold War, the mounting problem of terrorism at home, and its interest in accessing Israeli defense technology were among the reasons that prompted India in 1992 to open formal diplomatic relations with Israel.
In the decades since, India-Israel relations have grown. The two countries are engaged in robust counterterrorism cooperation and intelligence sharing. India purchases Israeli military hardware worth over $1 billion annually.
While India has gained from its cooperation with Israel — Israeli surveillance technology plays an important role in monitoring India's borders, especially in Kashmir — its ties with Tel Aviv have seen New Delhi dilute its support for the Palestinians.
Prior to the normalization of ties with Israel, India stood shoulder-to-shoulder with the Palestinians. It was unambiguous in expressing solidarity with the Palestinian people and was vociferous in condemning Israeli occupation.
That began changing, gradually and quietly under Congress-led governments in 2004-2014, and rapidly and overtly under Modi's Bharatiya Janata Party (BJP) government since it came to power in 2014.
If previously, under Congress governments, India resolutely backed United Nations resolutions that condemned Israel for "widespread, systematic and gross violations of international human rights and fundamental freedoms," now it began adopting positions that were more "even-handed" between the Israelis and Palestinians.
Since, 2014, India has toned down its calling out of Israel. In 2015, New Delhi abstained in a vote at the United Nations Human Rights Council (UNHRC) on a report critical of Israel's Gaza War in 2014. This was the first time that India did not vote against Israel in the world body.
Its leniency toward Israel has grown since.
During the 2021 Gaza crisis, for instance, although India called on both sides "to show extreme restraint, desist from actions that exacerbate tensions, and refrain from attempts to unilaterally change the existing status quo, including in East Jerusalem and its neighborhood," it provided an explanation for Israeli violence, describing it as "retaliatory strikes." No such free pass was extended to the Palestinians, who it called out for "indiscriminate rocket firings from Gaza."
Modi's tweet expressing solidarity with Israel is not surprising. It must be seen in the context of India's cozying up to Israel.
India's Hindu nationalists advocated close ties with Israel long before the Congress party took the plunge in 1992. Both are anti-Muslim. Modi is known to be close to Netanyahu and has often referred to him as a friend.
Indeed, he is an admirer of Israel's counterterrorism strategies. It may be recalled that in 2016, when India carried out "surgical strikes" on terrorist camps on the Pakistan side of the Line of Control in Kashmir, Modi drew parallels between the Indian actions and those that Israel periodically undertakes in the Occupied Territories.
Modi and the BJP are fully in sync with Netanyahu and the Israeli government's muscular and military strategy toward the Palestinians. Consequently, his tweet expressing solidarity with them should not come as a surprise.
Modi's all-out support for Israel will have endeared him to Israeli hardliners and the Western powers, who have struggled to come to terms with India's neutrality in the Ukraine crisis.
However, his silence on Israeli occupation of Palestinian territory may not resonate with the Global South, whose causes India has been seeking to champion. His tweets are likely to damage India's aspirations of leadership of the developing world
To undo this damage, India's MEA will need to issue a statement that pulls back from Modi's all-out embrace of Israel. It can do this by putting the current crisis in its correct context and calling on Israel to end its occupation of Palestinian territory.