Indonesia, China Vow to Expand Economic Cooperation
This week's Belt and Road Forum has demonstrated that many Southeast Asian leaders still view China as central to their nations' economic prosperity.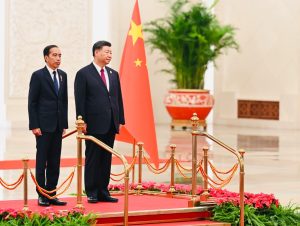 China is willing to expand and strengthen economic cooperation with Indonesia, including in digital technology and renewable energy, President Xi Jinping said yesterday after meeting with President Joko "Jokowi" Widodo.
The two leaders met during the second day of Jokowi's three-day visit to Beijing to attend this week's third Belt and Road Forum for International Cooperation.
According to Chinese state media reports cited by Reuters, Xi told Jokowi that his country is keen to expand cooperation "in emerging industries such as the digital economy, photovoltaics, and new energy vehicles," the news agency reported. China is also willing to boost its imports of Indonesian agricultural and fishery products.
Xi added that the two sides should deepen the integration of industrial and supply chains, and jointly promote the construction of a "regional comprehensive economic corridor." Jokowi also had a meeting with Premier Li Qiang and delivered a speech at a China-Indonesia business forum on Monday, as well as laying a wreath at the People's Heroes Monument in Tiananmen Square.
Jokowi is just one of a number of Southeast Asian leaders, including Thai Prime Minister Srettha Thavisin, Cambodian Prime Minister Hun Manet, and Vietnam's State President Vo Van Thuong, who are attending the Belt and Road Forum, which comes to an end today. The two-day event, while more muted than the two previous iterations of the Forum, is intended to mark the 10th anniversary of Xi's Belt and Road Initiative (BRI).
Prior to Jokowi's departure for Beijing, acting Chief Investment Minister Erick Thohir told Reuters that the Indonesian leader, whose second and final term in office ends in October 2024, would seek China's help for renewable energy and infrastructure projects.
Since taking office in 2014, Jokowi has viewed China as a natural partner for the construction of the infrastructure necessary to knit the Indonesian archipelago more closely together, seeing a complementarity between the BRI and his own Global Maritime Fulcrum initiative.
This week's Forum comes not long after Jokowi's inauguration of a China-backed $7.3 billion high-speed railway connecting the country's capital with the city of Bandung in West Java, the first high-speed line in Southeast Asia. While the project has been saddled with challenges, including delays and cost overruns to the tune of $1.2 billion, the completion of the 142-kilometer line represents a milestone both for China's BRI and Jokowi's tenure in office.
According to state media reports, Xi labeled the high-speed railway a "golden brand" of China-Indonesia cooperation in building the Belt and Road. Erick told Reuters that Jokowi would discuss with Xi a plan to extend the railway some 700 kilometers further to Surabaya, something that he also discussed with Premier Li Qiang during the latter's visit to Jakarta last month.
In a separate meeting with Li yesterday, Jokowi also requested Chinese investment to help construct Nusantara, the new capital that Indonesia is building on Borneo island.
"President Jokowi asked for Premier Li Qiang's support to accelerate the realization of China's investment in the National Capital," the presidential office said in a statement, according to BenarNews.
Jokowi is hoping to inaugurate the new capital before leaving office, but his administration has struggled to attract foreign investors for the ambitious, multibillion-dollar project. Even with its growing caution regarding big-ticket BRI investments, China looms as an obvious partner for the project, which is slated for completion by 2045.
As with his Thai counterpart Srettha Thavisin, who has attended the Belt and Road Forum with a large private sector delegation in tow, Jokowi's pilgrimage to Beijing demonstrates that despite the region's concerns about Chinese behavior, many Southeast Asian leaders still view China as central to their nations' economic prosperity.