Is Vietnam Ready to Build Mega-Airport Projects?
Despite its delays, the multibillion-dollar Long Thanh International Airport project could mark a shift in how Vietnamese state firms build vital infrastructure.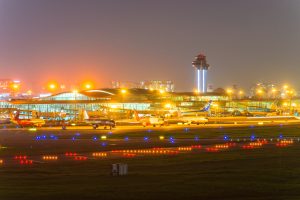 Vietnam is one of the fastest growing economies in Southeast Asia, with GDP growing 8 percent last year after averaging over 7 percent from 2016 to 2019. Net foreign direct investment has averaged around $14 billion a year over the last few years, much of it in export-oriented manufacturing for big international brands like Samsung and LG. It's clear that things are happening in the Vietnamese economy. And yet, the country has struggled when it comes to building major domestic infrastructure like airports and rail.
The long-awaited Ho Chi Minh City metro is still lumbering toward completion, years behind schedule thanks to protracted land acquisition and other delays. Another project that has been slow to gather steam is the Long Thanh International Airport. Long Thanh, a mega-project worth billions of dollars, will serve the HCMC area and help alleviate pressure at the over-capacity Tan Son Nhat International Airport. It is not expected to be operational until at least 2025.
One cause of delays has been land acquisition. Acquiring land to build public infrastructure is complicated, especially in emerging markets where eminent domain laws may be murky and people occupying land may not have formal legal titles. Issues related to land use and ownership have delayed some of these big ticket projects.
But another issue is that the Vietnamese state is still refining its vision for how to pursue developmental objectives. A lot of Vietnam's recent growth has been driven by foreign investment in factories that produce goods for export. Now the state is turning its attention toward goods and services for the domestic market, such as transportation infrastructure. That can be a more complex proposition, especially when it comes to deciding who will run these projects and how they will be paid for.
The Long Thanh airport project offers an instructive example. It is being developed by Airports Corporation of Vietnam (ACV) which is a joint stock company 95 percent owned by the government and tasked with managing Vietnam's national network of airports. As an airport management firm, ACV has been run in a pretty conservative way. In 2022, the company recorded $292 million in after-tax profits. It had $2.5 billion in assets on the books, half of which were in the form of short-term investments.
ACV currently has lots of equity ($1.8 billion) and few liabilities ($665 million), the majority of which consist of low-interest loans from Japanese development banks that were used to finance a pair of airport expansion projects several years ago. Until now, ACV has been managed in such a way as to preserve equity, limit exposure to long-term debt (especially foreign debt), and not lose money.
It has not been managed to optimize large-scale growth and expansion. The company has not tapped capital markets to build new airports or expand existing ones, and is reluctant to take on debt. In 2022, ACV had $1.25 billion simply sitting in short-term investments earning interest, rather than being deployed for expansion. That may have been fine five or ten years ago, but the pace of economic growth in Vietnam is going to demand scaled up investment in infrastructure, including mega-projects like the Long Thanh Airport.
Given that reality, ACV appears to be re-orienting itself toward expansion. For the Long Thanh International Airport, the government initially considered using more concessional loans from Japanese or South Korean development banks. But ultimately, ACV was given the nod as project coordinator and main investor and in 2022 sunk over $200 million into land acquisition and construction, including at Long Thanh. This is precisely what we would expect to see of a state-owned firm preparing to mobilize capital and resources for large-scale investment in domestic infrastructure.
There have been growing pains. If the project was being financed by Japanese development banks, then experienced Japanese engineering and construction firms would also do much of the work, which would be a relatively straightforward process. With ACV running the show, and with limited experience in a project of this scale and complexity, even securing bids from qualified contractors has involved a steep learning curve. For instance, the first bid package offered for constructing the new terminal building was cancelled last year after failing to attract any qualified bidders.
All of this suggests an interesting shift is underway. Rather than relying on foreign development assistance, ACV will leverage their own balance sheet to finance the Long Thanh mega-airport project and more or less run the show. Re-orienting the state-owned airport operator away from passive management and toward active expansion is something Vietnam will need more of as it looks to sustain rapid economic growth. Whether the country's state-owned companies are up to the task is something to keep a close eye on in the years to come.