Japan's New Cabinet Has a Record Number of Women. So What?
A "record" of five women out of 19 ministers, most from political dynasties, is hardly something to celebrate.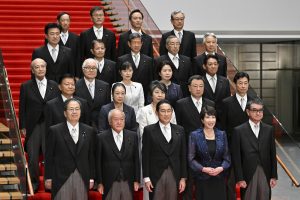 The inclusion of women in politics should be about gender equality, political accountability, and basic human rights rather than a political slogan. In Japan, female political appointments seem to be more about garnering praise, goodwill, and votes.
The recently reshuffled Cabinet of Japanese Prime Minister Kishida Fumio has been generally well received by domestic and international media for having a "record number of women" and "reflecting a focus on gender." Indeed, the new Cabinet includes five women, up from the previous two. The new ministers are Kamikawa Yoko as foreign minister; Kato Ayuko as minister for child issues and gender equality; Jimi Hanako as minister for regional revitalization; Tsuchiya Shinako as minister for reconstruction; and Takaichi Sanae, who was retained as minister for economic security. Kishida has also appointed Obuchi Yuko as chairperson of the Liberal Democratic Party (LDP) election strategy committee. 
Viewed in isolation, these appointments are a laudable effort that places women in important and influential government and party posts. But there is missing context to this news that puts into question the prime minister's priorities on gender equality, his perception of the value of female participation in politics, and in general, the prospect of women in Japanese politics. 
For one thing, Kishida remarked that he expects his female ministers to "do their jobs while fully demonstrating their sense and empathy which are unique to women," a comment that drew ire from social media and the opposition. This idea of a "unique" female sensibility was embraced by the appointees themselves, with Kamikawa, the new foreign minister, pledging to use her perspective as a woman in foreign policy. 
But is the contribution of female political appointees uniquely female? Embedded in these statements is the generalization that women have a certain set of characteristics and that they are categorically different from men in their perceptions, rationale, and personal qualities. This typification sets back society's understanding of what women are capable of and what kind of jobs they should be given. 
Meanwhile, whether the Cabinet actually includes a "record" number of women is more debatable than it seems. Overshadowed by the ministerial appointments was the absence of women in lower-level posts – where previously four vice ministers and seven parliamentary secretaries were women (out of 54 of these posts), there are none in the new cabinet. This means that only 7 percent of the 73 minister, vice minister, and parliamentary secretarial posts in the Cabinet are now taken by women. 
Moreover, we should note that this "record high number" of female ministers actually represents a tie with the April 2001 cabinet of Prime Minister Koizumi Junichiro and the September 2014 cabinet of Prime Minister Abe Shinzo. Looked at from a different perspective, the number of women in ministerial appointments has not improved from more than 20 years ago. 
Furthermore, many of the appointees' background casts doubt on what kind of women can succeed or even participate in politics. Out of the five ministers, three were born into political families: Kato Ayuko is the daughter of former LDP secretary general Kato Koichi; Jimi Hanako is the daughter of former postal minister Jimi Shozaburo; and Tsuchiya Shinako is the daughter of former Upper House president and Saitama governor Tsuchiya Yoshihiko. Obuchi Yuko is the daughter of former prime minister Obuchi Keizo. 
Hereditary politics is an entrenched and dominant phenomenon in Japan that benefits both men and women, and the skills and qualifications of an appointee should not be devalued simply because of their bloodline. But it should make us question which women in particular are being offered a chance to succeed at politics and why. 
The dearth of women in politics is part of a larger phenomenon of gender disparity in Japan. Despite numerous government campaigns and policies to increase female participation and leadership in society, the hurdles posed by path dependency and patriarchy are high. Thus, it is even more important to scrutinize highly publicized events of female inclusion and ask whether they represent true change.