No One Knows What BRICS Expansion Means 
The 11 members of the expanded group have so little in common that it's tough to decode what their purpose will be.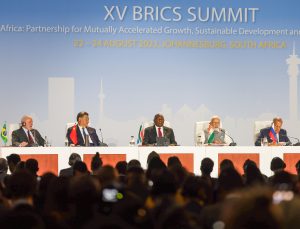 There seems to be every take under the sun about what BRICS expansion means. Recent headlines range from "BRICS expansion is all about China" to "BRICS Expansion Is No Triumph for China," and queries like "The BRICS Summit 2023: Seeking an Alternate World Order?" and "Brics summit: Is a new bloc emerging to rival US leadership?" The various competing analyses beg the question: Does anyone really know what BRICS expansion means?
Analysts all seem to agree the grouping's expansion  means something significant – probably to do with China. Some see the new BRICS as heralding a new currency, or even world order. Beyond Chinese leader Xi Jinping's broad claims of "unity and cooperation for the broader developing world," however, the only clear thing to be said about BRICS expansion is how unclear its purpose and future seem to be. 
BRICS – Brazil, Russia, India, China, and South Africa – has always been a peculiar grouping of countries. Their economies have little in common besides being "big." Brazil, Russia, India, and China were lumped together by Goldman Sachs in 2001 as potential emerging drivers of economic growth in the aughts and only formed as a loose geopolitical bloc in 2009 (originally dubbed as "BRIC," with South Africa joining in 2010). Only China surpassed the growth projections from the 2001 Goldman Sachs reports. And it's not like the BRICS countries are officially allies – just look at the tense geopolitical relationship between India and China.  
Regardless, at the 15th BRICS summit in Johannesburg, South Africa in late August, the club announced an agreement to admit six new members: Argentina, Egypt, Ethiopia, Iran, Saudi Arabia, and the United Arab Emirates. While analysts love anagrams, BRICSAEEISU doesn't exactly roll off the tongue. The new bloc is thus tentatively called "BRICS+." The six new members will officially join the group in January 2024, at which time BRICS+ will represent 36 percent of global GDP.

The choice of the six new countries is puzzling. The BRICS countries said they reached consensus on the new members with no further details; it has yet to be explained why these six made the cut and other would-be members (including Indonesia, Kazakhstan, and Nigeria) were left out. Further, the complex and often hostile relationships among BRICS+ members do not bode well for the possibility of all 11 countries reaching consensus on much.  
Egypt and Ethiopia, for example, are in tense negotiations over the Grand Ethiopian Renaissance Dam on the Blue Nile, a tributary to the Nile River. Discussions on the dam with Sudan, also affected by the dam, have been ongoing for over a decade, with no clear resolution in sight. Saudi Arabia and Iran, regional rivals with a long, fractured history, have only recently restored diplomatic ties in an uneasy deal brokered by China.  
It seems unlikely such a discordant bloc would be able to create a new world order, but the very existence of this strange combination of countries shows there is an appetite for non-Western-led multilateral alignments.

One thing the original BRICS had in common was the desire to reduce reliance on the U.S. dollar. Most international transactions are done in dollars, increasing the debt burden of loan recipient countries with low dollar reserves, and leaving countries vulnerable to dollar appreciation. Using a currency other than the dollar in international transactions is also a means of avoiding U.S. financial sanctions.  
But with the divergent economic, domestic, and foreign policy goals of the five original BRICS countries, not much on that front has come to fruition. One of the only concrete results of the BRICS partnership in the past decade has been the launch of its own multilateral development bank, the New Development Bank (NDB), in 2015. While presented as an alternative for developing countries to Western-led global financial architecture, it has mostly functioned like existing development banks. For example, the NDB does have an explicit goal of financing projects in local currencies rather than the dollar, but less than a quarter of its projects are financed this way. 
Whispers of a BRICS common currency arise every few years, prompting a flurry of analysis on de-dollarization, and this year is no different. What is different this year is the global economic playing field. Many BRICS+ countries share a concern over the dollar's dominance and the growing use of U.S.-led economic sanctions. Russia, the target of a plethora of financial sanctions imposed by Western countries, has added urgency to goal of reducing dependence on the dollar. Highly isolated under strict sanctions, Iran would welcome trade in a different currency. China, on the receiving end of U.S. export controls, has rallied against unilateral use and abuse of sanctions. A BRICS common currency is not feasible, at least not any time soon, but such clear calls challenging the dollar should not be ignored. The global financial system is built on the dollar and any significant shift away from that would fundamentally reshape international trade and finance flows and erode U.S. economic strength.  
It's clear that the new BRICS+ countries are worried about the dollar. Does that mean BRICS+ is an anti-Western bloc? 
Not quite. Of course, Iran, China, and Russia have their quarrels with the United States. But Egypt, Saudi Arabia, and the UAE have close security ties with Washington (though the recent indictment of Senator Bob Menendez on corruption charges involving Egyptian military and government officials may change that relationship). India is part of the "Quad" security pact with the U.S., Australia, and Japan. And just recently at the G-20 summit in New Delhi, India, Saudi Arabia, and the UAE signed a Memorandum of Understanding with the United States and European partners for an India-Middle East-Europe Economic Corridor. Brazil and Argentina are trying to balance their relationships with the United States and China, maintaining ties with both important trading partners.  
The calculus involved among the 11 BRICS+ countries – between themselves as well as with the U.S. and other Western powers – is far too complicated, with far too many competing interests, to say BRICS+ is much of anything besides a loose alliance with some broad concerns in common. BRICS+ countries, many developing, many in the Global South, many energy producers, are not going to sit idly by as richer advanced countries continue to shape the world economy. 
China, in particular, wants to use the BRICS+ as a demonstration it can be a leader in coalescing the Global South against Western hegemony. But it's far from clear that its fellow BRICS+ members want to be led by China.

BRICS+ is a symbol that the Western-dominated world order is not beloved, or even liked, by all. What they're going to do about it, though, for now remains anyone's guess.