Opposition's Mohamed Muizzu Wins Maldives' Presidential Election
In opposition, Muizzu was part of the "India Out" campaign. Will he take this forward as president?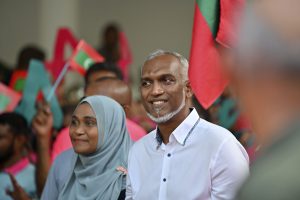 Opposition candidate Mohamed Muizzu, the incumbent mayor of Malé and a member of the People's National Congress (PNC) — which is in coalition with the Progressive Party of Maldives (PPM) — defeated the sitting president, Ibrahim Mohamed Solih of the Maldives Democratic Party (MDP), in the Maldivian presidential runoff election held on September 30.
This outcome concludes a vigorously contested electoral process that initially featured eight candidates. The first round of voting, held on September 9, eliminated six candidates and left Muizzu and Solih as the first- and second-place finishers, respectively.
In theinitial round, Solih garnered 39 percent of the votes, while Muizzu secured 46 percent, leading by a margin of 15,000 votes. The subsequent runoff, which saw a high turnout of 85 percent of eligible voters, saw Muizzu expand his lead in total vote numbers, capturing 54 percent of the votes compared to Solih's 46 percent. This increased the vote differential to 17,000 in favor of Muizzu, who is now the president-elect.
Overall, the electoral process unfolded in an orderly manner, and the Maldives' Election Commission received commendations from both local and international observers for its proficient and timely administration of the elections. However, there were isolated incidents of violence, including physical assaults on two Members of Parliament and one ballot box was overturned. Allegations of vote-buying have also been leveled against both parties.
The international community has sent congratulatory messages to the new president-elect, including a note from Indian Prime Minister Narendra Modi. This is significant because a large part of the PPM-PNC campaign against the incumbent government revolved around an "India Out" movement. This movement opposes an alleged Indian military presence in Maldives and criticizes the Solih government's perceived overreliance on India. As a result, much international coverage has portrayed Muizzu's win as a setback for India and a victory for China, with which the previous PPM government, under former President Abdulla Yameen, had established a robust commercial partnership.
However, the "India Out" rhetoric is likely to soften once the Muizzu administration takes office. Campaign rhetoric can be misleading, especially in the nuanced political landscape of Maldives. It is worth noting that previous PPM administrations upheld an "India First" foreign policy and made considerable efforts to maintain good relations with India, albeit with varying degrees of success.
India remains Maldives' largest and most influential neighbor, upon whom the country often depends for essential imports and emergency aid. Much of the "India Out" campaign appears to be aimed at domestic audiences, serving to mobilize voters. Consequently, the extent to which pledges from the campaign — such as renegotiating all defense cooperation with India or removing any alleged Indian military personnel — will actually be implemented is still an open question.
Furthermore, Maldivian voters were more preoccupied with domestic issues than with foreign policy. These domestic issues range from tackling corruption scandals to solving a housing crisis. The housing issue is particularly acute in the over-centralized Greater Male region, which is becoming increasingly congested and unaffordable as island residents move there for essential services, driving up housing demand and rent.
Economic worries also loom large, especially as the country's debt continues to grow and its tourism-dependent economy remains precarious in the aftermath of COVID-19.
Following the election results, the political landscape in Maldives is shifting rapidly. Former President Yameen, currently serving an 11-year sentence for money laundering, has been transferred to house arrest. Despite his legal issues, Yameen continues to be an influential figure. Initially, he won the PPM's nomination for the presidential election but was disqualified by the country's Elections Commission and Supreme Court due to his conviction. In the meanwhile, Muizzu was chosen by the PNC as a contingency option.
Yameen initially called for an election boycott after the ruling but reversed his stance when it became evident that the PPM-PNC coalition would not heed his advice. It remains to be seen how Yameen will adjust to a Muizzu presidency, especially if he is fully released, and what the dynamics between the two will be.
Meanwhile, former President Mohamed Nasheed, who had nominally led the MDP until his resignation earlier this year, is advocating for a referendum on the country's governance system, which he proposes to be held on October 30. Nasheed, who had a falling out with Solih mainly over the former's staunch advocacy for transitioning to a parliamentary system, aims to set himself up for the prime minister role from within the parliament, where he currently serves as speaker.
Earlier this year, Nasheed lost the MDP primary to Solih and subsequently spearheaded an MDP splinter group that evolved into a new party, The Democrats. Their presidential candidate, Ilyas Labeeb, captured 7 percent of the votes in the first round — votes that might otherwise have gone to the MDP — thus potentially affecting Solih's performance. This was especially noteworthy because The Democrats refrained from supporting Solih in the second round. Given this backdrop, it is uncertain whether the MDP will unite behind Nasheed, who has expressed interest in rejoining the party.
If the MDP, leveraging its current strong parliamentary majority, were to attempt to undercut the incoming president-elect before his inauguration and transfer power to an MDP-aligned prime minister, it would raise a number of legal, ethical, and constitutional questions.
As these political dynamics unfold, the country is actively engaged in the transition process. Following the official election results, Solih conceded to Muizzu. The two met the following day at the President's Office to discuss the transition details, and a transition committee has been established. Muizzu is expected to be sworn in as president in November.