Pakistan's Outdated Counter­terrorism Framework Requires Major Revamp
Talks with the TTP, for example, allowed some factions to return to Pakistan and gain legitimacy as well.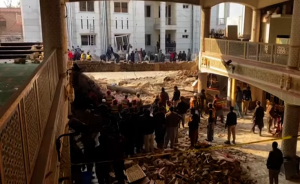 In the first nine months of 2023, Pakistani security forces suffered their highest terrorism-related casualties in eight years. As many as 386 security personnel lost their lives, of which 137 were from the military and 208 from police.
Since the Taliban's takeover of Afghanistan, militant violence in Pakistan has surged by 73 percent. After the regrouping and reconsolidation of terrorist networks, which resulted in the escalation of violence, the conflict seems to be expanding from peripheral conflict zones to the mainland.
Against this backdrop, Pakistan's existing counterterrorism and extremism frameworks seem dated and ill-suited to effectively respond to rapidly evolving asymmetric threats. After a long trial-and-error period, Pakistan finally came to terms with the terrorism threat in 2009 when the military launched successive counterterrorism operations in different parts of the country to eliminate terrorist networks.
The counterterrorism operations peaked in the 2015-2019 period as militant violence in Pakistan plummeted to an all-time low and both Tehreek-e-Taliban Pakistan (TTP) and Baloch separatist networks were significantly weakened. However, as violence declined in Pakistan, complacency crept in, and the absence of violence was confused with the restoration of peace. The state did not realize the fragility of its counterterrorism gains. Critically, notwithstanding a substantial reduction in terrorist attacks across Pakistan during that period, the underlying factors of radicalization and extremism worsened.
Qualitatively, the character of the asymmetric threats in Pakistan has evolved in the last two years without any substantive adjustment in counterterrorism and extremism policies. After 9/11, the major threat to Pakistan's internal security was homegrown and it was coming from Tehreek-e-Taliban Pakistan (TTP), anti-Shia Deobandi militant groups and Baloch separatists. However, now the internal threat is externally enabled (through TTP's Afghan sanctuaries) and both the jihadist and ethno-separatist threats have morphed into new shapes and manifestations.
For instance, TTP is strategically mature, politically savvy and smarter in its social media propaganda as compared to the past. By focusing on organizational discipline and reunifications of various jihadist factions, TTP has emerged stronger than before, and it is exhibiting its footprint both in Khyber Pakhtunkhwa and Balochistan provinces. Furthermore, the jihadist threat is more diverse and complicated as new actors have popped up. The Islamic State of Khorasan Province (ISKP) is now emerging as the second most potent jihadist group undermining Pakistan's internal security. It has absorbed groups like Lashkar-e-Jhangvi (LeJ) and Jandullah into its fold. Likewise, the Baloch insurgency has evolved from a tribal movement to a struggle of educated, middle-class, which espouses separatism and embraces more violent tactics like suicide terrorism. The U.S. withdrawal and the Taliban's return to power in Afghanistan have made this transformation of Pakistan's asymmetric threats more prominent due to a surge in violence.
However, Pakistan's counterterrorism and extremism frameworks have not evolved accordingly. On the contrary, by talking to TTP soon after the Taliban's takeover, Pakistan's then military and political leadership compromised the hard-won national consensus forged after the Peshawar Army Public School attack in December 2014 to fight terrorist networks. The counterproductive peace talks not only allowed some TTP factions to return to Pakistan but to gain legitimacy as well. As a result, Pakistan's counterterrorism operations have shifted from a more proactive to a reactive fire-fighting approach. In recent months, the reconstitution of the apex committees, a revised National Action Plan and the steps taken to strengthen the National Counter Terrorism Authority (NACTA), Pakistan's premier counterterrorism body, have not made any central difference in reducing militant violence.
Given Pakistan's political volatility and economic meltdown as well as the growing state-society gap, the powers that be do not have the fiscal and political bandwidth to carry out large-scale operations. To make matters worse, after the U.S. exit from Afghanistan, the international community's focus has shifted from counterterrorism to the U.S.-China global rivalry, and while Pakistan gets diplomatic support from the Western countries for fighting terrorism emanating from Afghanistan, no material assistance is available, apart from small-scale fundings for counter-extremism projects. In the foreseeable future, the geopolitical situation is likely to remain that way and Pakistan will have to work out more cost-effective and indigenous ways to tackle the emboldened extremist networks.
In the absence of an international consensus to fight terrorism in Afghanistan, Pakistan should work with concerned regional countries like China, Iran, Russia and the Central Asian Republics, which are equally concerned about the rising threat of terrorism from Afghanistan, to forge a consensus. The recently concluded meeting of the Moscow Format Consultation on Afghanistan in Kazan, Russia is a case in point. Likewise, Pakistan should reevaluate the existing threat landscape before revising its counterterrorism and extremism frameworks.
Terrorism in Pakistan will persist, and the country will have to adopt a generational approach to reduce the appeal of violent means to bring about a change in society. To that end, promoting and strengthening democracy for peaceful political activism and empowering youth by creating stakes in the system is critical. Finally, the Pakistani state will have to settle the debate on the contested nature of its national character. The jury is still out on whether the country was meant to be a theocracy or a moderate Muslim state. If this debate is not settled, terrorist networks will continue their militarism to violently (re)define the country's national character according to their ideological frameworks.