Russian Foreign Minister Visits North Korea After Reported Weapons Transfer
A trip to Pyongyang by Sergey Lavrov continues the flurry of North Korea-Russia exchanges.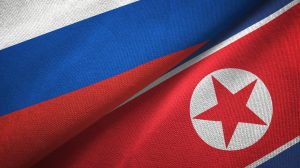 Russian Foreign Minister Sergey Lavrov visited North Korea on Wednesday, just days after the United States said Pyongyang had transferred munitions to Russia for its ongoing war in Ukraine.
Russian state television ran footage of crowds greeting Lavrov in the pouring rain in Pyongyang alongside a welcoming party waving pom-poms.
Earlier in the week, Lavrov accompanied Russian President Vladimir Putin on a visit to Beijing that underscored Chinese support for Moscow's war in Ukraine. Putin and Lavrov attended the third Belt and Road Forum in Beijing, which marked the Russian president's first trip to China since the invasion of Ukraine began in late February 2022.
Shortly after arriving in Pyongyang, Lavrov said his visit was an opportunity to discuss implementing the agreements that Putin and North Korean leader Kim Jong Un had signed when they met at Russia's Vostochny Cosmodrome in September.
Lavrov hailed Putin's meeting with Kim as "historic," saying their talks demonstrated the countries' "deep interest in the development of comprehensive cooperation."
He noted that Russia highly appreciates North Korea's "principled, unequivocal support for Russia's actions" in Ukraine.
The White House said on Friday that North Korea has delivered more than 1,000 containers of military equipment and munitions to Russia.
White House National Security Council spokesman John Kirby said the United States believes Kim is seeking sophisticated Russian weapons technologies in return for the munitions to boost North Korea's military and nuclear program.
In particular, Kim has set a goal for his country to launch a military reconnaissance satellite, yet North Korea has failed to do so in its first two attempts. Analysts saw the setting for Kim's meeting with Putin, at a Russian space facility, as a sign that Pyongyang will receive technical assistance from Moscow for its third attempt, expected later this year.
North Korea is also reportedly receiving large shipments of grain, especially wheat, and energy supplies from Russia in exchange for its support.
Russian Defense Minister Sergei Shoigu visited North Korea in July, and Kim traveled to Russia in September.
During his two-day visit, Lavrov is expected to meet with North Korean Foreign Minister Choe Son Hui. Putin had also accepted an invitation from Kim to visit North Korea, but the timing has not been announced.