South Korea: America's Forgotten Ally? 
South Korea's reluctance to play a more vocal role often leaves its sizable contributions less noticed than those of other allies.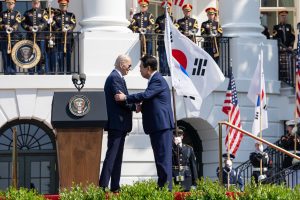 On October 1, the United States and South Korea marked the 70th anniversary of their security alliance. For much of the period, the United States' "forgotten war" also produced its most underappreciated ally. However, as the alliance prepares to begin its eighth decade South Korea has established itself as an indispensable partner for the United States. 
The security relationship between the United States and South Korea dates to before the Korean War but has evolved significantly over the last seven decades. Commensurate with its transformation into one of the world's largest and most advanced economies, South Korea has gradually assumed the overwhelming burden in its own defense and conventional deterrence on the Korean Peninsula. 
Additionally, Seoul has become an important security provider in the broader region. From U.S. allies in Australia and Philippines to partners in Vietnam and Indonesia, Seoul supplies arms and defense technologies at more affordable rates than Washington, building defense relationships with countries that are critical to both the U.S. and South Korea's Indo-Pacific strategies. And the trend extends well beyond the region.
South Korea's contributions don't end there. Unbeknownst to most Americans, South Korea sent around 320,000 troops to the U.S. war in Vietnam, significantly more than any other U.S. ally. In fact, at one point, South Korea had more troops in Vietnam on a per capita basis than even the United States. Since the Cold War, Seoul has deployed military and support personnel to both Iraq wars – including the second largest allied contingent to Iraq in 2003-04, behind only the United Kingdom – and to Afghanistan and various peacekeeping operations, usually under U.N. auspices. 
In recent years, "America first" political trends, worsening China-U.S. relations, and Russia's invasion of Ukraine have combined to highlight the need for allies to increase spending for collective defense. Compared to others, Seoul answers the call. 
While Tokyo recently received effusive praise for promising to increase defense expenditures from 1.1 to 2 percent of its GDP, Seoul consistently spent around or above 2.5 percent of GDP for the last 30 years. In terms of raw numbers, South Korea currently spends roughly the same amount on defense as Japan, despite the latter's economy being 2.7 times larger. Among all other U.S treaty allies, both in the Indo-Pacific and NATO, only eight have hit the 2 percent mark and only one, Greece, has surpassed South Korea.
However, in an era when economic issues are increasingly viewed through the lens of national security, Seoul's contributions transcend traditional military and defense issues. To begin with, South Korea is the United States' sixth largest trading partner and an FTA partner. Furthermore, Seoul is a key ally for Washington in securing critical technologies and achieving climate goals.
Semiconductors drive the modern world. They are key components of modern military technology, provide computing power for artificial intelligence, and are ubiquitous in everyday items such as smartphones and cars. As the Biden administration looks to rebuild the semiconductor supply chain in the United States, two Korean firms, Samsung and SK Hynix, have become important partners.
Samsung, which already has a plant in Texas that accounts for 5 percent of global semiconductor production, and SK Hynix are investing a combined $32 billion in semiconductor facilities in the United States. Samsung is also considering longer-term investments in the U.S. semiconductor industry of up to $200 billion.
On climate change, Korean firms are set to play a significant role in the United States' transition to clean energy. Since the passage of the Inflation Reduction Act, no country has invested more in clean tech projects in the United States. 
With the automotive industry transitioning to electric vehicles, Hyundai and Kia are set to invest $5.5 billion in a new EV production facility in Georgia. Korean firms are also partnering with U.S. and foreign automakers to supply EV batteries from 12 high-capacity battery production facilities in the United States. One estimate suggests that these investments will account for 69 percent of all EV batteries sold in the United States by 2025. 
South Korea's impact on the U.S. energy transition extends beyond EVs and EV batteries. Hanhwa Qcells, one of largest non-Chinese producers of solar panels, is investing $2.5 billion in a new facility. Once completed, Hanhwa Qcells is expected to produce 30 percent of the solar panels in the United States.
Whether in national security or economics, South Korea is an important partner for the United States beyond the peninsula even while dealing with an existential threat from North Korea. Yet, despite contributing more to its own defense than any U.S. ally and playing a significant role in U.S. efforts to reduce dependence on China for critical technologies, South Korea's reluctance to play a more vocal role as an ally often leaves its contributions less noticed than those of other allies more willing to speak publicly about Washington's concerns. That reluctance has left one of the United States' increasingly important partners underappreciated in Washington despite the capabilities it brings to the table. 
As an aspiring global pivotal state, South Korea frequently puts forward upholding democratic norms and values, combatting climate change, and fostering overseas development as key policy areas. Were Seoul to be more vocal about South Korea's contributions and adopt more concrete and consistent policies in these critical areas, it could openly support Washington's concerns as well as enhance its standing so as to more firmly defend South Korea's own interests in a more uncertain international environment.