The China-West Lithium Tango in South America
Despite the push toward decoupling, China-West collaboration persists in South America's Lithium Triangle. But in the age of strategic competition, how long will this last?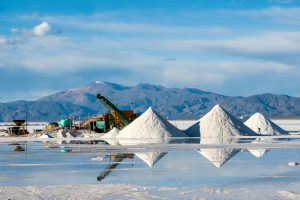 In the vast, almost haunting expanse of the high Argentine desert, beneath layers of brine and time, lies an element that could easily be mistaken for table salt. Yet, this mineral holds the key to power electric vehicles, cell phones, and the whole green energy revolution. They call it "white gold" – lithium. 
The Cauchari-Olaroz mine, located in Argentina's Jujuy province, promises to churn out 40,000 tons of lithium over the next 40 years. But more riveting than the mineral is the strange corporate partnership extracting it. The mine is jointly owned by Canada's Lithium Americas and China's Ganfeng Lithium.
As the United States and China compete globally, Western companies are seeking ways to "decouple" or "de-risk" from their erstwhile Chinese counterparts. Every company is feeling the ripples, especially those in the global hunt for critical minerals. But in this tempest, an oasis emerges: South America's Lithium Triangle, encompassing Argentina, Bolivia, and Chile. The Canadian-Chinese mining venture at Cauchari-Olaroz typifies the continued China-West collaboration in South America's lithium heartland. But in the age of strategic competition, how long will this tango last? 
Chinese, Western, and Local Collaborations
Over the past five decades, Chinese mining companies like Ganfeng, Tianqi, and Zijin have gained partial or majority control over critical mineral mines around the world. Examples include CMOC's 80 percent stake in the largest cobalt mine in the Democratic Republic of Congo, and Chinese companies' massive investment in Indonesia's nickel industry. Lithium is no exception; Chinese companies purchased half of all the world's largest lithium mines put on the market since 2018. 
Chinese businesses also aggressively invested in "junior mining companies," daredevil entities that take on the risks of uncovering nature's buried treasures. Typically birthed in the mining cradles of Canada and Australia and nursed on their respective stock exchanges, these junior miners are always thirsty for capital. And Chinese financiers were all too happy to step in when Western investors were busy swooning over the latest tech ventures.
A third strategy is to enter into joint ventures with Western and local companies. In Australia, Tianqi has a 51 percent stake in Greenbushes, the largest lithium mine in the world; U.S.-based company Albemarle owns the other 49 percent. Ganfeng acquired a significant stake in Mt Marion, another big lithium mine, along with Australian company Mineral Resources. The irony is that Australian miners, who churn out more than half of the world's lithium, end up sending almost all of it to China, where nearly all the world's refining capacity resides.
South America is also replete with these kinds of multinational partnerships. In Chile, Tianqi purchased a 23 percent stake in the country's largest lithium producer, SQM, and is looking to increase that stake. Chinese electric car maker BYD is working on a $290 million lithium cathode battery production factory in northern Chile. 
In Argentina, Ganfeng and Lithium Americas share ownership of the Cauchari-Olaroz lithium mine. Ganfeng is the majority owner of Argentine Minera Exar, and recently bought local Lithea Inc from Argentine oil company PlusPetrol for $962 million. Zijin is currently courting Argentina's state-run firm YPF to build a lithium battery cathode plant in Catamarca province, and already owns the Tres Quebradas lithium mine. Chinese carmakers Chery and Gotion are drawing up blueprints for a $400 million EV battery and car factory in Jujuy province. 
And in Bolivia, Chinese consortium CATL won the bid by Bolivian state-owned YLB to construct two lithium carbonate plants in the Uyuni salt mine for $1.4 billion. Chinese company CITIC Guoan and Russian Uranium One Group will pool together an identical sum to construct two more lithium plants in Pastos Grandes.
The Great Decoupling
When COVID-19 spread throughout the world, it exposed just how vulnerable Western countries' supply chains were to China. Since then, U.S. policymakers, along with counterparts in partner countries, have been trying to "decouple" or "de-risk" key supply chains from China. Now, for several private companies, collaborating with Chinese counterparts in industries vital to national security has become akin to playing with fire.
Canada is a case in point. On July 31, 2023, Lithium Americas decided to split its North American and Argentine operations, most likely to shield the North American division from working with Ganfeng in the Cauchari-Olaroz project. A year prior, the Canadian government directed three Chinese entities to divest from Canadian junior mining companies, which included a Canadian-run lithium mining project in Chile. It's part of the Investment Canada Act, which will review foreign investments in sensitive industries, similar to the Committee on Foreign Investment in the United States.
Meanwhile, Australia is seeking to break its dependence on China by boosting its own domestic capacity to refine lithium spodumene into lithium phosphate salt to sell directly to the United States and other customers. In February 2023, the Australian government blocked the Yuxiao Fund from doubling its stake in Australian mining company Northern Minerals on grounds of national security.
Conspicuous Absences
In this grand tapestry of lithium intrigue, one can't help but wonder: Where are the European Union, Japan, and South Korea? While the Andean plateaus of South America are teeming with players from China, the United States, Canada, and Australia, these other U.S. allies seem to be missing in action. 
Currently the only European carmaker connected with the South American lithium industry is BMW, which sealed a deal with Livent in March 2021. But on the sidelines of a July 2023 summit with Latin American and Caribbean leaders in Brussels, EU president Ursula von der Leyen announced the EU and Chile are working on a lithium MOU.
Asia, on the other hand, is an enigma. Japan, with its automotive prowess and deep-seated ties with countries like Brazil and Peru, remains conspicuously absent. A decade ago, Toyota Tsusho entered into a lithium sourcing agreement with two Argentine companies for the Salar de Olaroz in Jujuy province, but today, there's nothing to show for it. In 2021, Japan created the Battery Association for Supply Chain, but there are no signs that BASC has any plans to engage South America.
South Korea has made a larger investment in the region. In 2018, Korean company POSCO acquired a large position within the Hombre Muerto salt lake, and announced a $4 billion investment in a lithium mining project there in 2022. 
This absence in the lithium race is not just a business oversight; it's a strategic blunder. These countries' auto industries contributed significantly to their economic development, innovation, and competitiveness. Their lack of meaningful investment in South American lithium is a strategic disadvantage that may allow their Chinese competitors to leapfrog them in the EV transition. 
China, which merely decades ago was a novice in the automobile arena, now stands shoulder to shoulder with the giants. Their ace? Control over 90 percent of the lithium refining capacity, a strategic advantage that could leave Japan, South Korea, and European competitors chasing shadows.
South American Lithium's Future
As we stand at this crossroads of economic ambition and geopolitical maneuvering, what will the coming decades hold for South America's lithium landscape? The signs are already upon us.
There is already a major push by local governments to have companies keep the refining, processing, and battery production within their countries. In its recent national lithium strategy, Chile stated it wants to domestically refine and process lithium to provide jobs and value to the Chilean people. As Chinese carmakers build battery factories in South America, it seems that Chinese companies are responding to local government requirements.
The automobile titans of the world are unlikely to remain mere spectators. Direct sourcing and investment deals with mining companies are on the horizon. GM and Ford have already made their moves, and it won't be long before European and Asian juggernauts like BMW, Toyota, and Hyundai follow suit. Even the tech giants – Sony, LG, Samsung – may soon join this lithium frenzy.
Yet, the lithium stage is vast, and other actors may soon emerge. In the United States, geologists recently discovered lithium deposits along the Nevada-Oregon border – potentially among the world's largest. The Salton Lake in southern California, dubbed the "Lithium Valley," as well as Nevada's Thacker Pass, beckon with promise. In India's Himalayan foothills, a vast reserve of spodumene lithium has been discovered, though the shadow of Kashmir's conflict looms large and may make access to this treasure as elusive as the peace that would unlock it. Nations like Brazil, Mexico, and Peru, too, are scouring their terrains, hoping to unearth lithium treasures.
Those nations blessed with lithium's bounty might soon find themselves wielding geopolitical clout. If they navigate this era of strategic competition with sagacity, balancing fiscal prudence with environmental stewardship, they might not only draw gains from the United States and China but also elevate the lives of their citizenry.
Conclusion: The End of the China-West Lithium Tango?
In the theater of global commerce and politics, the notion of "decoupling" often sounds like a requiem for collaboration. Yet, the world of business knows no borders. The Chinese-Western symphony in the lithium realm was not a mere accident; it was a confluence of economic wisdom and shared expertise. Some Chinese entities, having honed their skills over time, possess superior technological prowess. For example, Ford is working with CATL to build an EV plant in Michigan, although that plan is facing congressional pushback. By erecting walls and asking Western firms to rediscover the wheel, we risk not just stalling innovation but also derailing the global green transition.
If the mantra is to be one of unrelenting rivalry, then the West ought to set its sights on South America's lithium bounty and aim to outcompete China.
First, the United States, allies, and partners need to formally include Argentina and Chile in the State Department's Mineral Security Partnership, a group that ensures critical minerals are produced, processed, and recycled with the highest quality standards. Doing so will send a strong message of South America's importance in the lithium global supply chain. 
Second, U.S. policymakers need to provide incentives for U.S. companies to be more active in Argentina and Chile. The U.S. should include Argentina as one of the countries that qualifies for special benefits under the Inflation Reduction Act. Right now the IRA provides EV tax credits only to cars whose batteries and minerals were produced within the U.S. or a country with which the U.S. has a free trade agreement. Chile currently counts because it is an FTA partner; Argentina, despite its large lithium reserves, is excluded because it does not have an FTA with the United States. 
The U.S. should also consider expanding the Defense Production Act – which allows the president to direct private companies to prioritize orders from the federal government – to include lithium in Argentina and Chile. In May 2023, the Pentagon asked Congress to expand the DPA to include the United Kingdom and Australia; it could do the same for these two South American countries.
Third, U.S. companies should also consider developing deeper relationships not only with the Argentine central government, but also the provincial governments of Jujuy, Salta, and Catamarca. In Argentina's federated system, the provinces have full jurisdiction over their lithium resources. Chinese companies have long understood this and have made a concerted effort to ingratiate themselves with provincial leaders. U.S. and Western companies should do the same, while refraining from engaging in corruption. The prospect of working with Bolivia is quite low due to the Arce administration's increased relations with China and Russia. However, the United States should look for windows of opportunity to engage the Bolivian government in the future.
Fourth, the U.S., allies and partners should not put self-imposed limits on lithium exploration and production. Washington's gaze, both geographically and in terms of investment stages, is woefully narrow. All of the U.S. government's investments are focused domestically, which makes sense politically, but doesn't take into account the global nature of the lithium supply chain. 
The U.S. strategy is also limited by its life cycle. Currently, U.S. government-supported overseas financing cannot go into early stage mineral exploration. However, companies are still trying to explore various areas around the world for potential lithium deposits. And it is limited by the financing structure, focusing only on loans, or private equity. Instead, U.S. entities should rely on blended financing through stakes, loans, and mergers and acquisitions, just like their Chinese counterparts.
Finally, U.S. agencies and companies should pool resources with their allies and partners to invest in lithium mining projects. At the August 18, 2023 Japan-South Korea-U.S. summit at Camp David, the U.S. Development Finance Corporation, Japan Bank of International Cooperation, and South Korea's Export-Import Bank agreed to cooperate on financing infrastructure, information technology, supply chain resilience, and climate projects in the Indo-Pacific and beyond. One of their first initiatives outside the Indo-Pacific should be investing in a South American lithium mining project. Such investments should not only include the mines themselves but the infrastructure around them too – including roads, procurement services, and technology providers.
The road to lithium dominance is strewn with challenges – remote locales, daunting altitudes, and treacherous terrains. But it's this very adversity that offers the West, alongside its allies and partners, a golden opportunity to invest, innovate, and illuminate the lives of millions.
In the end, the South American lithium saga is not just about powering sleek Teslas. It's about a vision, a promise – of prosperity, progress, and a brighter tomorrow for the people of Argentina, Bolivia, and Chile.