The State of China's Semiconductor Industry
Insights from Douglas Fuller.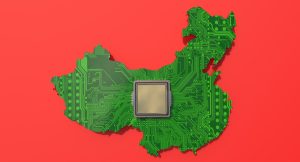 The Diplomat author Mercy Kuo regularly engages subject-matter experts, policy practitioners, and strategic thinkers across the globe for their diverse insights into U.S. Asia policy. This conversation with Dr. Douglas Fuller, as associate professor at the Department of Economics, Government and Business, Copenhagen Business School in Denmark, is the 385th in "The Trans-Pacific View Insight Series." 
Explain the implications of the 7-nanometer (nm) chip in Huawei's latest 5G smartphone.
We already knew Huawei's Hisilicon design arm was very capable of designing advanced chips, especially for smartphones. The main question is where Huawei would be able to fabricate such chips since the specific rules on Huawei's Entity List designation came into effect in late 2020. The Entity List provisions for Huawei make it illegal to serve Huawei without a license while using American equipment. SMIC [Semiconductor Manufacturing International Corporation, the Chinese company that made the 7 nm chip for Huawei] is highly likely to be using American equipment without such a license, so is likely to be in violation of American export controls. 
Even the electronic design automation (EDA) Huawei used – the software used to design chips – is highly likely to include American EDA tools, though it has long been recognized that this software was the weak link in export controls due to the potential for piracy and hacking.
Analyze whether U.S. efforts to restrict investment in and export of advanced chips to China have accelerated the country's indigenous developments of semiconductor self-sufficiency.
One major concern has been that American export controls would accelerate the key inputs that the U.S. government is trying to use as chokepoints: EDA tools and capital equipment.
On the EDA side, there are emerging Chinese competitors. However, they have little market presence outside of China and there are structural constraints to these firms becoming peer competitors to the Big Three (Cadence, Synopsys, and Siemens/Mentor Graphics). The primary constraint is that when foundries roll out their leading-edge processes, they work with the Big Three to ensure the smoothness of the design-to-manufacturing interface. This interaction gives the EDA tool vendors a competitive advantage. The foundries are unlikely to bring in other EDA vendors to work at this key interface if these vendors are not already major international vendors offering complete design flow software operating near the international technology frontier. The Chinese EDA vendors do not fit these criteria.
For capital equipment, Chinese vendors have made progress in equipment for assembly and testing, although that equipment was not the main focus of the chokepoints. The main focus was fabrication capital equipment. Here progress has been much more limited, especially at advanced manufacturing nodes.
The four most important types of equipment for fabrication are: lithography, deposition, etching, and process control (inspection and metrology) equipment.
Lithography equipment (equipment that uses light and direct beams to pattern circuitry onto wafers) is dominated by the Netherlands' ASML with some minor Japanese competitors. China already cannot purchase the most advanced equipment, extreme ultraviolet (EUV) lithography equipment, and from September 2023 onwards cannot purchase ASML's second most advanced equipment, argon fluoride immersion (ArFI) deep ultraviolet (DUV) equipment. 
China's Shanghai Micro Electronics Equipment (SMEE) has yet to launch any fab-ready equipment despite years of hype, though there is talk yet again that SMEE will launch lithography equipment suitable for 28-nm processes this autumn. Even if SMEE pulls off this feat, it will still be far behind the technology frontier.
In deposition (adding thin layers of materials and then energy to induce a chemical reaction), there are at least five Chinese producers reportedly undertaking mass production of equipment: Piotech, NAURA, AMEC, ACMR, and Wanye. NAURA and Piotech are the main vendors by market share. Overall, the local vendors have seized market share, going from 8.5 percent of domestic Chinese foundry purchases in 2020 to 25 percent in the first ten months of 2022. 
However, Chinese producers are still mainly increasing market share in trailing edge and non-critical processes. In critical and leading-edge applications, such as advanced epitaxial and atomic layer deposition (ALD), Chinese producers haven't made much progress at all. 
Deposition steps are used more frequently in advanced manufacturing nodes because both the smaller lithography line widths and 3D chip architectures require greater amounts of deposition. Consequently, there has been an increase in demand for deposition equipment. This increased use of deposition in leading-edge processes actually advantages the foreign incumbents in the global market because most of the leading-edge process capacity is offshore thanks to export controls, and foreign producers will be unlikely to commit to using Chinese equipment for critical tasks for both business and geopolitical reasons.
Etching (selective removal of materials that have been deposited on the wafer) equipment is dominated by LAM Research (a U.S. firm) followed by Japan's Tokyo Electron and the United States' Applied Materials, and technology trends are playing into their dominance. As the technology frontier for fabrication nodes has advanced from 14/16 nm to 5 nm in logic and from 64L (L stands for layers) to 192L in NAND, the market for etching equipment has doubled. Thus, there is a similar advantage for incumbents with established leading-edge customers to that seen in deposition. 
The Chinese firms tend to do better at trailing or even just mature (e.g., 28 nm) nodes where etching equipment is used less frequently and thus there is lower demand. NAURA and AMEC both have entered this market. AMEC offers conductor and dielectric etching equipment at 28 nm for noncritical and semi-critical processes and non-critical equipment at 5 nm. NAURA just offers noncritical and semi-critical equipment at 28 nm for conductor etching.
Process control equipment is almost all critical equipment because this equipment directly impacts the yield rates of fabrication. Thus, purchasers of such equipment are very circumspect about trying unproven newcomers. This area is also one with among the highest technical barriers to entry. And there is a new incumbent advantage in this sector, as data analytics using data gathered from existing operating machines has become increasingly important to advances in this equipment segment. 
Given these factors, it is no surprise that like with lithography, Chinese vendors have made very little progress beyond those simple tasks where the barriers are not high – e.g., inspecting wafers prior to the fabrication process.
Given the lack of progress at advanced nodes, it is not surprising that SMIC's advanced fab is chockablock full of American equipment often obtained in legally dubious ways as well as Dutch advanced DUV and Japanese equipment obtained before the start of their respective governments' export controls. 
Identify the key strengths and weaknesses in the China-U.S. contest for silicon supremacy.
China's key strengths are its large market demand for chips, its large number of trained engineers in chip design and logic process technology, and government support. China's industrial weaknesses are the key inputs, EDA, and especially capital equipment. Government support is also a double-edged sword as it has encouraged excessive government intervention in management of firms and allocated capital based on metrics other than performance.
The U.S. has a deep bench of firms in chip design (e.g., Nvidia), fabrication (e.g., Intel) and key inputs. However, more than two decades of relative government neglect compared to the proactive policies of China, South Korea, and Taiwan have led some of America's deep capabilities to atrophy. Moreover, such neglect has been part of the reason chips have not been viewed as a growth industry by young people, with many more technically minded young people going into software. The CHIPS Act is the start for rectifying this policy neglect. 
The U.S. needs to address the issue of how to finance chip industry innovation beyond the five-year timeframe of the CHIPS Act. American venture capital is not interested because of the high upfront costs and low probability of power law returns. America does not have the prodigious amount of patient capital of South Korea or, albeit much more inefficiently, China.
How might China's current economic malaise impact the country's advancements in semiconductor development?   
The Chinese government has already seen lower take-up from regional/local governments in the third tranche of the Big Fund rolled out this year. This lack of enthusiasm suggests that local government debt is beginning to affect an area of great strategic interest to the Chinese state that appeared walled off from any government austerity in the short- to medium-term. I still think the central government will find the means to fully fund the relatively modest sums needed for the trimmed down third tranche of the Big Fund, but longer term, the Chinese state will face more and more hard choices between funding industrial policies extravagantly and other core missions of China, such as big budget items like internal security and the military.
Assess the impact of China-U.S. chip competition on global supply chains and market share.  
The revelations emerging from SMIC's fabrication of Huawei's Mate 60 Pro chip show the U.S. has pursued licensing very loosely when it comes to SMIC. In her recent testimony to Congress, U.S. Commerce Secretary Gina Raimondo said that her department would close any loopholes they found. If such measures are taken and no further advanced DUV technology goes to China, China's ability to increase capacity at advanced nodes will be limited. China might face a Galapagos effect in which Chinese equipment suppliers can supply China's maturing fabs while the international market marches ahead with non-Chinese suppliers firmly entrenched.
China is hoping to expand rapidly in mature nodes, such as 28 nm, because a lot of emerging areas of demand, such as chips for electric vehicles, are at these nodes. Unfortunately for China, Europe and Japan seem very reluctant to accede their automotive industries to China and the U.S. already has tariffs. Beyond the automotive industry, the appetite of the large foreign markets to accept a flood of Chinese chips at mature nodes is also quite limited given changing geopolitical attitudes.