Where Does South Korea Stand on the Israel-Hamas Conflict?
Seoul is urging the swift and peaceful resolution of the conflict, fearing regional and global spillovers. But the Yoon government is also careful not to take sides.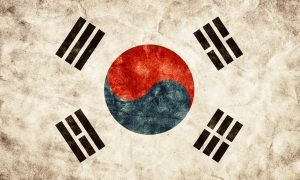 Four days after Hamas' attack on Israel, South Korean President Yoon Suk-yeol called an "Emergency Economic and Security Review Meeting" on October 11. In addition to denouncing Hamas' "indiscriminate killing of civilians and hostage taking," the meeting included an emergency review of the potential economic, security, and civil impact on South Korea and its citizens. 
Most importantly, the meeting strongly signaled South Korea's concerns for regional and global spillover effects of the Israel-Hamas conflict.
Prior to the emergency cabinet meeting, Yoon hosted discussions with U.S. Senate Majority Leader Chuck Schumer on his delegation trip to Seoul last week. During their discussion, both sides condemned Hamas' attacks on Israel and agreed that the "ROK and United States should play a constructive role" in ensuring that this situation is quickly and peacefully resolved. 
This was Yoon's first public denouncement of Hamas, though analysts also point out that the South Korean president has yet to proclaim support for Israel directly. 
While South Korea irrevocably supports the peaceful resolution of the crisis, government leaders may hesitate to vocalize direct support of Israel, citing potential effects on Korean trade and economy.
In recent years, South Korea has seen the Middle East and North Africa (MENA) region as an attractive growth space for key domestic industries' expansion abroad. In 2022, the United Arab Emirates (UAE) and Saudi Arabia were South Korea's two largest trading partners in the MENA region. Saudi Arabia alone accounted for nearly 4 percent ($24 billion) of South Korea's global imports.
During Saudi Arabia's Crown Prince Mohammed bin Salman's visit to South Korea in 2022, the two countries signed MOUs amounting to nearly $30 billion for infrastructure and energy development in the Neom city project. Similarly, Seoul's maturing relationship with the UAE has resulted in the successful completion of South Korea's first exported nuclear power plant as well as an announced UAE pledge for upwards of $30 billion in investment for South Korea's energy, infrastructure, technology and defense sectors. 
As the Israel-Hamas conflict continues to unfold, South Korea is starkly aware of the political division among its regional partners. The UAE was reportedly the first Arab nation to speak with Israeli Prime Minister Benjamin Netanyahu since the conflict began, with a conversation on October 15. However, Saudi Arabia's leadership has called for strong denouncement of the Israeli response, drawing attention to the civilian death toll in Gaza. 
Additionally, as conflict builds in the MENA theater, South Korean defense leaders have called for a close watch on North Korea, warning that Pyongyang might seek to replicated Hamas' tactics. With those concerns in mind, South Korea's new defense minister has suggested a suspension of the September 2018 Inter-Korean agreement that instituted designated "buffer zones" along sea, land, and air boundaries between North and South Korea. Last month's North Korea-Russia summit stoked concerns that an emboldened North Korea may further seek regime legitimacy through expanded provocations toward the South. 
However, preparations for the United States, South Korea, and Japan's first joint trilateral naval exercise in the region are solidly underway – an example of the successful outcomes of the Trilateral Camp David Summit. The combined military presence is likely to reduce immediate concerns over an opportunistic North Korea.
With the Israel-Hamas conflict ongoing, South Korea – with an eye abroad and at home – will continue to support the cessation of hostilities within Israel and Palestine.