An Iranian Reversal on Afghan Refugees
The difference between the deportation policies targeting Afghans in both Pakistan and Iran is the noise surrounding these efforts.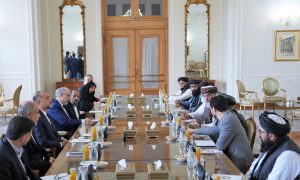 Along the 582-mile Iran-Afghanistan border, there are at least three legal border crossings and several unmonitored points of ingress and egress. Since the August 2021 seizure of power by the Taliban, these crossings have been used by millions of Afghans to exit into Iran. While most of these journeys have been to avoid persecution at the Taliban's hand, poverty and a lack of employment opportunities amid a grinding economic crisis in Afghanistan have pushed even more Afghans into Iran. 
However, the window of escape for distressed Afghans – when Iran looked the other way as this mass  migration of people continued along its eastern border – appears to be closing. Tehran is no longer willing to accept more Afghans and has started deporting those without valid papers.
Given that migration from Afghanistan into Iran – both permanent and temporary – has been ongoing for decades, there are widely varying estimates of the total number of Afghans in the country. The UNHCR, the United Nations' refugee agency, estimates the figure to be 7.6 million, including those who arrived in the country after August 2021. In April 2022, Iranian Foreign Minister Hossein Amir-Abdollahian said 1 million Afghan men, women and children had entered Iran since August 2021, bringing Iran's official number of refugees and economic migrants to 5 million.   
According to UNHCR, the Iranian official estimate is based on a headcount of all undocumented Afghans, including those who arrived post-August 2021 in the country. The project was completed on June 30, 2022. According to Iran's Bureau for Aliens and Foreign Immigrants' Affairs (BAFIA), some 2.6 million Afghans were registered and received "temporary protection against refoulement." A large number of refugees did not participate in the count.
Over the years, the Iranian regime has promoted a policy of accepting Afghan Shias to address the significant decline in national population growth to 0.72 percent. Afghans constitute a sizable potential workforce the country desperately needs. This policy, however, has led to a division between hardliners and reformists, with the latter accusing the former of undermining native Iranians and paving the way for mass migration of Iranians to other countries. In a media war between the two groups, the liberal policy allowing Afghans to buy land, and access education and healthcare services, has come under scrutiny, too.
At present, it seems that the Iranian government is revisiting its Afghan migrant policies. On  September 27, Iranian Interior Minister Ahmad Vahidi said that the 5 million "illegal Afghans" in the Islamic republic will be deported.
As a result, media reports indicate that the number of Afghans voluntarily returning from Iran has doubled from 1,500-2,000 to 3,000-4,500 on a daily basis. In August 2023, an estimated 89,000 Afghans returned from Iran – 46,000 voluntarily and 43,000 deported due to a lack of valid papers. In the first week of November, Iranian authorities doubled down and began denying even Afghans with temporary work permits the right to seek employment. 
It is, however, not too hard to decipher the motive behind this sudden reversal on the part of Iran. Reports from the field suggest it is linked to the spat between Iran and the Taliban over cross-border water resources. In addition, Tehran, for some time, has complained of receiving little assistance from international agencies despite hosting one of the largest populations of Afghan refugees. Whether Tehran is simply seeking international recognition and some level of financial assistance for its humanitarian gestures remains to be seen. In addition, whether Tehran is targeting only Sunni Afghans for deportation has not been articulated in its official statements.
The difference between the deportation policies targeting Afghans in Pakistan and Iran is the noise surrounding these efforts. While Islamabad went ballistic with its intention of getting rid of 1.4 million "illegal" Afghans from its territory by November 1, the exodus from Iran is a lot quieter, without any fixed deadline. Not surprisingly, the Taliban, already reeling under the uncompromising policy from Pakistan, which has been deferred till the end of 2023, have been subtle in their reaction to the developments on the Iranian border.     
On November 4, 2023, Taliban First Deputy Prime Minister for Economic Affairs Abdul Ghani Baradar led a 30-member economic delegation on a two-day trip to Tehran. While issues such as trade, transit, transportation, infrastructure, and railways, as well as regional development, figured in what was billed as the first Iran-Afghanistan Joint Economic Committee meeting, the deportation of Afghans did merit a mention in Baradar's talks with President Ebrahim Raisi's special envoy for Afghanistan Hassan Kazemi-Qomi and the Secretary of the Supreme National Security Council Ali-Akbar Ahmadian. Both countries, according to reports, have decided to set up task forces to deal with such matters of mutual interest. 
Notwithstanding the outcome of Baradar's attempts to keep Iran in good humor, Tehran's decision could not have come at a worse time for the Taliban, still reeling from the implications of Islamabad's decisions. And for the Afghans who are coming home, it's a journey back to the center of a devastating humanitarian crisis, with millions on the verge of starvation and facing a bleak cold winter without any shelter.