Brooklyn Busts: Several Indicted in New York for Smuggling Sanctioned Goods to Russia
Over the course of two days, six people were indicted in New York for a pair of sanctions evasion schemes, including one Tajik-Russian resident of Brooklyn.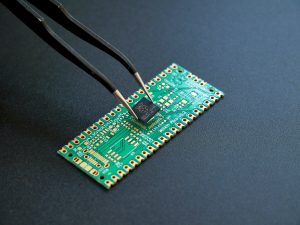 U.S. authorities arrested a trio in New York late last month on allegations that the three operated a scheme to route millions of dollars worth of semiconductors, integrated circuits, and other dual-use electronic parts to Russia via front companies in Brooklyn. 
Brooklyn resident and dual Tajik-Russian citizen Salimdzhon Nasriddinov, 52, and married Russian couple Nikolay Goltsev, 37, and Kristina Puzyreva, 32, of Montreal, Canada, were arrested on October 31 on conspiracy and other charges related to sanctions evasion and violation of U.S. export controls. 
In a statement outlining the allegations, United States Attorney for the Eastern District of New York Breon Peace said, "As alleged, the defendants evaded sanctions, shipping equipment to Russia vital for their precision-guided weapons systems, some of which has been used on the battlefield in Ukraine."
The scheme outlined by U.S. officials focuses on two corporate entities registered in Brooklyn, SH Brothers Inc. and SN Electronics, through which the accused allegedly purchased and shipped approximately $7 million in dual-use electronics – via around 300 shipments – to sanctioned end users in Russia. 
As alleged in the criminal complaint, Goltsev received orders from Russian end users in the defense and technology sectors for specific parts or items. He then would contact manufacturers, usually under an alias. Goltsev and Nasriddinov would then purchase the items via SH Brothers Inc. and SN Electronics and have them shipped to Brooklyn. The items were then shipped to various intermediaries in places like Turkey, Hong Kong, India, China, and the United Arab Emirates, where they were rerouted to Russia.
According to a Department of Justice press release:
[S]ome of the electronic components and integrated circuits with the same make, model and part number shipped by the defendants through SH Brothers have been found in seized Russian weapons platforms and signals intelligence equipment in Ukraine, including the Torn-MDM radio reconnaissance complex, the RB-301B "Borisoglebsk-2" electronic warfare complex, the Izdeliye 305E light multi-purpose guided missile, the Vitebsk L370 airborne counter missile system, Ka-52 helicopters, Orlan-10 unmanned aerial vehicles (UAVs) and T-72B3 battle tanks.
In the complaint, U.S. authorities outline a series of messages that serve to suggest that the accused knew that the electronics they were exporting had military applications. 
In one exchange in November 2022, Goltsev commented that shipping to Russia had become "dangerous." He discussed a shipment that had been detained at John F. Kennedy International Airport in Queens. Nasriddinov , according to the complaint, responded that "Ukrainians alleged that they're being bombed from parts from there [the U.S. manufacturer], maybe that's why they started investigating everything?" 
In a February 23, 2023 message, Nasriddinov wished Goltsev,  "Happy Defender of the Fatherland Day!" To which Goltsev replied, "happy holiday to you too my friend, we are defending it in the way that we can [smile emoji]." 
The day after the three were arrested, another indictment was unsealed against a different trio, including one Brooklyn resident who was arrested and two Russians that remain at large, for exporting dual-use electronics used ultimately in Russian military drones. 
RFE/RL's Tajik Service, known as Radio Ozodi, dug into Nasriddinov's background. Radio Ozodi reported that Nasriddinov is regarded as a successful businessman among the Tajik diaspora in the United States and in 2021 established an organization with other Tajik immigrants to aid the community and teach the Tajik language to its children. He reportedly has ties to a restaurant in Brooklyn.
Radio Ozodi found a 2019 photo on Nasriddinov's Facebook page depicting him shaking hands with Tajik President Emomali Rahmon and receiving a meritorious service medal for his contribution to the construction of the Rogun hydropower plant. It appears that he aided in the acquisition of equipment for the dam project. 
The path of various electronic parts from U.S. manufacturers to Brooklyn to the battlefields of Ukraine illustrates the pernicious nature of sanctions evasion. There's money to be made in breaking laws, but it's clear from the pair of indictments noted in this article that U.S. authorities are watching closely.