Can Xi Jinping Achieve His Ambitions After the Biden-Xi Summit?
Xi's transformation from "wolf warrior" to "panda" was more about what came after the summit: a major gathering with American CEOs.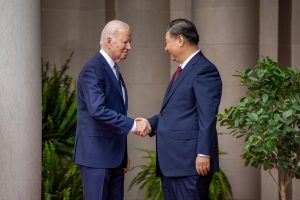 The much-anticipated Biden-Xi Summit has concluded, but the curtain has not yet fallen. No clear verdict has been reached on the future relationship between the world's two largest economies, which is marked by conflicting values and geopolitical competition.
Of particular note is the change in tone of the Chinese state media around the summit, which shifted from a hostile stance to actively promoting Sino-American friendship. Chinese leader Xi Jinping, whether in his meeting with U.S. President Joe Biden or during his dinner with American business leaders, displayed a friendly demeanor and even a softer posture. Surprisingly, although Biden again referred to Xi as a "dictator" at the post-summit press conference, China has remained largely silent, though not entirely.
How did "wolf warrior diplomacy" turn into "panda diplomacy" virtually overnight?
The "wolf warrior" paradigm represents the diplomatic characteristic of Xi Jinping's "new era" in China. One of Xi's major departures from his predecessors is his "three grand ambitions," which clearly surpass previous leaders'. First, he firmly believes that China should follow a development path distinct from the mainstream of world civilization. Second, he sees the Chinese Communist Party's future annexation (or "reunification") of Taiwan as his legacy achievement. Finally, Xi has global ambitions to challenge the dominance of the United States. Xi is determined to achieve these three goals during his tenure.
A year ago, at the Group of 20 (G-20) summit in Bali, Indonesia, Xi Jinping met with Biden, shortly after being reappointed for a third term at the pinnacle of power during the 20th CCP Congress. At the time, the achievement of his three goals seemed within reach, with a sense that "the East is rising and the West is declining."
Over the past year, however, Xi's ambitions have suffered setbacks. Shortly after returning from Bali, he faced nationwide protests known as the White Paper Movement, which significantly diminished his political authority. The expected strong economic recovery following the lifting of pandemic restrictions failed to materialize. The real estate market faced a comprehensive collapse, youth unemployment soared, and confidence among domestic and foreign entrepreneurs continued to erode. His new administration introduced various market support measures to restore confidence and drive the "three engines" of economic growth: investment, foreign trade, and consumption. However, these engines still struggled to gain momentum.
Although he may be reluctant to admit it, Xi's three grand ambitions are built on the foundation of the decades of rapid economic development that occurred before he even took office. Without sustained robust economic growth, he lacks the confidence to realize his global ambitions (including the annexation of Taiwan) or to assert the superiority of China's totalitarian socialist system.
In December 2022, at the Central Economic Work Conference, Xi Jinping instructed that China's economic growth rate for the year must exceed that of the United States in order to showcase the superiority of the Chinese system. However, the trend of China's total economic size relative to the United States has reversed, dropping from 75 percent in 2021 to 70 percent in 2022. Coupled with China's aging and gradually declining population, many economists have changed their once-optimistic assessments that the Chinese economy would soon surpass the United States'. This has dealt a psychological (and perhaps political) blow to Xi, as there is no clearer or more significant indicator of the success of his global ambitions. Seemingly overnight, what once seemed well within reach has become a distant hope.
But the economic challenges Xi Jinping faces aren't just about the size of China's economy, but more crucially, the structure of its economy. China's economy has long relied on the real estate sector, leading to high leverage and potential financial risks. In addition, decades of government-led infrastructure investment have tied up huge amounts of money in "brick and mortar" projects, leading to severe overcapacity and diminishing returns on investment in real estate and infrastructure. Even if the real estate market doesn't collapse, it has lost its ability to drive sustainable economic growth.
To unleash the long-term potential for economic growth, China must transition from a "brick and mortar" economy to a digital and semiconductor economy. If China cannot compete with or surpass the United States in high-tech fields, Xi will find it difficult to realize his three grand ambitions. The United States has recognized this and has increasingly imposed restrictions on the export of high-tech products to China.
With multiple ambitious goals, Xi Jinping needs to make a breakthrough to realize his grandiose aspirations. The key policies outlined at the Central Financial Work Conference in late October are to "strengthen the financial supervision of real estate enterprises" and "optimize the structure of capital supply, channeling more financial resources into promoting technological innovation, advanced manufacturing, green development, and small and medium-sized enterprises (SMEs)." However, the implementation of this policy is still constrained by the crisis-ridden real estate industry.
If the crackdown on China's real estate market is carried out too quickly and forcefully, it will inevitably trigger a financial crisis and a debt crisis for local governments that have long relied on land financing. A sharp drop in housing prices would accelerate the shrinking of the middle class, causing them to withdraw from their tacit "freedom for bread" bargain with the CCP regime, and in turn pose a political challenge to Xi.
As a result, Xi needs to balance the two "wants": first, the must-have transformation, and second, stability in the property market. The key to a smooth transition during this "both wants" period is financing. In recent years, however, the outflow of foreign capital from China has been gradually increasing, with the latest data from China's State Administration of Foreign Exchange showing a deficit in foreign direct investment in the third quarter of this year for the first time since records began in 1998.
So it was that Xi Jinping was wearing a smile when he arrived in the United States on November 14. During his summit with Biden, Xi made several concessions on U.S. priorities, from counternarcotics to military-to-military talks, and seemingly gained little for himself. However, the real action took place offstage.
That night, at a dinner with U.S. business leaders, Xi went on a charm offensive, emphasizing China's commitment to being a partner and friend of the U.S., highlighting the friendly China-U.S. relationship and China's huge market with opportunities in many sectors. From China's perspective, this was the main event; the summit with Biden was intended to set the stage for Xi to woo a renewed influx of foreign direct investment from U.S. companies.
In fact, China's current economic woes were largely inflicted by Xi himself. His three grand ambitions, combined with his fear of losing power and his obsession with security, have led to domestic discontent and distrust, panic in the domestic and international business community, a disconnect with the domestic middle class, and global alarm and countermeasures from the international community. In other words, China's economy and Xi's policies are mutually constraining.
Will Xi change his politics? Can his shift from "wolf warrior" to "panda" diplomacy restore international business confidence in the Chinese market? Will the U.S. give Xi a strategic breathing space to catch up with his ambitions? Xi Jinping's recent visit to the U.S. is reminiscent of the long-lost strategy of "keeping a low profile," but times have changed.