Japan-South Korea Cooperation Amid Israel-Hamas Conflict Proves Benefits of Trilateral With US
Coordination on evacuations of their citizens from the Middle East is a seemingly small but symbolically significant step for Tokyo and Seoul.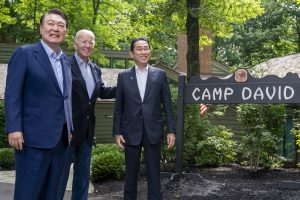 The Israel-Hamas war is proving to be the first major test of Japan and South Korea's ability to deepen collaboration in the spirit of the Camp David Summit, and so far, they are passing the test. 
In August, the United States, Japan, and South Korea announced plans to cooperate trilaterally on a broad range of issues affecting regional and global stability and prosperity, including a commitment to consult and coordinate responses to challenges affecting their mutual security interests. In their joint remarks at Camp David, the leaders emphasized that "challenges that threaten regional security must be addressed by us building a stronger commitment to working together." 
Beyond the need to seize the momentum from Camp David, Japan and South Korea have good reason to work together in response to the Israel-Hamas conflict. Both strongly depend on Arab oil imports. Japan, which imports roughly 94 percent of its energy, has historically acquired more than 80 percent of its oil from the Middle East. Likewise, South Korea imports 98 percent of its energy needs, with 60 percent originating from the region. 
While Tokyo and Seoul are separately engaging their Arab trade partners to maintain access to oil, the two nations are coordinating with one another to evacuate civilians. Coordination on evacuations is a seemingly small but symbolically significant step for Tokyo and Seoul.
On October 11, South Korea began a government evacuation of 192 citizens on a commercial aircraft. Following this initial movement, on October 15 South Korea coordinated a multilateral evacuation utilizing a KC-330 military aircraft to transport 163 South Koreans, 51 Japanese, and six Singapore citizens from Tel Aviv to Seoul Air Base, South Korea. On October 20, the Japanese Air Self-Defense Force returned the favor, evacuating 83 foreign nationals, including 18 South Koreans, on a KC-767 destined for Haneda Airport in Tokyo. These efforts are unprecedented and would have been politically impossible only a couple of years ago, when bilateral relations were at a particularly low point. 
Japan and South Korea are also coordinating their diplomatic efforts. In a flurry of activity, Japan has met with regional interlocutors more than 20 times since the October 7 Hamas attack and has dispatched a special envoy to the Middle East to help facilitate peace talks. On October 15, Japanese Foreign Minister Kamikawa Yoko talked on the phone with South Korean Foreign Minister Park Jin to thank the South Korean government for assisting the evacuation of Japanese nationals leaving Israel and confirmed that the two ministers would continue to "communicate and coordinate with each other closely."
This unprecedented cooperation comes on the heels of historic Japan-South Korea-U.S. military exercises. On October 22, the three nations conducted their first-ever trilateral aerial exercise, including a U.S. B-52 bomber, South Korean F-15Ks, and Japanese F-2s. Two weeks earlier, the Ronald Reagan Carrier Strike Group conducted a maritime trilateral exercise in the East China Sea, the first of its kind in seven years. These operational exercises serve to underscore the commitments to military cooperation outlined in the Camp David Summit.
There are additional ways leaders in Washington, Tokyo, and Seoul can cooperate on the Israel-Hamas crisis to immediately operationalize trilateral relations, seizing the momentum of the Camp David Summit. Low effort, high impact opportunities should be prioritized, such as further enhancing information sharing and coordination beyond the Korean Peninsula. Likewise, because the fog of war and disinformation are impacting the world's ability to understand what is happening in the Israel-Gaza conflict, the three partners should use this opportunity to practice countering foreign information manipulation. Lastly, the three partners should consider integrated contingency planning, in the Middle East and the Indo-Pacific, for the evacuation of civilians. While the operational environments differ, the tyranny of distance will be an equally challenging endeavor in the Indo-Pacific as it is in the Middle East. Such efforts will pay dividends for trilateral coordination even beyond the Middle East theater. 
Prime Minister Kishida Fumio and President Yoon Suk-yeol's domestic unpopularity will continue to challenge the durability and efficacy of cooperation in a bilateral and trilateral context. Japan and South Korea's cooperation on the Israel-Hamas conflict is a positive indication of rapprochement between the two capitals, and a powerful sign to each state's citizens that there is a clear benefit to their national interests in working together. Leaders in Tokyo, Seoul, and Washington will need to continue practical, high-visibility forms of cooperation to justify the value of the trilateral to their citizens. 
The views expressed in this article represent the personal views of the authors and are not necessarily the views of the Department of Defense, the Department of the Air Force or The Air University.